Original URL: https://www.theregister.co.uk/2012/06/22/review_storage_ten_sata_3_ssds/
Choose Smarter: Ten... Sata 3 SSDs
Solid choices for an essential upgrade
Posted in Personal Tech, 22nd June 2012 11:03 GMT
Product Round-up There may never be parity between SSDs and the good old mechanical HDD, but the solid state option is moving rapidly in the right direction regarding cost and capacity.
SSDs already lead the way in terms of resilience (they're far more durable than hard drives), power consumption (low), noise (lower still) and speed (high), making them a key upgrade to consider if you want a faster computer. Here are ten that make the grade.
Corsair Performance Pro 256GB


Corsair is in the enviable position of having a foot in each of the popular controller camps, as its storage range includes SSDs looked after by either SandForce or Marvell controllers.
 The Performance Pro series uses a Marvell 88SS9174-BKK2 controller chip which combines with ultra-fast 34nm Toshiba Toggle NAND to give the Performance Pro some impressive performance figures – having 512MB of cache doesn't do any harm either.
A major plus point for the Marvell controller is that it doesn't care if the data is compressed or not, it treats them both the same unlike the SandForce controller. With this drive, Corsair delivers excellence read/write characteristics, but it's no giveaway.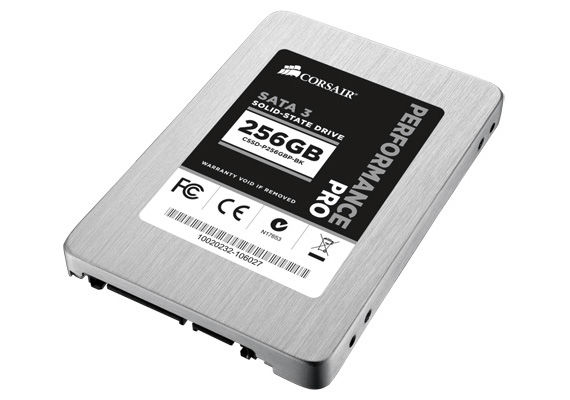 Reg Rating 85%
Price £250
More info Corsair
Crucial M4 256GB

Like Corsair's Performance Pro, Crucial's M4 series is another that uses Marvell's 88SS9174 controller but in this case it's the later BLD2 version. The company has also been able to write its own version of the controller's firmware to get the best out of the NAND chips it uses.
Unlike the Corsair drive, the M4 uses slower Micron 25nm NAND flash and has just 128MB of cache. 
As with the whole M4 range, the 256GB drive is available in three versions: drive-only; the 3.5in adaptor kit and data transfer kit with EZ Gig III cloning and imaging software plus a USB to SATA cable. As one of the first Sata 3 SSDs to appear, it's early glory is fading a little now and is reflected in the price.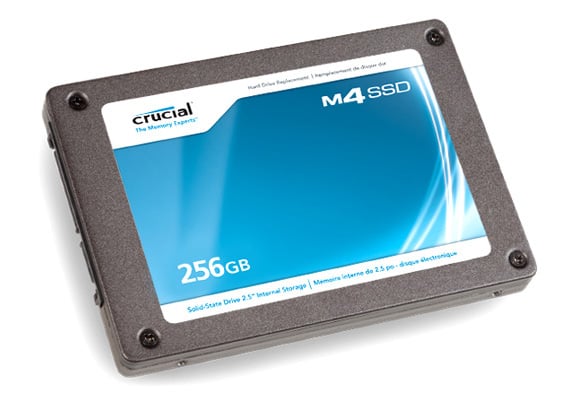 Reg Rating 70%
Price £180
More info Crucial
Intel 520 240GB

When the 520 series appeared, Intel surprised a great number of people by ditching the Marvell controller it had used previously. Yet, instead of using one of its own controller designs – which most assumed it would – Intel switched to using a SandForce chip.
Indeed, this was one reason why the drive was so late to market, together with Intel's efforts to iron out any controller reliability issues.
 In the process, Intel co-wrote the controller's firmware with Sandforce to get the best out of the 25nm Intel MLC NAND the drives use. The write speeds could be better though, which suggests there's still some work to do here, especially given the price.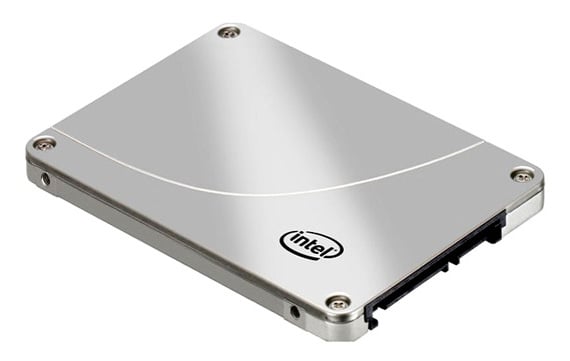 Reg Rating 75%
Price £260
More info Intel
Kingston Hyper X 3K 240GB


Kingston's Hyper X family of drives were the company's first to use a SandForce controller and just like Intel's 520 drives, the original Hyper X drives were late to market because of Kingston's insistence that the controller and firmware was as bullet proof as possible. 
The latest 3K range of the HyperX drives still have the SandForce SF-2281controller but use a lower Program-Erase (P/E) cycle of NAND memory – 3,000 P/E cycles instead of 5,000, hence the 3K name tag.
By using this lower cycling NAND – which is cheaper than the standard memory – Kingston has been able to reduce the price of the drive making it more competitive in an increasingly cut throat market segment. If you're after bang for buck with bullet proof reliability and support, then the Kingston Hyper X 3K is for you.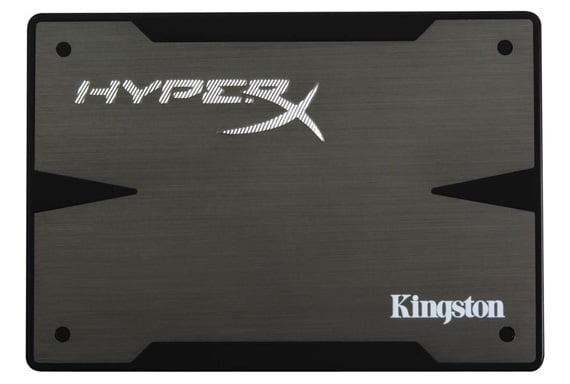 Reg Rating 85%
Price £200
More info Kingston
OCZ RevoDrive 3 X2 240GB


It's an SSD Jim, but not as we know it. OCZ's RevoDrives are not like your standard SSD, as they forgo the standard drive enclosure and SATA 6Gb/s interface. Instead this SSD storage is built on a PCB (or PCBs) that use the electrical interface of a 4X PCI-E slot on a motherboard. This gets around the potential bottle neck of the standard SATA interface and also offers the promise of huge data transfer rates in the future.
The RevoDrive 3 X2 240GB card is basically two 60GB standard SSD's complete with both SandForce controllers mounted on a PCB, with a another two 60GB drives and pair of controllers mounted on a daughter card. It's an impressive performer and can easily be found for £100 less than the OCZ list price, if you shop around. Our full review is here.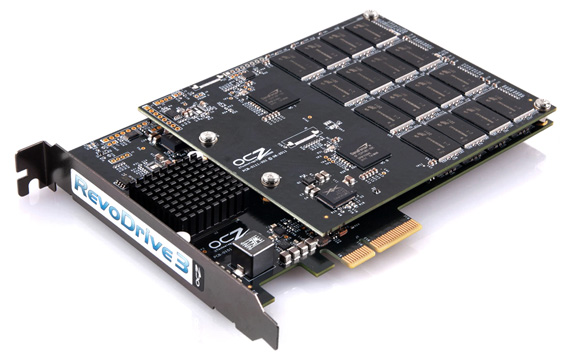 Reg Rating 80%
Price £570
More info OCZ
Patriot Pyro SE 240GB

Sitting between the high-end Wildfire and Wildfire SE series and the standard Pyro family, Patriot's Pyro SE drives are designed to offer a better price/performance mix. The Pyro SE ups the ante by utilising faster synchronous NAND flash rather than the cheaper, slower asynchronous flash that the Pyro range uses.
Both Pyro ranges and indeed the Wildfire drives use the SandForce SF-2281 controller.
 The flagship 240GB Pyro SE drive comes with quoted sequential read/write figures of 550MB/s and 520MB/s respectively. 
As with the standard Pyro, the SE version is also available in 60 and 120GB capacities and Patriot provide a 3 year warranty. It's an impressive performer too, but with a price to match.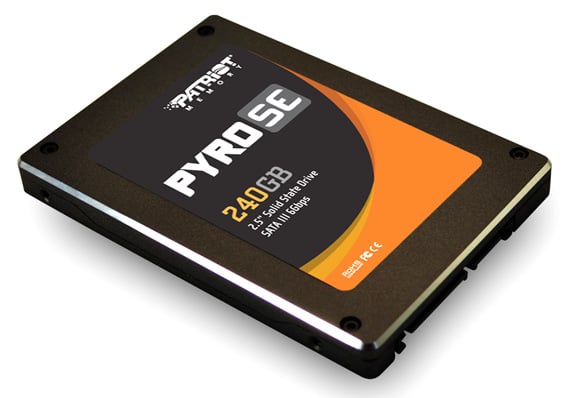 Reg Rating 80%
Price £280
More info Patriot
Plextor PX-M3P 256GB


Probably better known its range of top notch optical drives, Plextor also has a range of SSDs that are constantly evolving. The latest drives to hit the shelves are the Pro versions of the M3 series. Just like the standard M3, the Pro version uses 24nm Toshiba Toggle NAND, 512MB of cache and a Marvell 88SS9174 controller – the BLD2 version.
The Marvell controller, plus the updated firmware the Pro uses, gives it improved performance over the standard M3 version. 
Indeed its read/write figures ranks among some of the best on test. And Plextor not only bundles in a mounting bracket and disk cloning and backup software it also backs the drive with an impressive 5 year warranty.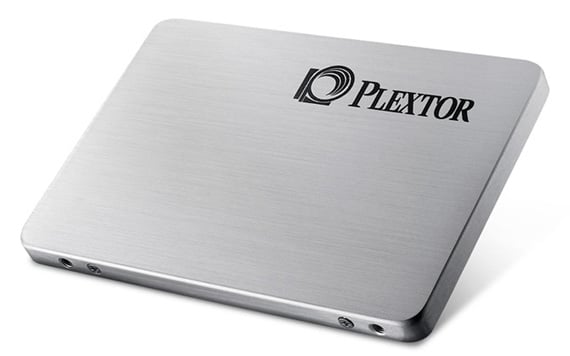 Reg Rating 85%
Price £265
More info Plextor
Samsung SSD830 240GB

Samsung first reminded everybody it knew a little something about producing SSDs with the 430 series. Yet it really made an impression in the performance market with its next release, the SSD830 series. 
Samsung's SSD830 series is unique amongst this group of drives as it's the only one in the line-up that doesn't feature a SandForce or Marvell controller but instead uses one of Samsung's own designs.
After all, if you're the largest memory chip maker on the planet, you don't need to waste money getting some other company to design you a controller. In fact, all the internals of the drive; controller, cache and 20nm MLC NAND are Samsung products. With the best read speed of the SATA drives on test, you can be certain that Samsung will be tuning up its SSDs even more going forward, it's not a bad price either.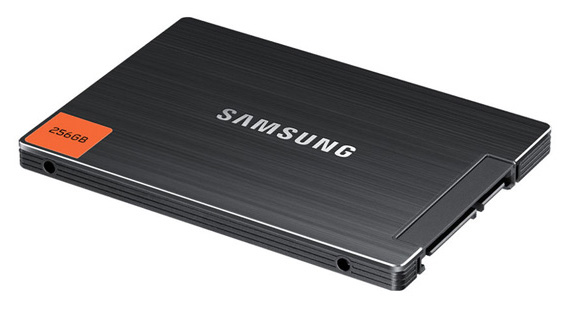 Reg Rating 80%
Price £220
More info Samsung
SanDisk Extreme 240GB


SanDisk's Extreme 240GB SSD uses combination of a SandForce SF-2281 controller and eight of its own 32GB 24nm Toggle NAND memory chips. The latest SSD from one of the masters of flash memory development certainly lives up to its name, with quoted sequential read/writes of up to 550MB/s and 520MB/s respectively.
On the downside there's nothing in the way of extras; no mounting kit or even any disk migration software to help the drive to be set up in the box, nor are any other versions of the drive offered with either of these two options included. Still, you can find this drive for a promotional price on-line for around £170 which is certainly worth thinking about.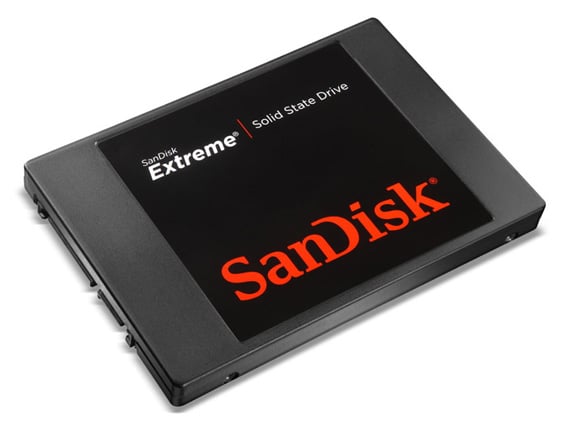 Reg Rating 80%
Price £220
More info SanDisk
Zalman F1 240GB


Zalman is same South Korean-based firm that makes those beautifully designed and built 'flower' CPU coolers amongst a whole host of other cooling products. It's not the first time Zalman has dabbled with SSDs, but the second generation F1 series – using the ubiquitous SandForce SF-2281 controller – is by far the best performing offering the company has produced to date.
Internally, there no surprises with the F1, it's all tried and tested hardware from the controller to the 25nm MLC Intel NAND memory it uses.
 The Zalman F1 is another drive that doesn't offer anything in box by way of a bundle but the company does offer the very good Acronis True Image HD utility but annoyingly only as a download. With a respectable read speed, its write performance was in the lower ranks and it's expensive too.

 ®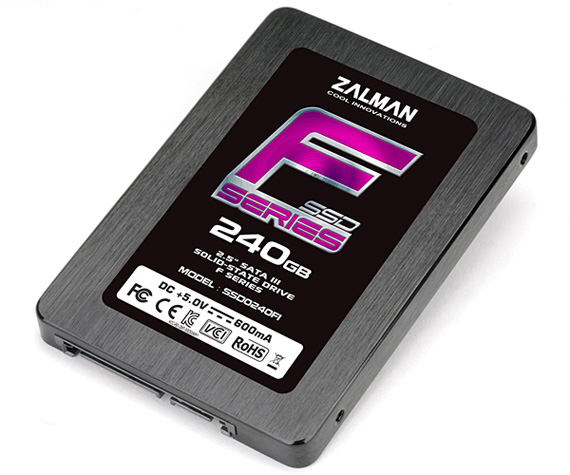 Reg Rating 75%
Price £305
More info Zalman
Benchmark Tests
CrystalDiskMark Results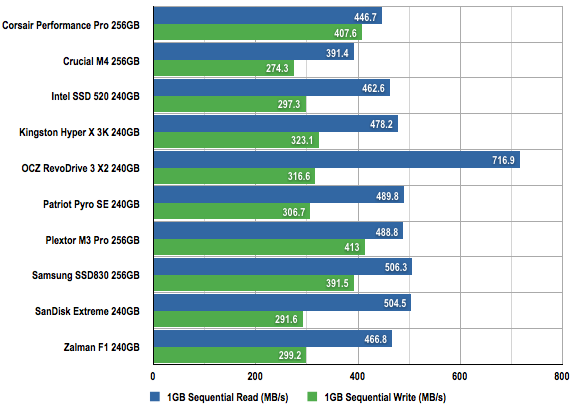 Data throughput in Megabytes per Second (MB/s)
Longer bars are better