Original URL: https://www.theregister.co.uk/2012/06/22/game_review_lollipop_chainsaw/
Lollipop Chainsaw
Cheerleader gets chopper out
Posted in Personal Tech, 22nd June 2012 12:30 GMT
Review Its name alone could be enough to suggest the origins of Lollipop Chainsaw. It's a title that somehow immediately resonates with Suda51's Grasshopper Manufacture Inc, whether you knew it was one of its titles or not.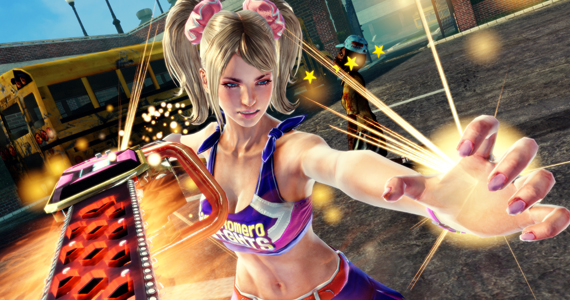 Bright squeeze
With his studio already responsible for the "out there" experiences that are Killer7, No More Heroes and Shadows of the Damned, Lollipop Chainsaw largely struts its stuff to the same tune, offering controversy, lashings of ultra-violence and good old-fashioned fun at every turn.
No prizes for guessing what its 18-year-old high school cheerleader heroine Juliet Starling's chief assets are either (I'm obviously referring to her health-giving lollipops and customised chainsaw, what were you guys thinking?), as she hacks through hordes of zombies. The unfortunate victims of noxious gases leaking from "Rotten World" and for whom there is no cure other than the blurred edge of a chainsaw.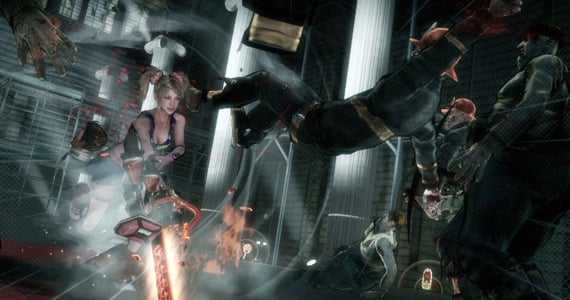 "There's a hose pipe ban on, don't ya know!"
Happily it just so happens that Juliet is not only possessor of chainsaw, pony tails and miniskirt, but also of an inner power. Hence, zombie slaying is just another part of her "oh-so complicated" teenage existence – as is the fact she soon finds herself carrying about the decapitated and magically reanimated head of Nick, her one true love.
Hopefully, you'll have grasped by now that Lollipop Chainsaw isn't a game that takes itself overly seriously. That said, Juliet herself might well prove divisive, in that she's essentially everything you'd expect your average young male gamer to crave for in a woman – and don't the developers just know it?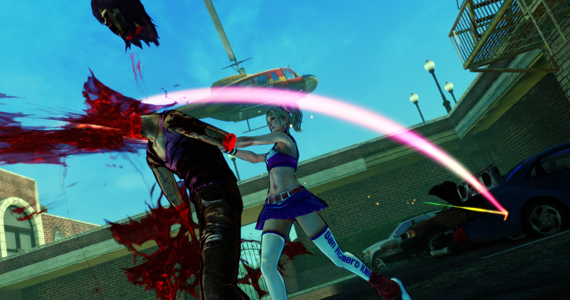 Heads will roll
The usual PC agitators might also be quick to point out that the decision to have her expose her knickers at every opportunity – not to mention have her enemies refer to her in highly derogatory ways – isn't exactly the ideal means by which to promote equality between the sexes.
Feminists beware
Even so, such admittedly suggestive sexism has to be taken in context, and while some websites are, as is their right, already getting all hot under the collar on the subject, the game's very existence is intended to riff on stereotyping and established genres and, ultimately, to poke fun.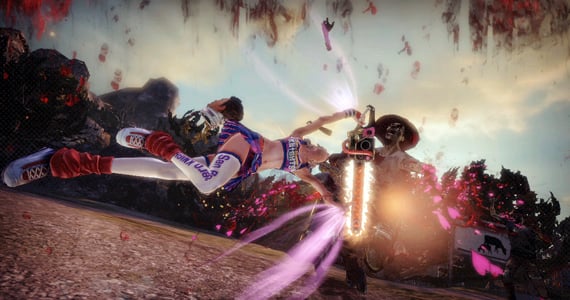 Diving miss crazy
Suda51's failure to pitch Juliet as delicately as, for instance, Joss Whedon, handled his interpretation of Buffy means he's left himself open for criticism. Even so, lest we forget that Lollipop Chainsaw is kitsch escapism within an zombie-filled anime world which, unless you're a fan of Japanese animation, doesn't translate so well to Western tastes, so perhaps we can forgive him that.
Each of us will have to make his or her own mind up regarding taste, but assuming you're good with it, you might be wondering how directing our nubile protagonist against hordes of undead actually plays.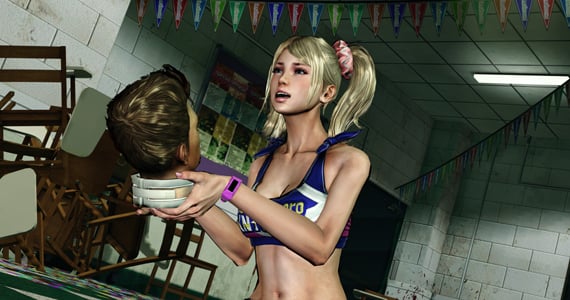 Fancy some head?
Much has been borrowed from No More Heroes' formula of throwing your way wave-upon-wave of bad guy fodder to slice apart, before ridiculously over-the-top boss characters (who generally take the shape of punks and metal heads) make an appearance.
Juliet can unleash numerous easily activated combos as she looks to stun enemies with pom-pom attacks and administer high and low chainsaw swipes to cleave any extremities the hapless undead might be exposing.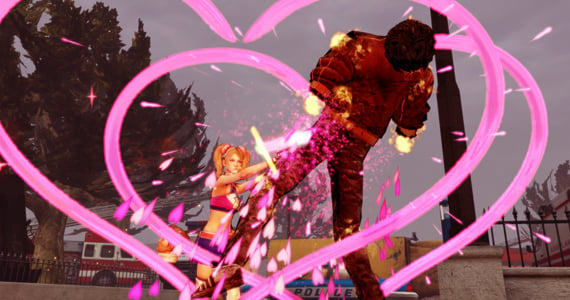 Heart shaped shocks
There are, of course, various upgrades to unlock too, from variations of your chainsaw – including a Zombie Blaster assault cannon – which you'll receive as gifts, to extra combos which can be bought across various stores with the coins you collect.
Getting paid
Collecting coins is rendered much easier if you get the hang of Sparkle Hunting early on, that being the decapitation of three or more zombies with one blow. Your main method being to corral zombies using your pom-pom stun attack before administering the coup de grâce with the chainsaw.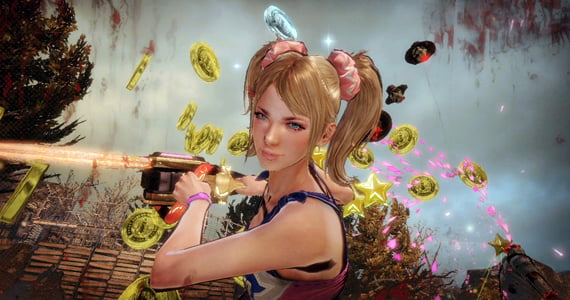 Golden shower
Things are made a tad easier if you build up and unleash Juliet's Star Meter – during which time Toni Basil's eternal cheerleading anthem Mickey plays incessantly – indicating you can massacre entire groups of zombies with one swipe, regardless of whether they're stunned or not.
It's a much-needed layer of depth to what is actually a fairly basic combat system and one which doesn't come close to the fluidity and grace of say Bayonetta's repertoire of attacks and counters. There's a sense of emphasis on simplicity regarding the game's difficulty too, with Juliet's dodge good enough to avoid most blows and lollipops liberally scattered throughout environments, thus ensuring that any damage she does take is soon healed.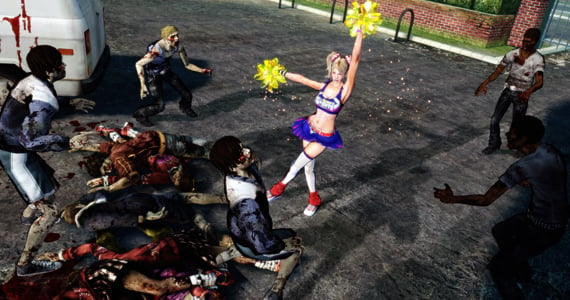 "Gimme an Argh"
Still, I have to admit that combat is never anything less than fun. There are enough nicely setup traps and encounters to keep you pushing on, while even QTEs feel natural. The trick here being that Juliet invites you to use the same combination of button presses to slice a particular door-type say, so that, after a few attempts, you know exactly how to quickly deal with that particular obstacle.
To carry on this feeling of fun and inventiveness the developers have also thrown a bunch of minigames in there – often including the head of the long suffering Nick. And while basketball, baseball or kill the flaming zombies might feel a tad contrived, they're yet another example of the team at Grasshopper trying its best to keep you entertained.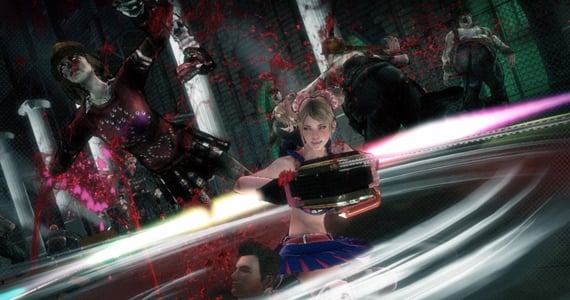 Roundhouse flick
Verdict
Suda51 might be something of a one-trick pony but then his is quite a trick. Lollipop Chainsaw doesn't look to create anything you won't have already witnessed in his existing stable of games, but what it does do is create an atmosphere that keeps you playing. And, most important of all, it puts a smile on your face... unless, that is, you happen to take particular offence at the sight of a fictional 18-year-old animated character in a skimpy outfit. Honestly, kids these days! ®
More Games Reviews

Ghost Recon:
Future Soldier
Max Payne
3
Diablo III
Prototype 2
Resident Evil:
Raccoon City