Original URL: https://www.theregister.co.uk/2012/06/21/review_ten_sdhc_cards/
Choose Smarter: Ten… Class 10 SDHC Cards
Sharp cards
Posted in Personal Tech, 21st June 2012 10:42 GMT
Product Round-up Until the day when broadband is truly fast and all devices have wireless internet access as well as sync'n'store services such as Dropbox or Google Drive, memory cards will remain the most convenient general-purpose, pocketable storage medium.
They help everyone to move documents, photos, music and videos around safely and simply. But which to choose?
Here are ten high-speed options.
Fujifilm SDHC Class 10

As you might except from a company that produces a wide range of digital cameras, Fujiflim also offers a variety of storage cards to stick in them, including 4GB, 8GB, 16GB and 32GB versions of its Class 10 SDHC card.
Fujifilm says these cards are ideal for capturing full HD 1080p video and quotes a transfer speed of up to 23MBps. However, there is no indication on the packaging or anywhere else as to whether that is the read speed, the write speed or both.
The company backs the cards with a ten-year warranty.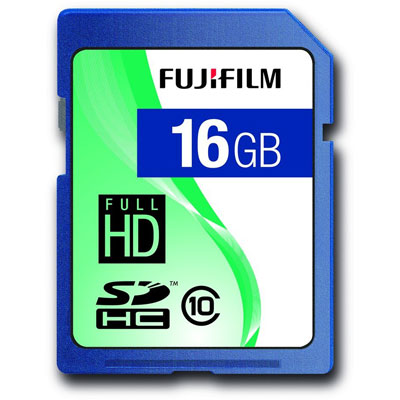 Reg Rating 75%

Price £8 (4GB), £11 (8GB), £19 (16GB), £40 (32GB)
More info Fujifilm
Kingston UltimateX 100x

Kingston has two SDHC Class 10 ranges: the standard card pitched at consumers, with a 10MBps transfer rate and capacities of 4GB to 32GB; and the card reviewed here, which is part of the Class 10 100x range aimed at the enthusiast. It comes in capacities of 8GB, 16GB and 32GB.
The 100x speed increase bumps the write figure up from the standard Class 10 speed of 10MBps (aka 66x) up to 15MBps, and Kingston quotes a read performance figure of 20MBps.
The card comes with a lifetime warranty and free technical support.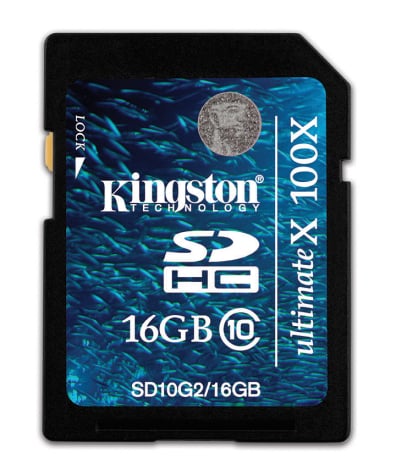 Reg Rating 85%

Price £11 (8GB), £14 (16GB), £28 (32GB)
More info Kingston
Lexar Professional 600X UHS-I

The Professional family leads Lexar's wide range of Flash-based media. The Professional 600X SDHC UHS-I range uses UHS-I (Ultra High Speed I) technology. The UHS-I controller has a bus interface speed of up to 104MBps, making it the fastest category of card available with some very impressive transfer rates. Lexar quotes 90MBps read speeds.
Bundled with the card is a download offer for Image Rescue 4, a really useful piece of software which aims to recover lost or deleted photo and video files.
The Professional 600X SDHC UHS-I is undoubtedly extremely fast but you pay a hefty price premium for the privilege.
Reg Rating 80%

Price £35 (16GB), £60 (32GB)
More info Lexar
PNY Professional Series

It may be a new name to some but PNY has been in the consumer electronics market since 1985. The company offers a huge range of memory products, including a long line of Flash media.
Its family of high-speed SDHC cards, for instance, consists of four product lines, from Class 4 cards up to the extremely fast UHS-I products.
The first of the Class 10 range of cards is the Professional Series, with 8GB, 16GB and 32GB capacity. All are rated at 133X (20MBps) for both reads and writes.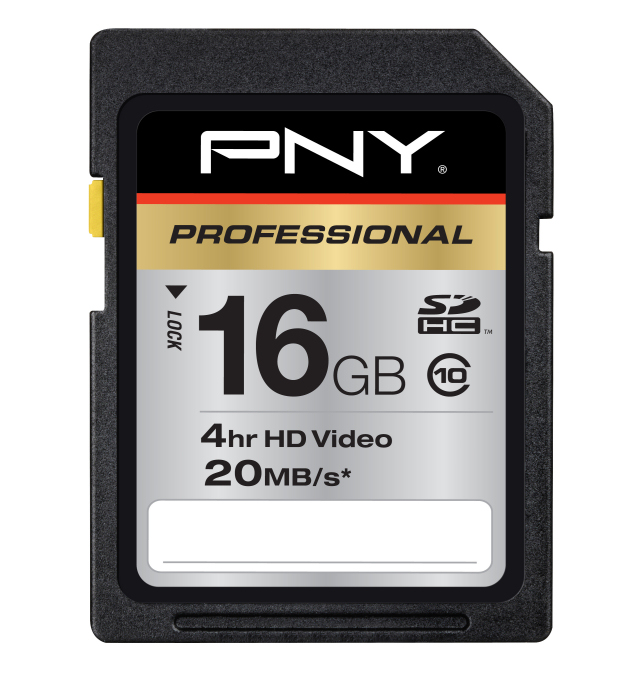 Reg Rating 75%

Price £18 (8GB), £30 (16GB), £50 32GB
More info PNY
Samsung SDHC Plus

We've all done it: dropped things that really should be better looked after, such as hard drives (ouch) and SSDs (nothing to fear). If you are similarly accident prone, then perhaps one of Samsung's SDHC Plus range is the card for you.
Samsung has given the NAND chips a coating which makes them waterproof (ideal for underwater cameras), shockproof (up to a colossal 1.6 tons) and even X-ray proof.
The cards even look better than your average SD card as they have a metallic finish. And they also have pretty good performance to boot: Samsung gives the cards 24MBps and 21MBps speed ratings for reads and writes, respectively. Capacities don't extend very far, though.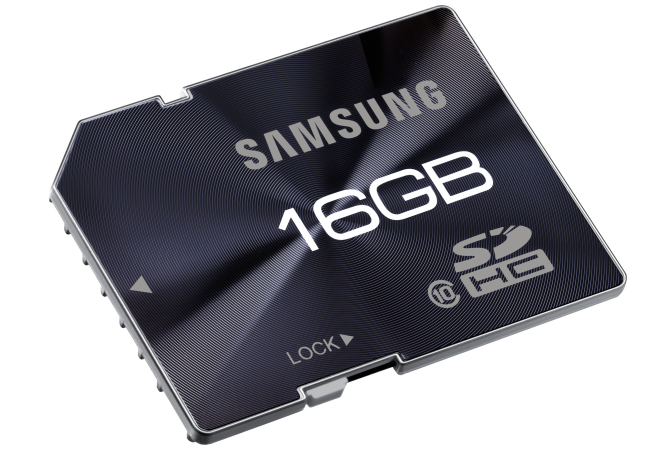 Reg Rating 85%

Price £18 (8GB), £40 (16GB)
More info Samsung
Samsung SDHC Essential

Samsung has taken the NAND chip protection of the Plus series and introduced it into cards a little lower down the food in the Essential series.
It has to be said that this particular series is a little odd when it comes to speeds and capacities. The only capacity that is Class 10 rated is 32GB, and if you don't have the budget or for some reason don't want that much capacity, the next capacity down is 16GB, which is a Class 6 card.
The solitary Essential Class 10 card has a quoted read speed of 24MBps and a write speed of 13MBps.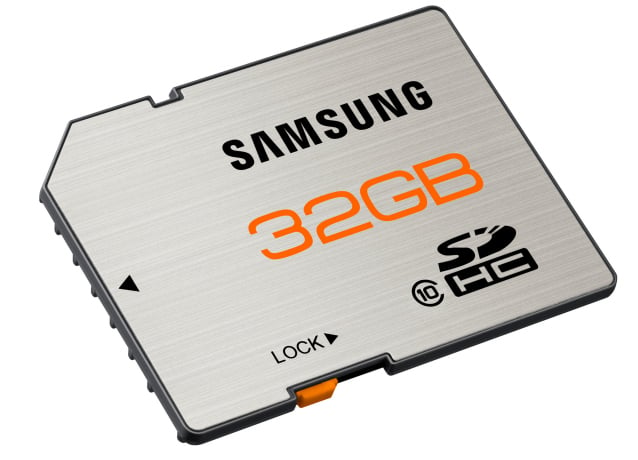 Reg Rating 80%

Price £35 (32GB)

More info Samsung
Sony Expert Class 10 UHS-I

You would expect a company with such a vast range of digital cameras and camcorders to have a pretty extensive range of Flash media to support them. Sony doesn't disappoint, with four ranges of SDHC cards alone, from entry level up to the super-speed Class 10 UHS-I jobs.
Sony recommends the Expert SF-UX range for continuous shooting in RAW or JPEG formats with DSLR or SLT cameras, or for when shooting in full HD or 3D with higher-end camcorders. Sony quotes a read speed of up to 94MBps for the SF-UX series.
Sony provides free downloadable file-rescue software, which is the first such package to support AVCHD and 3D files.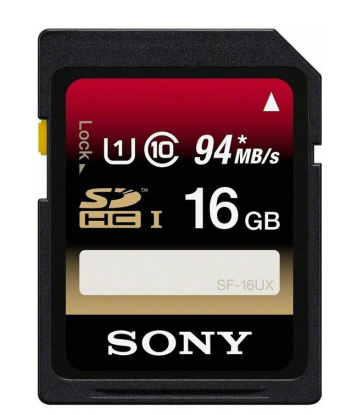 Reg Rating 80%

Price £19 (8GB), £39 (16GB), £79 (32GB)

More info Sony
SanDisk Extreme

It is no great surprise that as a giant of the Flash memory business, SanDisk has what looks like a bewildering number of products based on Flash memory.
Even at second glance it is a very impressive portfolio, with no less than six product lines of SDHC cards, three of which – Ultra, Extreme and Extreme Pro – include the company's Class 10 cards.
The Extreme (SDSDX) series consists of cards with 4GB, 8GB, 16GB and 32GB capacities and up to 30MBps (200x) read/write performance.
SanDisk backs the cards with a limited lifetime warranty.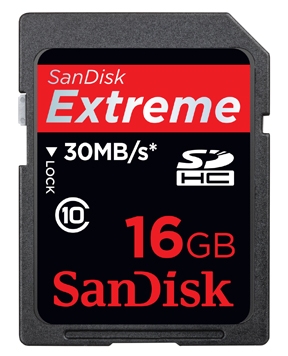 Reg Rating 85%

Price £15 (4GB), £20 (8GB), £25 (16GB), £53 (32GB)
More info SanDisk
Transcend Ultimate

Perhaps less well-known than other companies in this round-up, Transcend offers a wide range of SD cards, with the Class 10 set being found in the Ultimate family. It consists of four cards with 4GB, 8GB, 16GB and 32GB capacities, and quoted read performance of 16MBps and 10MBps writes.
To help recover lost photos, Transcend's RecoveRX free software is available from the company's web site. It supports a wide range of storage devices, from xD cards to SSDs, including digital photo frames, and also includes a formatting tool.
The cards carry a limited lifetime warranty.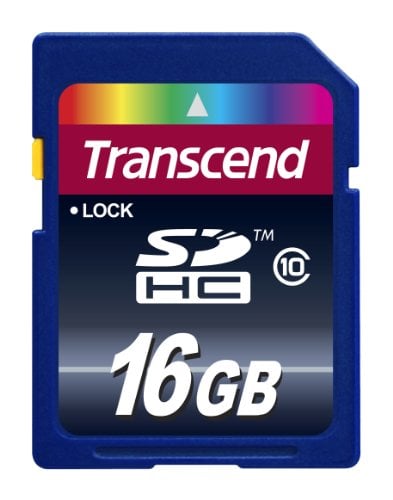 Reg Rating 75%

Price £9 (4GB), £10 (8GB), £14 (16GB), £35 (32GB)
More info Transcend
Verbatim Premium

Verbatim has a vast array of Flash memory products, the Premium SDHC cards being the flagship range. The Class 10 cards are available in 4GB, 8GB, 16GB and 32GB capacities. The company also does a single 64GB SDXC Class 10 card.
The SDHCs are aimed at professional and amateur photographers using digital cameras, and professional users of SLRs may find the 10MBps read and write speeds a little slow.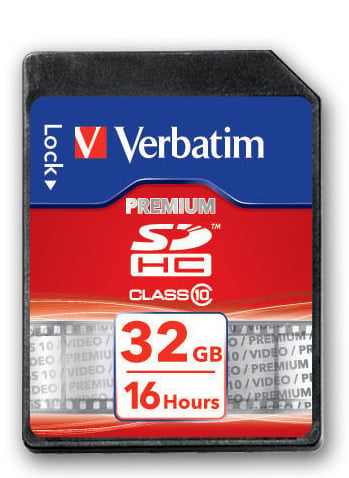 Reg Rating 75%

Price £7 (4GB), £13 (8GB), £25 (16GB), £32 (32GB)
More info Verbatim