Original URL: https://www.theregister.co.uk/2012/06/21/review_philips_46pfl9706t_3d_smart_led_tv/
Philips 46PFL9706T 46in 3D smart TV
Inspired by the eyes of a moth
Posted in Personal Tech, 21st June 2012 06:00 GMT
Review Philips TVs have long been synonymous with technical ingenuity. From an evangelical support of HD Mac and PAL Plus, through to the launch of 21:9, the brand has never shied away from pushing the televisual envelope. At least in the short term, that tradition looks set to continue under the stewardship of its new owner, TP Vision. The 46PFL970T reviewed here is another example of Philips invention.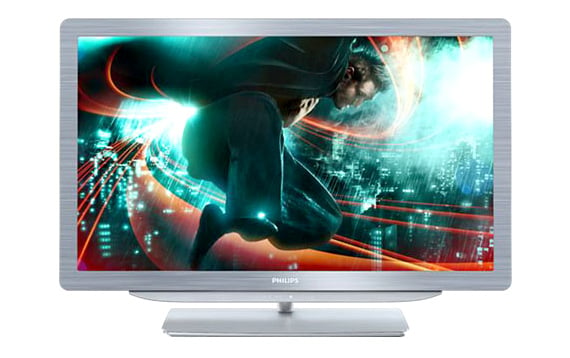 Smart thinking: Philips' 46PFL9706T 3D LED TV
This 46in set sports a "moth eye" filter, so-called because the screen has been designed to mimic the non-reflective properties of a moth's peeper. In nature this helps said insect stalk prey, but here it's used to reduce the impact of ambient light, producing better contrast with less haloing.
Amazingly, it works – but there's a caveat. The filter requires extreme care, so much so that Philips supplies a proprietary cleaning solution to remove any thumbprint smudges. This fragility makes the screen a questionable purchase for those with young families.
Sun screen or moth balls? Filtering overview of the non-reflective display
With its brushed aluminium cabinet and thick, rimmed bezel, the 46PFL970T is more substantial than many of its paper-thin rivals. Some, but not all, of its 43mm depth can be attributed to the Ambilight Spectra XL mood lighting embedded in the frame. The set also accommodates full-array LED backlighting, rather than just edge-mounted LEDs.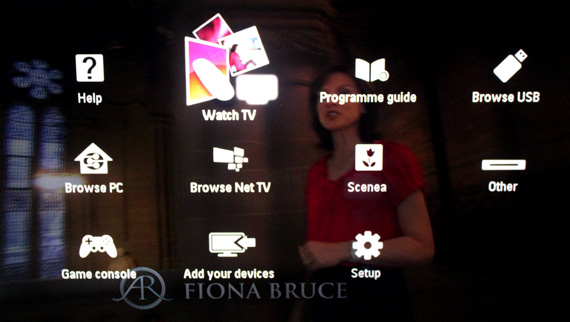 A decent array of Smart choices available
Functionality is good. The set connects to Philips Net TV portal – where you'll find BBC iPlayer, YouTube, Acetrax and Vimeo amongst others - and it does a solid job handling multimedia files from USB. AVI, MKV, MPE, MP3, WMA, WAV, AIF and AAC all play. Across my network, the set lost the ability to unwrap MKVs. Wi-Fi is integrated.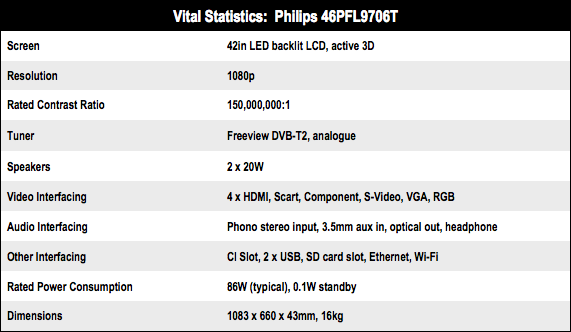 Tweak to perfection
Visually, this TV is capable of quite deliciously clarity, although you'll need to negotiate a forest of calibration to enjoy it. First order of business is to dive into the Pixel Perfect HD menus and disable Natural Motion, then take the Sharpness control down to zero and tame the backlight intensity. With excellent greyscale tracking and deep, crispy blacks, it's visually stunning given a good HD source.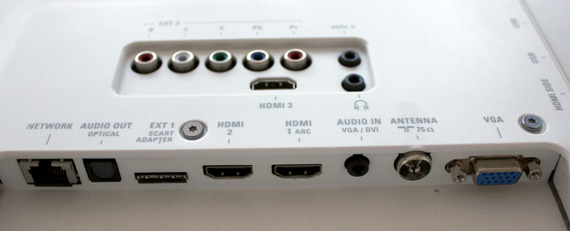 A tidy array of connectivity around the back
Philips proclaims that the filter system delivers a black level ten times greater than previous LCDs, and it might be right. Movies look terrific, provided you don't have a natural intolerance to the 'soap opera effect' slickness that Clear LCD processing brings to everything. It can be turned off, but there's a corresponding drop in motion resolution.
The set's full array backlight prevents the unevenness typically seen with side lighting, however all too often the set's local dimming becomes distractingly obvious on dark scenes; it's as if there are gremlins playing with lighters behind the screen.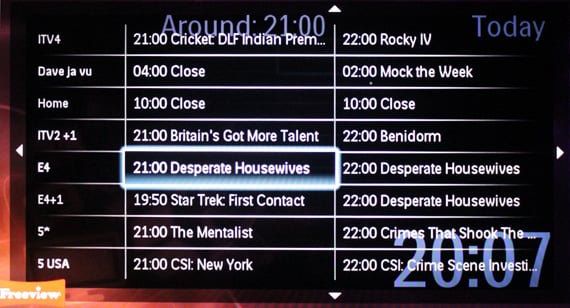 EPG
The screen comes with two pairs of active shutter glasses. Running through a selection of stereoscopic Blu-rays, it's apparent that brightness is not an issue. However, crosstalk double imaging remains an issue.
One 3D offshoot is a full screen gaming mode which takes a split screen image and presents it as two separate full-screen images to those wearing shuttering glasses. While a good in principle, the separated images are awash with ghost imagery. It's like playing against a mate from the afterlife

. Yet sonically, this screen rocks. The 2 x 20W audio system is built into the stand itself, and sports two downward firing woofers.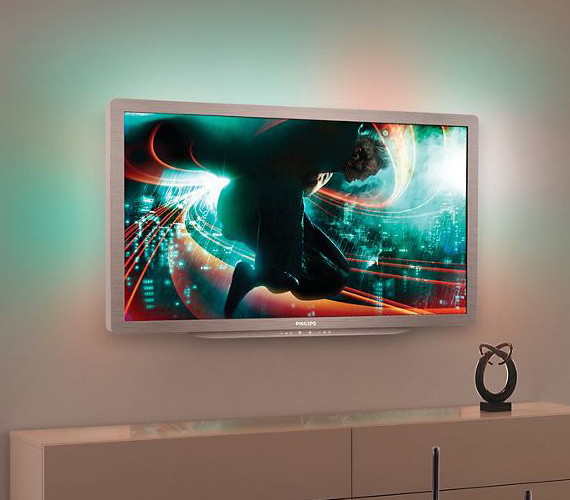 Wall mounting brings out the best of the Ambilight features
Verdict
Overall, the 46PFL970T can be filed under technically adventurous but not entirely practical. That the moth eye filter works is not in doubt, but it clearly comes at a cost. £2,200 is a phenomenal price for a 46in TV, even one capable of blisteringly good pictures and beyond the grave gaming. ®
More TV Reviews

Toshiba
Regza
46YL863
LG
47LM670T
Ten...
smart TVs
Samsung
PS64D8000
Sony
Bravia
KDL-55HX923