Original URL: https://www.theregister.co.uk/2012/06/20/antique_code_show_speedball_2_brutal_deluxe/
Speedball 2 Brutal Deluxe
Foul play
Posted in Personal Tech, 20th June 2012 11:00 GMT
Antique Code Show I know it's not 2095 yet but with Boris back in power and the Olympics imminent, I am preparing myself to witness London fall into terminal decline due to sports related overspending and aggressive austerity measures. Indeed, I can envisage an appetite for a Rollerball-style games event; entertaining the galleries of corporate sponsors. A spectacle probably quite similar to a game I used to play, Speedball 2.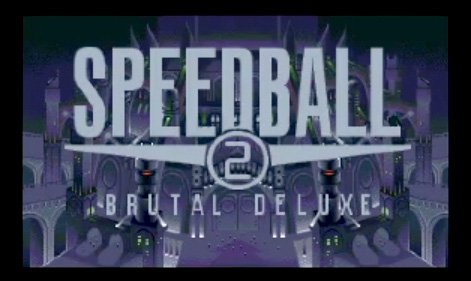 Speedball 2: a different kind of blood sport
Speedball 2's introduction tells us how the original Speedball-league was unregulated and ungovernable due to corruption and violence. With some hasty reorganisation – to make it fit for public consumption – Speedball 2 is reinvented.
I take control of a brave new team, Brutal Deluxe. Although low in the league, I reckon these guys have some prospects. Still, looking at the state of some of these players, I will have to arrange some shifty transfers and expensive upgrades to make sure we make it to the top of the league.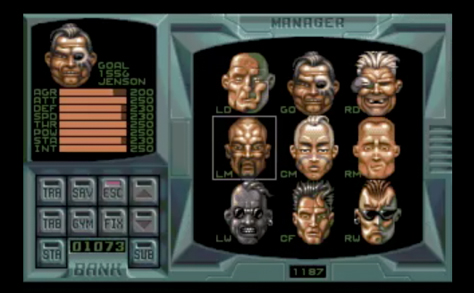 Picking winners
In Speedball 2 each match is made up of two halves running at ninety seconds each. Nine players on each side violently tackle each other for points and a place at the top of the league.
Gameplay is a meat grinder mix of rugby and football with a little hockey/handball thrown in and no penalties for fouling against my opponents. In fact, fouling is actively encouraged. I get the same amount of points for injuring the other team as I do for a goal, watch out goalkeeper you're going to take a bashing!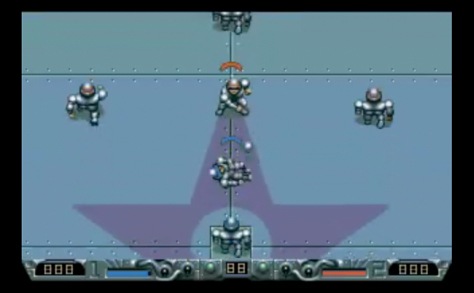 Goals? Well, they come into it somewhere
Yes it's all about the goals but collecting money and speed buffs at the side of the court will help me outrun opponents and buy nifty upgrades. Like Rollerball, I try and keep my grip on the metal ball, passing it when things become too violent or I am at risk of being overwhelmed.
Tournament battles
Of course, with a title like Speedball, gameplay is fast and furious. The computer always switches control to the player that is nearest to the ball. This switching can be really confusing and is a definite minus point in a game where speed is everything.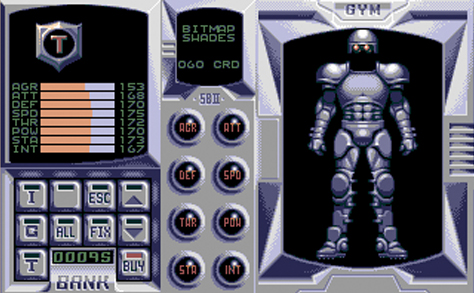 Visual tweaks make this sporting game a cut above most of the time
To add to the confusion Speedball 2's scoring system is quite complex and depends on a surprisingly large number of variables, including hitting stars for points and scorching opponents with hot balls. Different game modes: Tournament, League and Manager Mode, spice things up and give the game re-playability. Manager mode lets me buy and sell players like Roy Hodgson 2.0.
I don't expect much in terms of graphics from sports games and Bitmap Brothers does as well as it can with the subject matter, giving everything a metallic sheen. The top down view helps me keep track of who has the ball and I get an inlaid graphic showing a player covered in enough claret to keep the most ardent blood sports enthusiast keen.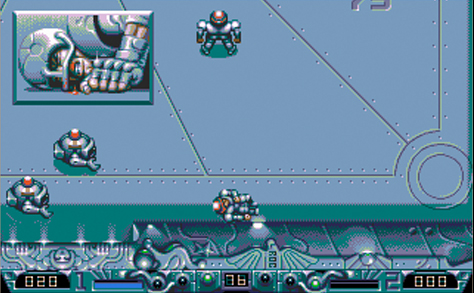 Seeing red
Audio is more than just a noise too, as its futuristic techno beats together with some good sound effects won this game Golden Joystick 1991 for Best Soundtrack.
One of the best aspects of Speedball 2 is the multiplayer mode when the game becomes one on one and it's time take on my mates without worrying about my standing in the League. Grab a joystick for twice the excitement and a feel you've been transported straight back to the early 1990s.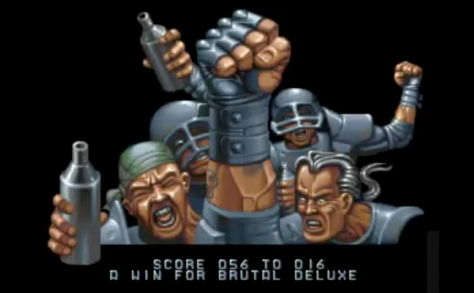 A win-win situation
With the exception of Blood Bowl, I feel Speedball 2 belongs to a sadly forgotten genre; a fictional sports game that's fast and fun with solid challenging gameplay and more depth than most modern sports games can conjure. Luckily, Speedball 2 Evolution for my iPad almost captures the frenetic pace of the original. However, I will never be a fan of the virtual joystick. ®
Developer Bitmap Brothers
Publisher Image Works
Release Date 1990
Platform Acorn, Amiga, Atari ST, Commodore 64, Sega
More Retro Games

Marathon
Return to Castle
Wolfenstein
Head Over Heels
Ten... 8-bit classics
Carmageddon