Original URL: https://www.theregister.co.uk/2012/06/18/review_apple_macbook_air_11in_2012_slimline_notebook/
Apple MacBook Air 11in 2012
For the love of Ivy Bridge
Posted in Personal Tech, 18th June 2012 11:00 GMT
Review The 11in MacBook Air took top spot in El Reg's recent round-up of the best Ultrabooks – even though, strictly speaking, it isn't actually an Ultrabook, according to Intel's proprietary definition of the term. This 2012 model doesn't tamper with the winning formula, but it does provide a respectable update that should keep it at the head of the pack.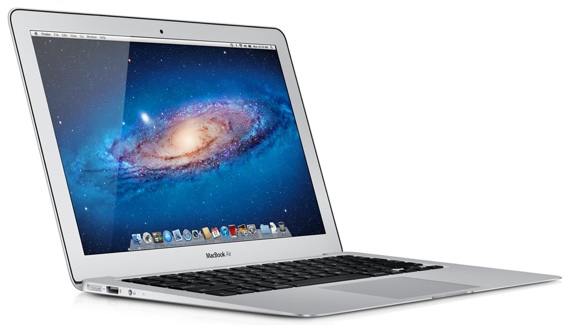 The MacBook Air is as portable and usable as ever - but it's faster now
Prices start, as they did for last year's model, at £849, but the previous 1.6GHz Sandy Bridge Core-i5 processor has been replaced with this year's Ivy Bridge version running at 1.7GHz. The Ivy Bridge chip also introduces the new Intel HD 4000 integrated graphics core and, thankfully, the measly 2GB of 1333MHz DDR 3 Ram that was soldered into last year's model has now expanded to a more respectable 4GB running at 1600MHz.
Apple claims that the SSD drive is faster too, although the size of the drive is still a rather tight-fisted 64GB. You can double that up to 128GB for £80 extra, while a further £130 buys you an Core-i7 processor clocked to 2.0GHz.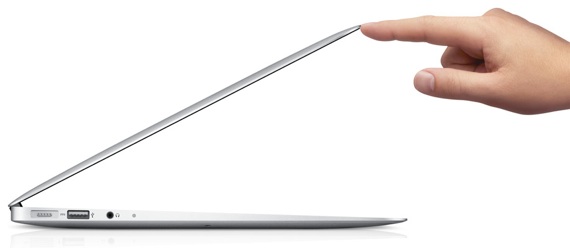 USB 3.0 at last
The 1366 x 768 screen remains unchanged – there's no Retina Display this time around. I'm not too bothered about that, and I suspect that Apple has left the screen alone in order to preserve battery life – which remains a healthy five hours for browsing on a wireless network. However, I would have liked Apple to tone down the glare reflection on the MacBook Air as it has done with the new MacBook Pro.
Unfortunately, I wasn't able to install Windows in order to run Reg Hardware's customary PCMark 7 benchmarks, as Apple's Software Update service doesn't yet have the necessary Boot Camp drivers available. However, using the alternative GeekBench, the MacBook Air achieved a score of 5790 compared to 4700 for last year's model, representing a healthy 23 per cent improvement in performance.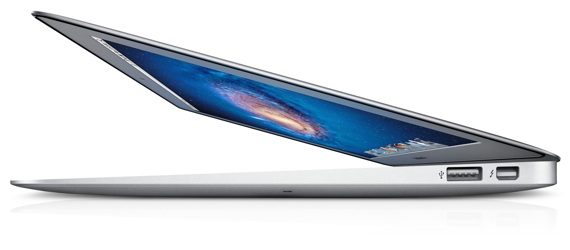 But an SD slot and/or Gigabit Ethernet would have been nice
There have been some other changes too. The Thunderbolt interface introduced on last year's model probably didn't get used much, since the handful of Thunderbolt drives released so far have all been outrageously expensive. But, like all the other new laptops introduced by Apple this month, the MacBook Air has finally gained a pair of USB 3.0 ports. The arrival of SuperSpeed USB was long overdue, especially since the MacBook Air didn't feature Firewire either.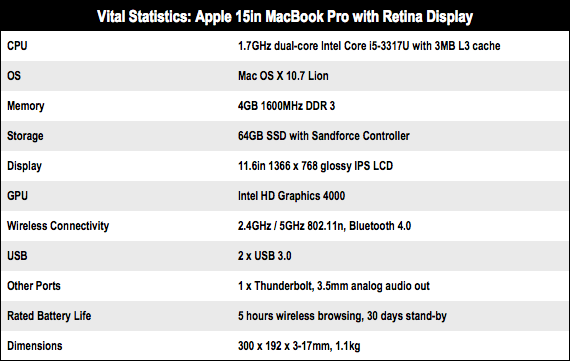 Ultra 'book
Apple is planning to release a Thunderbolt-to-Firewire adaptor soon, but with the new MacBook Pro With Retina Display also foregoing Firewire it looks as though the writing may be on the wall for IEEE 1394 on Apple kit.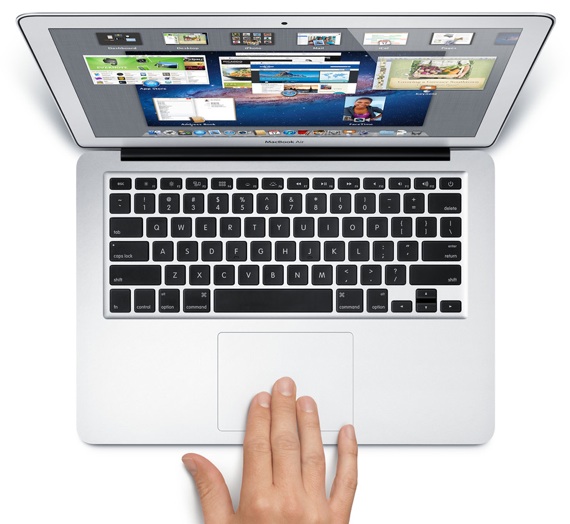 Fine keyboard and a nice, big touchpad
The Air's main connectivity issue now is its lack of an Ethernet port. In the past, your only option for wired networking was to buy one of Apple's USB-to-100Mb/s-Ethernet adaptors, but Apple has also announced a new Thunderbolt-to-Gigabit-Ethernet adaptor too. Both adaptors cost £25, but the Thunderbolt adaptor will be preferable, giving you a faster connection as well as freeing up one of your USB ports.
The webcam has been updated too, now offering 1Mp resolution, sufficient for 720p video, but there's still no SD card in this model as there is in the 13in version. And, of course, the MacBook Air wouldn't be an Apple product if there weren't at least one completely gratuitous change that involves some new type of cabling. This time around it's the Magsafe power connector, updated to MagSafe 2 for some unspecified reason. So if you bought a spare power supply for a previous MacBook Air you won't be able to use it with this one.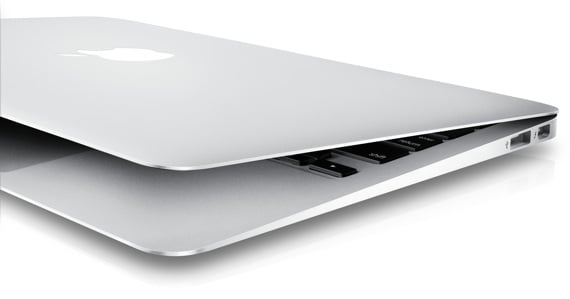 Best notebook-not-Ultrabook?
And, let's not forget, this remains the most portable of Apple's laptops - and one of the most portable notebooks period. It's compact, skinny, and light - just a kilo - so it's great for folk who carry a notebook around at all times. Yet the fine, solid keyboard, big touchpad and decent screen resolution - there are as many pixels on display as on many a cheap or mid-range 15-incher these days - means it doesn't compromise its usability.
Only the aforementioned lack of on-board Ethernet and SD let it down, but I wonder how many general, non-pro users will be inconvenienced by that. Ditto the inability to expand the machine's memory beyond the build-to-order options. But it shouldn't be long before third-party SSD updates will at least let you boost the machine's storage capacity.
Verdict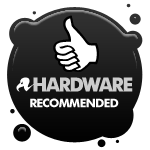 This year's MacBook Air hasn't been reinvented in the same way as the MacBook Pro has. It's essentially a housekeeping update that introduces Intel's Ivy Bridge platform and at long last brings in USB 3. Existing owners won't need to rush out and upgrade, but this update should keep the MacBook Air competitive with all its Ultrabook rivals for the rest of this year. ®
More Notebooks Reviews

MacBook Pro
Retina Display
Ten...
Ultrabooks
HP Envy 14
Spectre
Toshiba
Portégé
Z830-10N
Dell
XPS 13