Original URL: https://www.theregister.co.uk/2012/06/15/review_apple_15in_macbook_pro_with_retina_display_laptop/
Apple 15in MacBook Pro with Retina Display
Simply, a stunner
Posted in Personal Tech, 15th June 2012 11:44 GMT
Review You've got to hand it to Apple. Having created the first Ultrabook about three years before Intel even got around to coining the brand, it has now taken another step forward with the new MacBook Pro With Retina Display.
The 2880 x 1800 screen is certainly a looker, and you can understand why Apple has chosen to focus on that specific feature in all its marketing and advertising. However, the real eye-opener with this machine is the gradual realisation that – admittedly at a seriously high price for a modern notebook – Apple has finally managed to achieve the best of both worlds.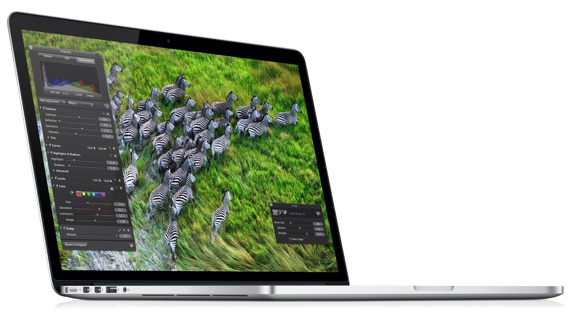 The screen's the star
In effect, this is the MacBook Air Pro – a slim, lightweight laptop that also provides professional-level performance. And a stonkingly good screen thrown in for good measure.
You do notice the crystal clarity of the screen straight away, even though the underlying Mac OS X desktop looks the same as ever. Icons and text haven't suddenly shrunk to microscopic size because of the higher resolution – which, after all, is four times that of the standard 15.4in MacBook Pro.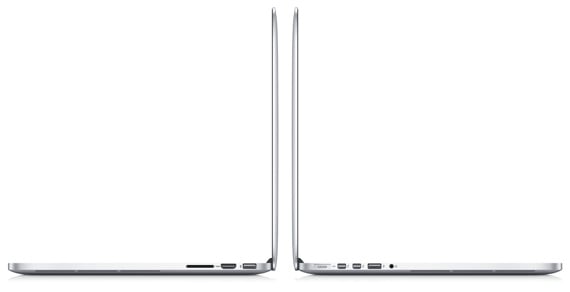 Slim is in
That's partly because Apple has updated the OS X graphics and bundled applications to support the display's higher resolution, but also because of an ingenious tweak to the Displays control panel in OS X. Instead of listing the various resolutions that are available, the Displays panel now allows you to scale the display of windows, text and icons so that they 'look like' a particular resolution.
By default, the machine opts for a setting that seems to mimic the more standard 1440 x 900 resolution by scaling text and graphics to a comfortable size. Apps with old graphics look no worse than they would anyway. You get that amount of effective screen real estate - the extra pixels are used to improve its level of detail, with suitable upgraded apps, of course.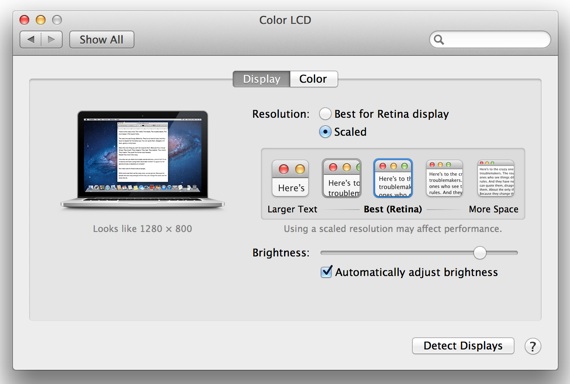 Select the display's appearance, rather than its resolution
However, you can also select a number of higher 'look like' settings in the control panel if you want to maximise the amount of space on screen. So, if you want to have a full - and staggering, for a notebook - 3840 x 2400 desktop, albeit with everything looking a lot smaller, you can. As a part-time programmer, using those extra pixels for a larger rather than better-looking workspace won me over to the new machine.
Screen space or detail? Choice is yours
Point is, you have a choice. Screen resolution is an aesthetic consideration as well as a technical one, and it's an example of the attention to detail that sets Apple apart from its rivals.
My first step was to open up some PDFs in Preview, and the outstanding precision of the text fair took my breath away. Next up was iPhoto, which really shines when you view some high-res photos in its full-screen mode.
However, it's video that really shows the Retina display in all its glory. Admittedly, even 1080p HD content has to be scaled up on this screen, but the improved contrast ratio – Apple claims it's 29 per cent higher than previous models; whatever the figure, the difference is readily viewable – really produces excellent results. The use of IPS technology in the Retina display also makes a big difference, maintaining terrific brightness and clarity through almost a full 180° viewing angle.
Apple could have been forgiven for stopping there and resting on its snazzy screen laurels, but it has improved other aspects of the MacBook Pro design as well. There have been rumours floating around for months that Apple was preparing a 15in version of the MacBook Air. This model may come under the 'Pro' banner but it could certainly qualify as an Air as it measures just 18mm thick, compared to 24mm for the standard MacBook Pros and 17mm for the 13in MacBook Air.
It's lighter too than the other Pros too. It's 2.02kg, which is just less than the 2.06kg 13in MacBook Pro; the 15in MBP is 2.56kg. Admittedly, Apple had to chuck out the optical drive in order to cut down on the size and weight. However, that seems to be the only real compromise, and in most respects the Retina model matches the performance and features of the other MacBook Pro models.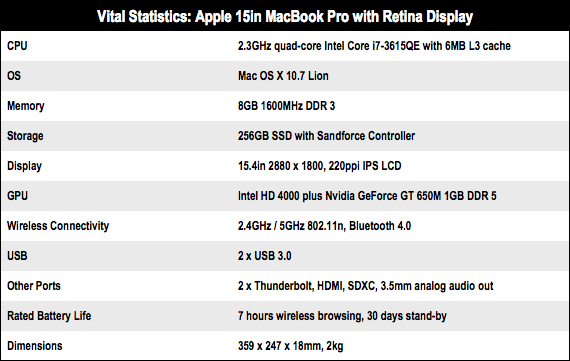 Pricey performer
Wired network users will mourn the loss of an Ethernet port, though Apple is offering this - surprise, surprise - as an option for an extra £25: it clips into one of the two high-speed Thunderbolt ports.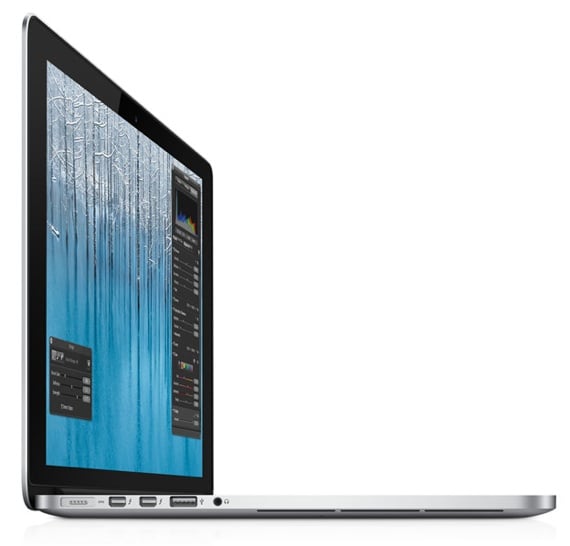 The discreet airvents help keep the MBP warm not hot
The basic £1799 model includes a shiny new Ivy Bridge Core-i7 processor running at 2.3GHz, along with 8GB of 1600MHz Ram and a 256GB SSD that Apple claims is faster than that used in previous models.
There's also a 2.6GHz model with 512GB SSD that costs £2299 – which seems like a lot for a relatively modest upgrade, but that's SSD pricing for you. The Ivy Bridge chip includes the new integrated Intel HD 4000 graphics, but the Retina model also includes a separate Nvidia GeForce GT 650M graphics processor with a gigabyte of dedicated video memory, allowing you to switch between the two graphics chips in order to maximise either performance or battery life as required.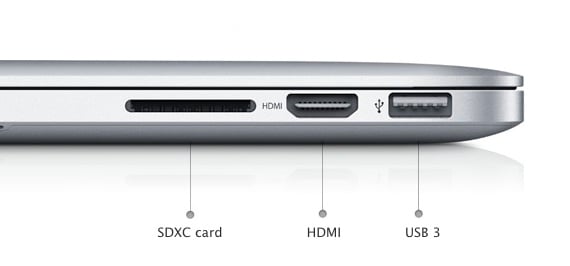 HDMI on a notebook Mac at last
Unfortunately, I wasn't able to use Boot Camp to install Windows on this machine to run Reg Hardware's standard laptop benchmarks. Apple hasn't yet updated the necessary package of drivers. Instead, I used GeekBench, which produced a consistent score of 11,060 – a clear improvement over the 9500 scores reported for 2011's 15in MacBook Pro.
I was curious to see how the battery would hold out, given the resolution and brightness of the Retina display. I couldn't use PCMark 7 to torture test the battery, but using Wi-Fi to stream HD episodes of EastEnders on the BBC iPlayer seemed like torture enough.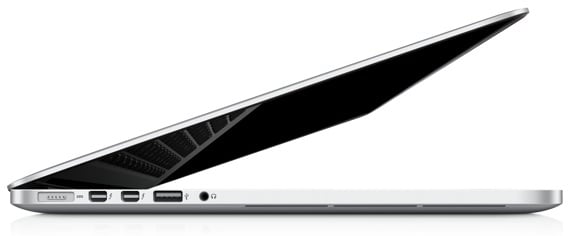 No on-board Ethernet means a £25 add-on for wired network users
This Retina model has a 95Wh lithium polymer battery, compared to the 77.5Wh battery in the standard 15in MacBook Pro, and it allowed me to stream about four hours and 50 minutes of cockney capers – only ten minutes short of the five hours I've seen on previous, non-Retina models. That's pretty good going considering the demands of the screen.
Object of desire
Incidentally, dual-band 2.4/5GHz 802.11n Wi-Fi reception also seemed better with this model, showing a strong signal and streaming the HD video even in the deadspot area of my office that normally confounds the Wi-Fi on my iPad.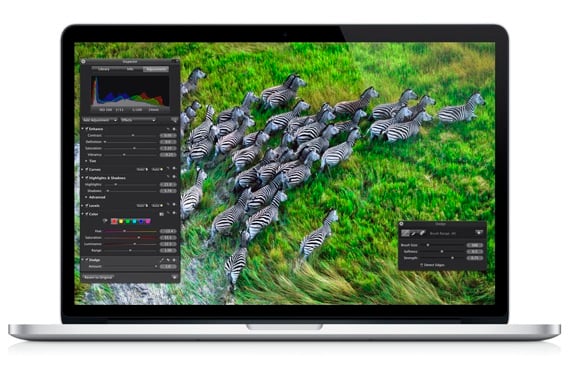 Simply: gorgeous
Got job too, given the loss of Gigabit Ethernet from the standard package. The good news is that Apple has finally got around to adding a pair of SuperSpeed USB 3.0 ports to its latest laptops and here, HDMI too. The bad news is that Firewire has gone – though it remains on the other MacBook Pro models just released – replaced by a second Thunderbolt port. As per Ethernet, there'll soon be a Thunderbolt-to-Firewire adaptor on sale.
Muzos will also be surprised to discover that – apart from the pair of built-in microphones – there's no audio input at all, which means you'll have to rely on USB, or perhaps the Thunderbolt adaptor for Firewire audio kit. Personally, Firewire I can live without, but I'll miss the mic jack.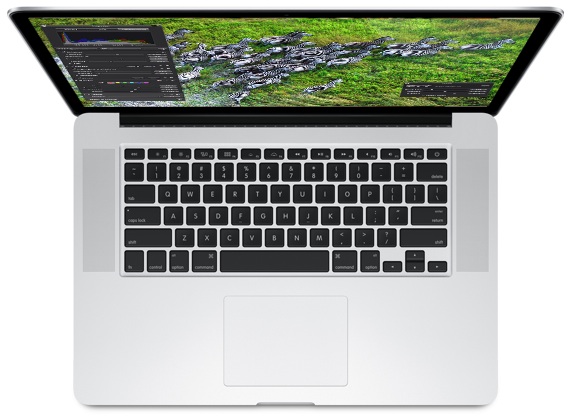 A good, solid keyboard and big, button-integrated touchpad
Finally, Apple has changed its MagSafe power connector, for some reason, so any spare power supplies that you've bought in the past will be unusable with this model.
Verdict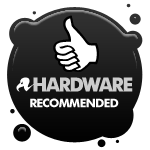 It's hard not to admire the all-round quality of Apple's latest release. The Retina display leaves every other laptop display we've ever seen trailing in its wake. But just as important is the fact that Apple has managed to significantly reduce the size and weight of this Pro model without compromising performance.
It's expensive, of course, and there are small niggles such as the lack of audio input. However, the MacBook Pro With Retina Display is a quality piece of kit that will have every Mac-loving pro semi-pro user on the planet drooling to get their hands on one. ®
More Notebooks Reviews

Ten...
Ultrabooks
HP Envy 14
Spectre
Toshiba
Portégé
Z830-10N
Asus
Zenbook
UX31E
Dell
XPS 13