Original URL: https://www.theregister.co.uk/2012/06/15/noaa_may_2012_report/
May 2012 was second warmest on record. The warmest? 2010
Sgt. Joe Friday meets climatology: 'Just the facts, ma'am'
Posted in Science, 15th June 2012 01:01 GMT
The US National Oceanic and Atmospheric Administration has released its monthly State of the Climate Global Analysis report for this May, and my, my, it's rather toasty out there: the month was the second warmest May since record-keeping began in 1880 – and the warmest was just two years ago.
That conclusion of the report refers to combined ocean and land temperatures during the month, which were 0.66°C (1.19°F) above last century's average of 14.8°C (58.6°F).
Up in the Northern Hemisphere, the combined land and sea temps made May 2012 a record month, at 0.85°C (1.53°F) above average. Globally, if you subtract the ocean from the average, it was the warmest May on record, at 1.21°C (2.18°F) above average.
You Reg readers in Oz, however, found yourselves in a cooling trend – when the sun went down, at least. Although daytime temperature were just about average, nighttime temps were -1.6°C to -2.9°F below average – the coolest since 1995 in South Australia and coolest since 2000 in Western Australia – making May the fifth coolest month overall since Australia began comprehensive record-keeping back in the late 1940s.
'Twas excessively balmy in much of the Northern Hemisphere, but cooler nights prevailed in Oz
Back in the States, however, "cool" wasn't on the agenda: taken together, the spring months were the warmest since full record-keeping began in 1895. Thirty-one eastern states had record warmth, and nationally the temperature was 2.9°C (5.2°F) above what NOAA call the country's "long-term average" – and those temps beat the previous record by a full 1.1°C.
Interestingly, although May 2010 barely edged out May 2012 for the global-warmth crown – and we do mean barely, with 2010 averaging just 0.05°C (0.09°F) warmer – May of that year was just coming off a nearly year-long El Niño warm period. This year, on the other hand, May was coming off a cooler La Niña phase.
Equally interesting – and while we're on the subject of La Niña – NOAA's calculations for the full period of January through May puts 2012 at only number 11 among years since 1880; 2010 was number one, and tied with 2005 for the warmest full year when December rolled around. However, since La Niña began to dissipate early this year, temperature anomalies have risen substantially.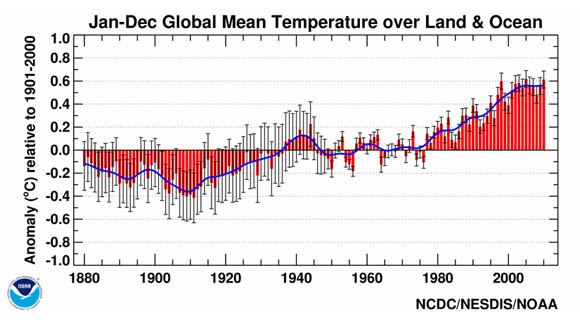 Temperature anomalies are a convenient way of tracking temperature change over long periods of time
A temperature anomaly, by the way, is simply the difference between an actual temperature and a reference temperature. NOAA currently uses the 1901-2000 average as its main reference temperature for global and hemispheric anomalies, and 1971-2000 for select comparisons such as the one in the chart above. A good explanation of anomalies can be found here.
One caveat: NOAA notes that the numbers in the report are preliminary, and that "ranks and anomalies may change as more complete data are received and processed." In other words, it may have been hotter and it may have been colder – but likely not by much, and we'll have final data in good time. ®