Original URL: https://www.theregister.co.uk/2012/06/15/hp_aurora_data_centre/
Inside HP's latest global bit barn
New Sydney data centre will serve global customers
Posted in Cloud, 15th June 2012 04:32 GMT
HP has unveiled its newest global bit barn and says it will form part of the network used to deliver its converged cloud services to customers around the world.
The new facility, dubbed Aurora, is located on the fringes of Sydney in a district adjacent to the major highways that surround and/or exit the city (the end of Roberts Road for you Google Maps fiends out there). Aurora therefore nestles among colossal warehouses for supermarket chains and the likes of LG.
Intended largely for domestic consumption, including Australian government agencies who all insist on domestic data domiciling, Aurora will also serve as a node in HP's global network of data centres. Active/active capability between the Sydney facility and other HP data centres around the world mean Aurora will be used by some HP global clients as a disaster recovery option, or by design if desired. HP's Converged Cloud Services will also be delivered from the facility.
First-person shooter chic
HP feels Aurora is its best effort at data centre design to date anywhere on the planet and points to a concrete slab as one of the features it got for its AUD$200million investment.
All that grey stone, plus the rows of chunky, steel, yet-to-be-filled racks, give Aurora the look and feel of an IKEA emptied out to host some kind of Hunger Games-esque game of life-and-death, or at least a scary real-world first-person shooter. The slab's raison d'être is rather less sinister: as a greenfield site Aurora doesn't need raised floors and instead pipes all necessary cables in from the ceiling. The latter are impressively high, the better to allow vapours to rise from servers humming away within.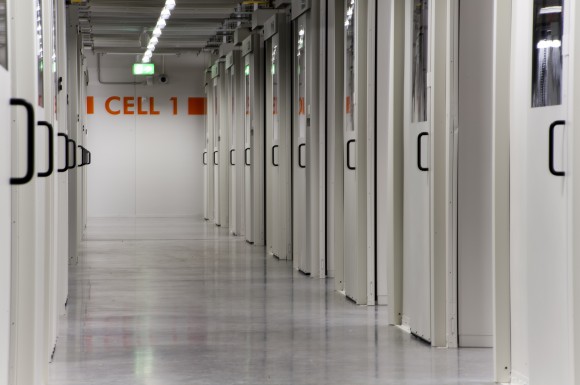 Data centre or FPS venue? You be the judge.
HP expects plenty of heat. The centre can cope with 10Kw in each rack, but HP expects 4Kw will be the norm. Heat drains into a hot aisle and heated air is sucked skywards.
44 racks have been set aside for ultra-high density kit that needs more juice and a little more cooling. Another exception is a 500m2 raised floor, an installation needed for some older kit that won't play nicely on the concrete slab. The raised space is expected to be home to customer kit migrated to the centre, while newer equipment will reside on the main floor.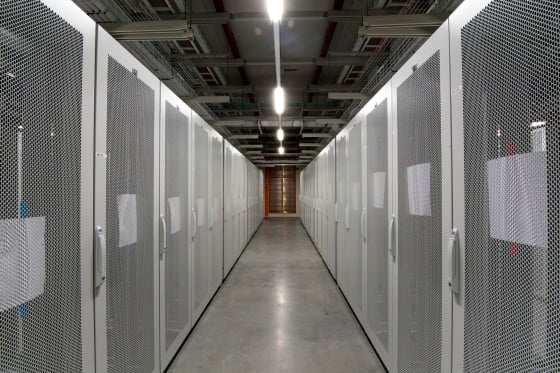 Empty racks awaiting customer kit at HP's Aurora data centre
Grand slam metrics
HP has adopted a new area metric – the tennis court – to size the centre. We're happy to report, therefore, that 48 Nadal-vs.-Djokovic-sized spaces reside under Aurora's roof. Just nine courts worth are currently kitted out and those are part of what's called "Cell 1". Cells 1 and 2 reside inside a single "shell". A second shell has two more cells, while a third will offer an additional single-cell shell. Each shell is independently powered, fed, watered, fireproofed and connected to the outside world.
No data centre launch goes by without someone trying to say how green it is. Aurora is no exception as HP says the centre has a power usage effectiveness rating of 1.3, which means that for every watt that enters the building, one will go straight to IT kit. The rest goes to coolers, lights and the rest of the kit necessary to run a data centre. HP is chuffed to have hit 1.3, and says those high ceilings are a big help. There's also a roof-load of heat exchangers that take warm air out and return it at just 24 celsius. The company says until the outside temperature hits 33 celsius there's very little rooftop action, with passive cooling the main approach to managing the internal climate.
The site does get rather hot: a reporter from the local newspaper the Blacktown Sun asked HP spokesfolk how Aurora would cope with a repeat of last summer, when the mercury passed 45 celsius for five consecutive days and didn't fall below 28 at night. HP feel sure Aurora will do just fine (and please don't imagine Eastern Creek is some kind of antipodean hellmouth: the part of Sydney it's in gets regular winter frosts).
The site has room for another two five-shell buildings and once those arrive HP will construct its own electricity sub-stations on site.

An aerial view of Aurora, with the current facility at left and space for new data halls at right.
Security
Security is very tight: dignitaries who opened the giant shed last Wednesday, including Australia's Minister for Broadband, Communications and the Digital Economy, Stephen Conroy, were forced to do so in a marquee set up in a car park. HP even laid on a rolling loo (complete with icky hand-pumped flush mechanism) to ensure no-one needed to enter Aurora.
Conroy was not fazed by that facility and declared the AUD$200m centre a sign of extreme confidence in Australia's non-recessionary economy, while local HP bods talked up a long queue of customers waiting to pass through its mystic portal.
Speaking of that portal, it includes a feature called a "man trap", a round airlock-like door that has measures the weight of occupants. If two people stand on the man trap, it won't open and security guards will arrive promptly to ask why you didn't read the "NO TAILGATING" signs present in the lobby. HP supplied even the lobby photo, as your correspondent was not allowed to photograph any part of Aurora's interior. Nor is any other visitor allowed to capture images.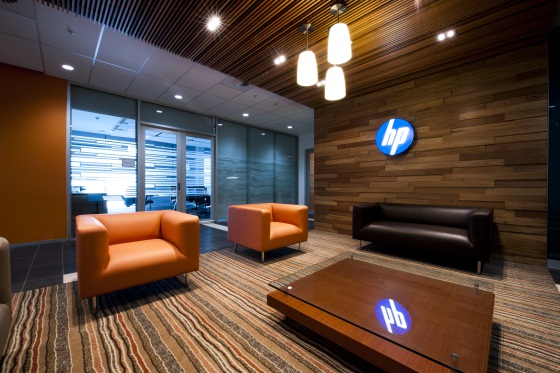 The not-to-be-photographed lobby of HP's Aurora data centre
Palm-reading biometric devices are required to enter many areas of the centre and only some security personnel are rated to allow entry.
El Reg's visit was therefore accompanied by a guard, and we had to leave our phone, laptop and dignity at the door.
Three Australian enterprise have already moved to Aurora, and CIOs from each – rural services provider Elders, Downer EDI and energy company Origin – declared the centre will help them to get away from the mucky business of running their own IT and instead make all sorts of things HP's problem.
HP's South Pacific Managing Director David Caspari beamed during their rehearsed testimonials, but did make a rather nervous joke when one of the CIOs offered a definition of cloud as "when I stop using, I stop paying." ®