Original URL: https://www.theregister.co.uk/2012/06/14/review_samsung_galaxy_s_advance_mid_range_android_smartphone/
Samsung Galaxy S Advance mid-range Android
HTC thrasher?
Posted in Personal Tech, 14th June 2012 07:00 GMT
Review Things sometimes change fast. Take the HMS Lord Nelson, a fine battleship when laid down in 1905 but almost instantly rendered obsolete by HMS Dreadnought, laid down just a few months later.
Or take HTC's One V. A 3.7in single-core LCD Android phone now up against a dual-core 4in OLED-screen device for the same contract price of £23 per month.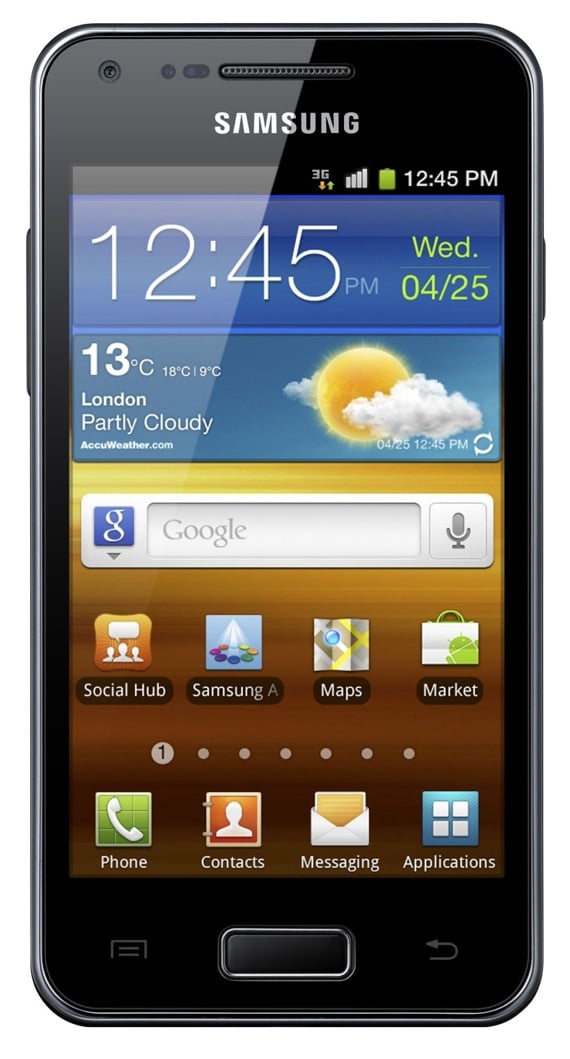 The S Advance's screen isn't 'retina' but its wonderfully colourful, even outdoors
The Advance looks like it should cost more thanks to its Galaxy Nexus-like asymmetrically curved glass screen. For a four-incher it's slender and light, measuring only 9.7mm front-to-back and weighing 120g.
Unlike the HTC One series, members of which are hewn from polycarbonate or aluminium, the Advance is a wholly plastic affair. Don't hold that against it - it's good quality plastic which, thanks to the gun-metal colouring, looks like metal.

Curiously curvy
These days, a 4in, 480 x 800 screen is not that uncommon in a mid-price handset, but an OLED panel is. Like all of Samsung's S-AMOLED screens it's wonderfully - if somewhat unnaturally - colourful and works well in bright daylight.
Some folk harp on about Samsung's pentile matrix screens showing more pixelation than is ideal, but I can't say it's something I've ever noticed, at least not beyond what I'd expect of any screen with a 233dpi pixel density.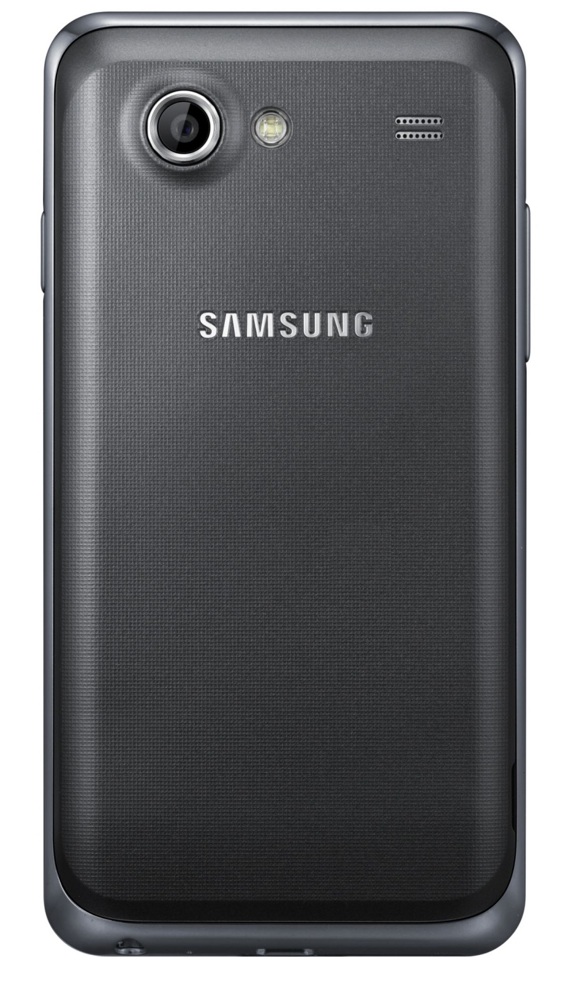 The back cover hides a removable battery and Micro SD slot
Prise off the back and you'll find a removable 1500mAh battery which proved capable of giving me around 48 hours of use. You'll also find hot-swappable slots for standard-sized Sim and Micro SD cards.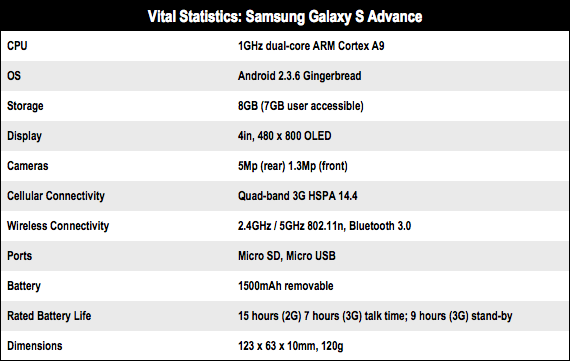 Giving punters what they want
The fly in the ointment here is the use of Android Gingerbread. Yes, the Advance runs 2.3.6 which is a poor show now that Ice Cream Sandwich has been out for more than six months. To my knowledge there's been no official word from Samsung about an update.
Antutu Benchmark Results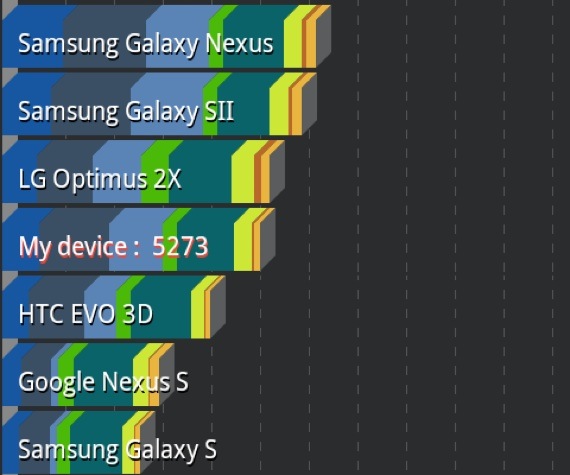 Longer bars are better
As with all Samsung 'droids, the Advance S' OS gets the TouchWiz 4.0 overlay. HTC's Sense it is not, but it still delivers a simple and well-integrated user experience and it ties all your social networks to your phone book without fuss or bother.
To haul the coal you get a dual-core 1GHz chip with 768MB of Ram. That's more grunt than the vast majority of smartphone users will ever need. Run the Antutu benchmark app and you get a score of around 5200 which is impressive for mid-range handset.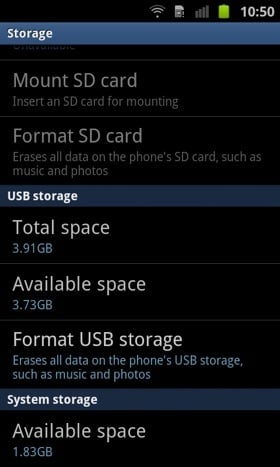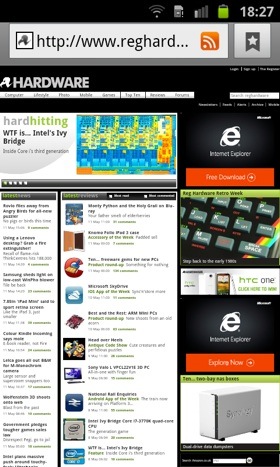 If you want your phone to work as a mobile entertainment hub then 720p video and graphically demanding games like Shadowgun play a treat.
Unlike HTC, which seem to have tied itself in knots over the One series' storage, Samsung simply gives the punters what they want. To wit: 8GB of Flash storage with 4GB of that free for files and 2GB for apps. Don't forget the aforementioned Micro SD card slot.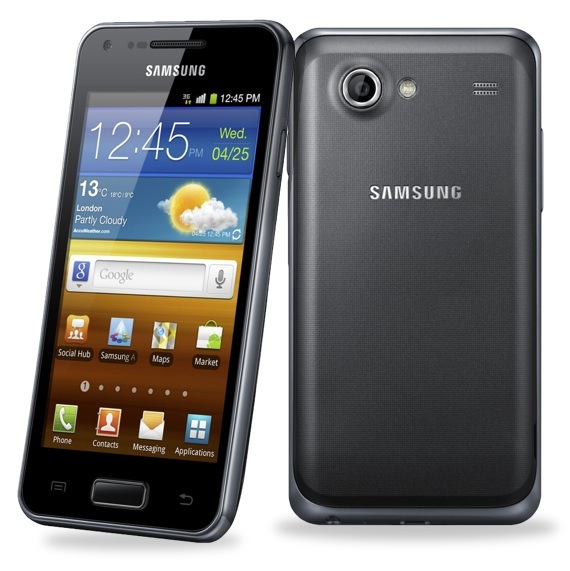 Watch out, HTC...
The rear camera is a run-of-the-mill 5Mp job that can only shoot video at 720p but for this sort of money you're never going to get 8Mp stills or 1080p movies. The secondary camera is a fine little 1.3Mp affair. In this age of mobile video calling, a good webcam is essential and the Advance's camera works well with Skype.
Verdict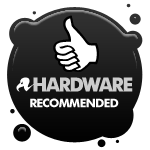 Just like a showdown between the Nelson and the Dreadnought, the Samsung Galaxy S Advance blows the HTC One V out of the water with a single salvo. When it comes to hardware, it's better in every way. The screen is larger and more lustrous, there's more storage space, you get a decent webcam, and it's much more powerful. The V claws back some ground thanks by running Ice Cream Sandwich and offering Beats Audio tech, but that's not enough to avoid a damned good thrashing. ®
Thanks to Clove for the loan of the review handset
More Smartphone Reviews

Samsung
Galaxy S III
Sony Xperia
S NXT
Orange
San Diego
Nokia
Lumia 900
Apple
iPhone 4S