Original URL: https://www.theregister.co.uk/2012/06/12/review_volkswagen_up_small_car/
Volkswagen Up!
Honey, I shrunk the Golf
Posted in Science, 12th June 2012 11:00 GMT
Review They say good things come in small packages, and at only 3.5m long Volkswagen's new city car is certainly small. To put that into context it is 28.5cm shorter than the unloved Fox it replaces and only 53.5cm longer than the original Mini.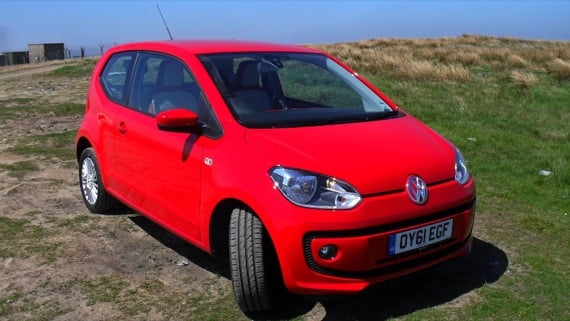 VW's done a good job with the styling
There's no denying VW has done a good job with the styling. Aside from the BMC Mini and new Fiat 500, it's the only very small car I actually like the look off. Most are bulbous little lumps with all the visual flair of a squashed grapefruit, but the Up has presence and balance.
Maybe it's the sculpted headlamp covers or the creased flanks or that kinked C-pillar that make it look like the sort of car a 40-year-old bloke could drive. Either way, it makes the likes of the Ford Ka and Toyota Aygo look positively feminine by comparison.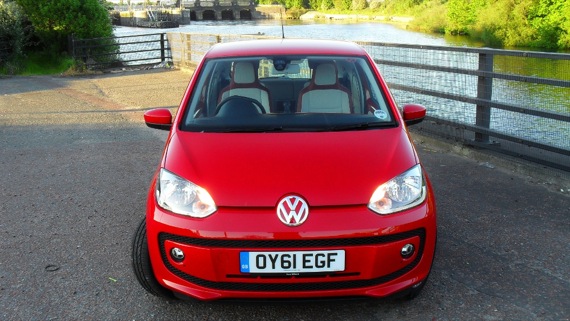 Thumbs up for the sculpted headlamp covers
Power comes from a brand new and very refined 12-valve 999cc three-cylinder petrol engine which is available in either 60 or 75bhp trim. Whichever you plump for, the torque output is the same 95Nm (70lbs-ft) from 3000 up to 4300rpm.
The 75bhp motor should average 60.1mpg and emit 108g/km CO2. The 60bhp model betters that to the tune of 62.8 and 105, respectively, while the BlueMotion Technology version with start/stop manages 68.9 and 96. There's no diesel version, but next year there will be a fully electric Blue-e-Motion model.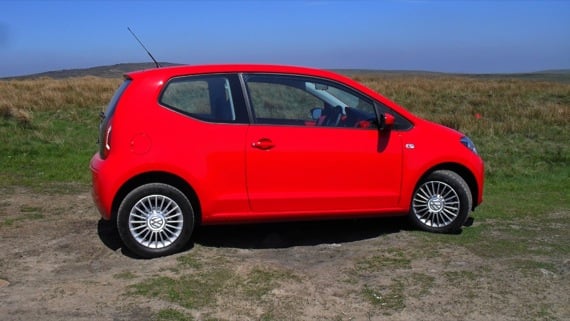 Not at all feminine
The car I was given was the top-of-the-range High Up - below which sits the entry-level Take Up and mid-level Move Up - with the more powerful engine. After a week of mixed urban and open road driving, I ended up getting 52mpg which I was pretty pleased with.
In the hands of anyone who enjoys driving, economy will suffer though because the little Up is an absolute hoot to drive. I'd go as far as to say it's even more enjoyable than the Fiat 500 Twin Air.
So much fun to drive
Planted four-square on the road, with a slick five-speed box and with enough power to have fun with but not enough to get into any tricky situations, the Up scoots around like a Yorkshire Terrier that's been at the Red Bull.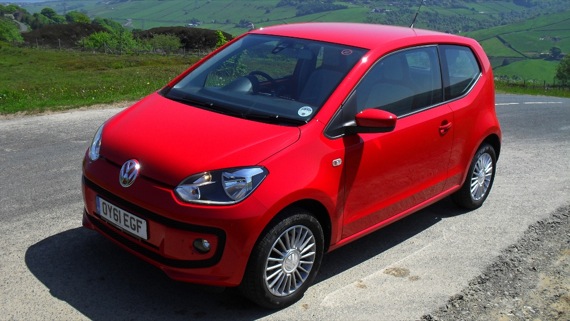 Been at the Red Bull?
Despite the piddly little motor, the Up can get quite a move on. The 0-62mph sprint is dispatched in 13.2 seconds and top speed is 106mph. Take it out on the motorway and it's a surprisingly refined little bus. Quiet cruising is helped by the Up's 0.32 coefficient of drag, which is good for a dumpy little hatchback.
For such a small car interior space is impressive. This is partly thanks to a very long - in relation to actual length - wheelbase, thin-backed seats and a physically small engine that, were it any further forward, would be the bonnet mascot.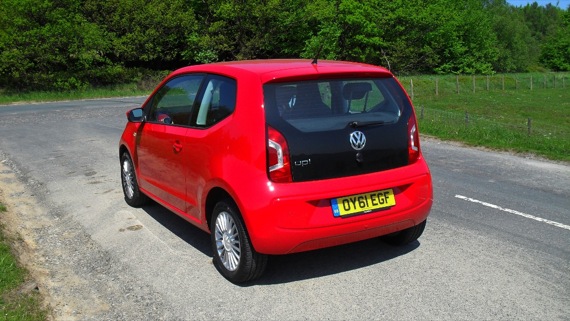 The sort of car a 40-year-old bloke could drive comfortably?
Four adults can get on board with ease and once inside sit in some comfort. Rear legroom was certainly sufficient for me and I stand at 5'11". The boot, though hardly vast, will swallow 251 litres of shopping and comes with a clever double-decker floor. If you fold the rear seats down you have access to a useful 951 litres.
Interior fit and finish is first rate. From the bright red plastic panels than dominate the light and airy cabin to the usual excellent VW/Audi switchgear and plethora of cup holders and cubyholes, the Up is a genuinly pleasant place to spend time.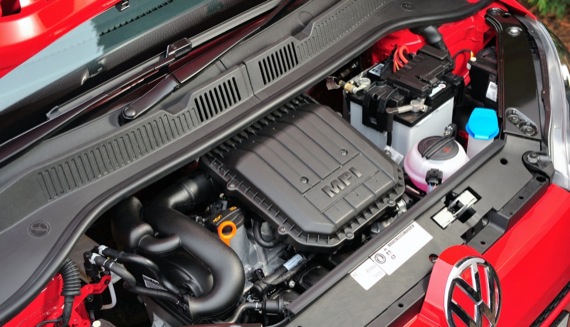 The engine is as far forward as it's possible to go
Unique to a car in this class is the City Emergency Braking system. Like the crash avoidance technology Ford fits to the Focus, it keeps a beady eye on what's in front of you and if it detects something that you likely to hit throws out the anchor.
Inside the Up - in pictures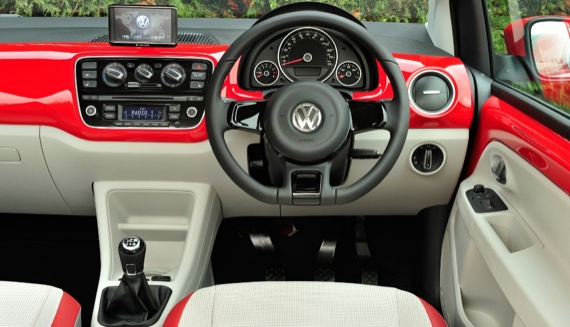 There's lots of painted metal but the Up's interior is none the worse for that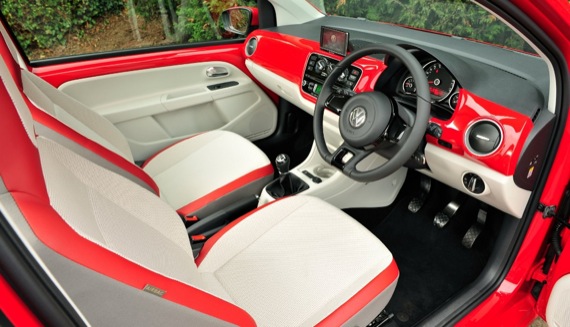 The cabin is roomy and well screwed together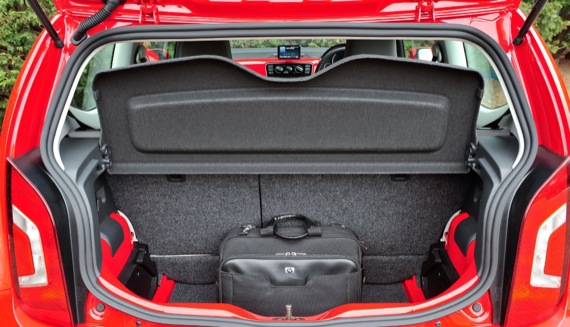 The boot is decent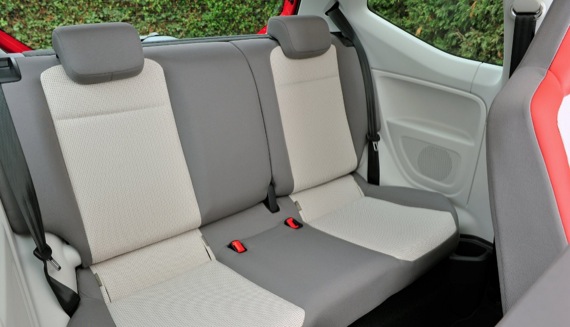 There's lots of room in back for small car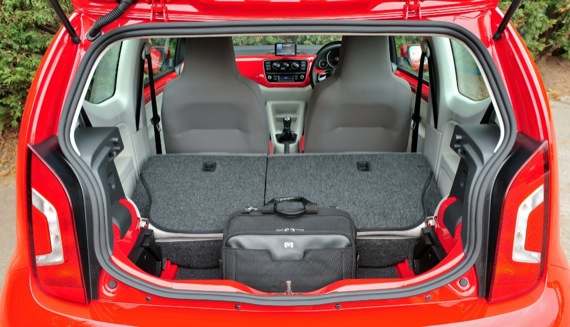 The rear seats fold flat
Satnav special
It only operates at speeds below 19mph and the laser sensor can't see further than ten metres ahead, but it certainly works, as the twit who backed his BMW 5 series out in front of me in the Trafford Centre car park had cause to be grateful for.
To be honest, I wasn't paying attention either but luckily the Up was and it came to dead halt just under a meter shy of an embarrassing phone call to VW's press fleet manager.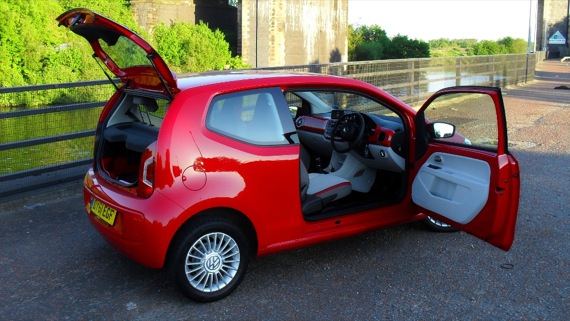 Boxy but spacey
Volkswagen has come at the whole infotainment thing from a fresh perspective for the Up. Free with High Ups but costing only an extra £265 with the cheaper models, Maps and More is a bespoke Navigon satnav that quickly and easily clips onto a fixed mount on the dash.
When in place it works as a satnav, trip computer, hands free telephone system and, thanks to a Micro SD card slot, digital music player. Unlike a third-party satnav, it is fully integrated into the car so music plays back through the same speakers as the CD/radio, ditto navigation commands.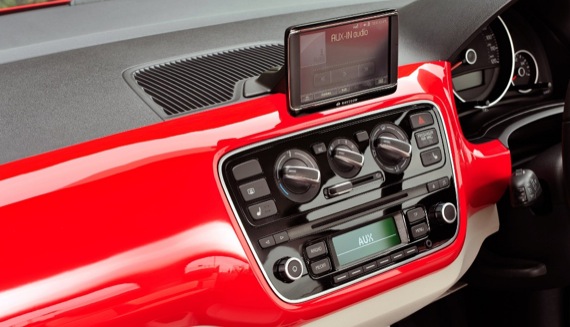 The Navigon-made Maps and More
In fact, it's just like having a fully-functional 5in touch screen navigation and entertainment rig but a lot cheaper and you can carry it about with you. It's a clever idea extremely well executed. For instance, when you disconnect the unit it remembers where you stopped and so can guide you back. It's almost reason enough alone to buy an Up.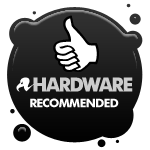 Prices for the Up start at an eminently reasonable £7995, but remember that the Skoda Citigo and Seat Mii are the same car underneath - don't let the Up's unique window line fool you. For my money, the VW is by far the better looking of the three but the Skoda will start from £7630 and rumour has it there will be some cracking personal contract plans on offer too.
Verdict
Quite simply the best very small car money can buy. ®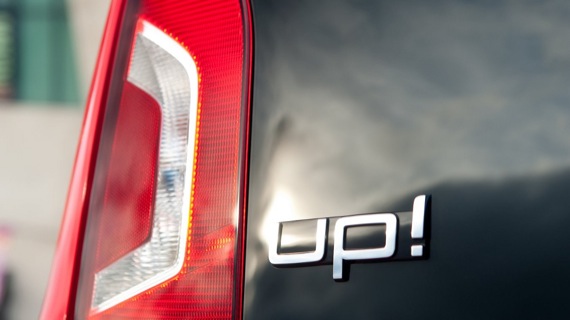 We could do without the exclamation mark
More Car Reviews

Vauxhall Ampera
Hyundai Veloster
Renault
Twizy
Renault Mégane
265 Trophy 2.0
Kia Rio