Original URL: http://www.theregister.co.uk/2012/06/08/review_hp_z1_workstation/
HP Z1 quad-core Xeon 27in PC
All in one workstation, anyone?
Posted in Hardware, 8th June 2012 06:00 GMT
Review

PC users who secretly covet their cubicle neighbour's 27in iMac but don't want to leave the Windows world can begin to feel rather smug these days. HP's Z1 is its take on the all-in-one concept, but has the heart of a workstation. It's a handsome beast too, with a 27in display which also houses a Xeon server-class CPU as well as everything else you need for a professional level powerhouse.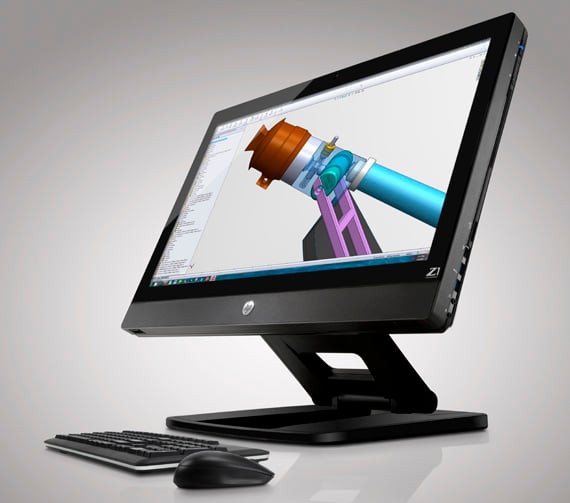 Desktop dominance? HP's Z1 all-in-one workstation
HP's primary focus with its Z1 all-in-one design is the user customisation aspect, as access to the internals is breeze. That said, a range of excellent options are available from the factory. The review unit came equipped with a 3.5GHz quad-core Intel Xeon E3-1280 which has an 8MB L2 cache and is partnered with 8GB of 1600MHZ DDR3 and a 2GB NVidia Quadro 1000M professional graphics card.
When purchasing you can opt for lower spec CPUs such as the marginally slower quad-core Xeon E3-1245 (3.30GHz, 8MB L2) or the dual-core i3-2120 (3.33GHz, 3MB L2), although I'm not sure why you'd go down that route. If you go for the crappier chips, you also get lumped with Intel HD Graphics. Still, you can alway add a separate card from the Quadro range (1000M, 3000M or 4000M) from the build to order options.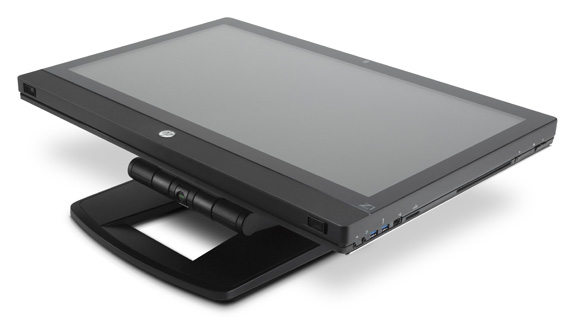 That's a 27in panel there, so it's not as small as it looks
There's also a choice between DVD+/-RW or BD-R optical drives and, for those seeking serious performance, there's SSD and RAM upgrade routes too. Between the four full-size DDR3 slots you can cram in up to 32GB of the stuff, providing all of your DIMMs use ECC. If not, you are limited to 8GB. Storage takes the form of either one 3.5in HDD or two 2.5in disks.
The review sample came with single 3.5in 7,200RPM 1TB drive installed, but if I wanted to replace it with either one or two 2.5in drives a new caddy would be required. HP offers 3.5in hard disks from 500GB to 2TB as well as 2.5in 10,000RPM 300GB and 600GB units. SSDs are also on the cards in 160GB and 300GB capacities, but HP does not elaborate on their origins.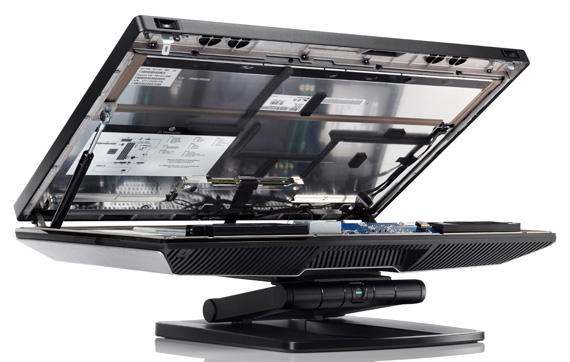 Swapping out parts is a snap
In order to get to all of the internal fun stuff all you have to do is fold the Z1 back on its stand and release the two catches on the bottom edge. From there simply lift the screen up and it will swing away on hinges and remain supported by a gas-strut.
Open and shut case
Following this, component replacement is a snap – literally, everything from the HDD caddy to the GPU and PSU simply pop out with the pull of a catch and are replaced just as easily. There are no screws nor fiddly harnesses here. My only gripe is that HP decided to use mobile-class GPUs that use the MXM implementation of PCI-e so you can't swap in a standard desktop card.
Since this is an all-in-one there's not much else in the box other than some bundled software, in this case HP gives you Corel WinDVD and Roxio Creator Business HD. Talking of software though, if you need to use a precious dongle, there's a USB port inside the unit for this purpose. It enables the dongle to be locked away from light fingers when the Z1 is closed up.
I put the Z1 through its paces with 3DMark11, PCMark7 and SolidWorks 2012 – especially since HP goes so far as to market it with SolidWorks running in the promo shots. First, however, are some layman's benchmarks, in the configuration sent to me the Z1 scored a meagre 5.9 on the Windows Experience Index. While both the CPU and RAM received a 7.6 and the Quadro 1000M managed to pull a 6.7 the old spinning platters dragged it down to just 5.9.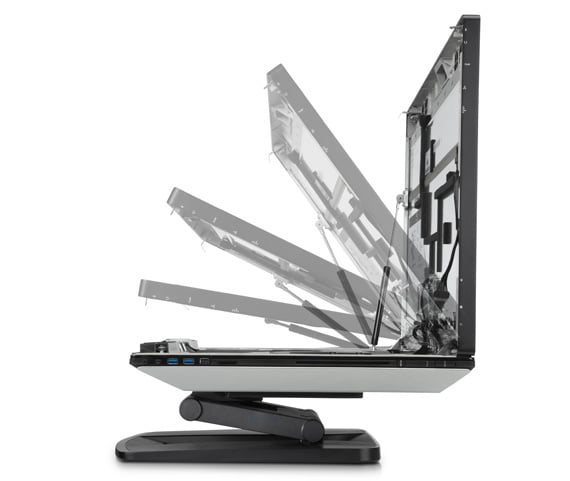 Open design?
When running PCMark7, the hard disk's performance shortcomings showed again with a score of just 3085 PCMarks. I knew this machine was begging for an SSD the moment I saw it, so in went a 128GB Patriot WildFire which brought the PCMark score screaming up to 4616 and the Windows Experience Index to 6.7. Yet with the SSD being awarded a 7.6 result, the low-end Quadro card was now the bottleneck.
3DMark11 scored both configurations at 1133 3DMarks on the "Performance" test, not a particularly inspiring result, but bear in mind that these benchmarks are really for gaming cards which sacrifice rendering accuracy for FPS.
The real benefit of a Quadro GPU is for CAD modelling with an application like SolidWorks where it gives precision rendering for accurate modelling as well as enabling near real-time PhotoView rendering and RealView Graphics. In short, this means that you can get a photorealistic view of your product while it is in the modelling phase. To see what this actually looks like compare these screenshots of a wireframe view, RealView and PhotoView using this friendly, Weighted Companion Cube CAD file.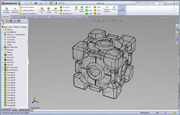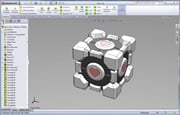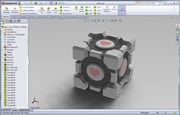 Photofinish in 12secs: modelling with Wireframe, RealView and PhotoView renders
Click for larger images
For this simple model, render times were in the 12 second range which would be perfectly acceptable for the hobbyist designer, but when it comes to rendering larger more complex models for commercial purposes I think the Quadro 1000M is going to let you down and leave you waiting. If you're serious about this kind of stuff then you'll want to splash out on a 3000M or 4000M.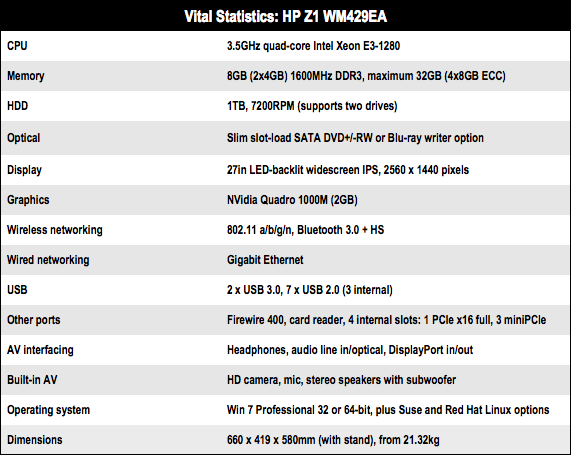 Services rendered
To display all of your wonderful renderings the HP Z1's 27in screen hides its 3,686,400 pixels (2560 x 1440) behind a glossy glass panel which is great for vibrant colours, but unless you've some control over lighting in your working environment then this finish can easily become a nuisance.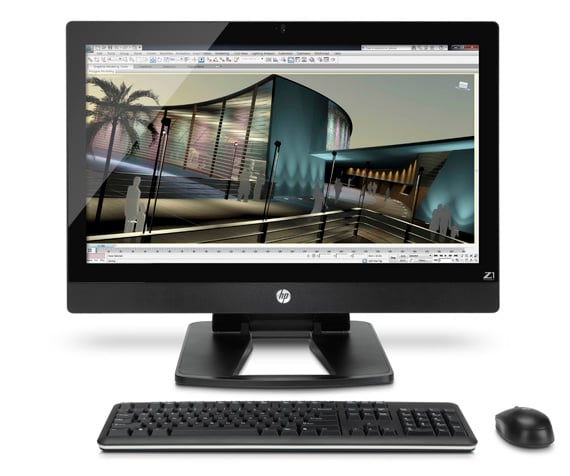 The screen looks great but the gloss finish could be distracting in some scenarios
Aside from the huge screen area, the real benefit though is that this is an IPS panel which means it remains clear at almost any viewing angle so you can show off your work to as many people as can gather round it. Personally I'd like to see HP offer an anti-glare screen, but I must admit that the picture quality is fantastic as it is.
Beneath the display lay a set of dual-cone stereo speakers which are more than capable of handling my mp3 collection, but they aren't about to wow any audiophiles. On the right hand side you'll find USB 3.0 ports accompanied by FireWire, audio ports and an SD/xD/MMC/MS reader. Around the back are four USB 2.0 ports, gigabit Ethernet, Line in/out, SPDIF, and subwoofer ports. There's also a full-size Display Port socket for connecting a second monitor, as if you need one.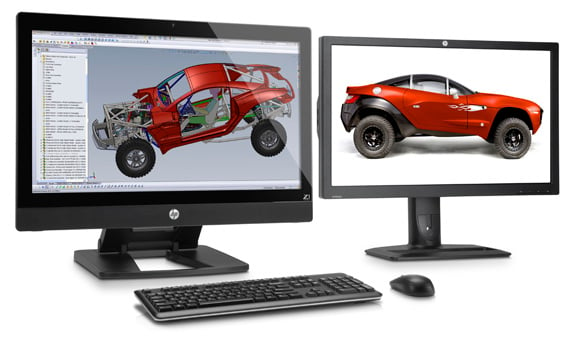 Need an additional monitor? No problem
HP also includes its bog standard wired keyboard and mouse, which are fairly unremarkable but nonetheless comfortable to use and work as expected. If you like the sound of all this hardware but aren't keen on what Microsoft has to offer, fear not because HP will happily supply enterprise Linux solutions from both Suse and Red Hat.
Anyone out there hoping the HP Z1 would be cheaper than a 27in iMac will be disappointed. The nearest BTO equivalent iMac costs £2049, which makes it almost £900 cheaper than the Xeon Z1 I have here. So, for personal users with a big screen an all-in-one habit, I would have to say the iMac is a better deal. That said, the HP Z1 offers upgrade flexibility way beyond what Apple will let you tinker with.
Verdict
If you are a professional designer that absolutely needs the Quadro GPU but can also spare the space for a tower, then a traditional workstation will provide more power and a desktop class GPU for considerably less money. As far as the user experience goes I would be happy to use the Z1 on a regular basis, but I reckon it really does need an SSD to be a real performer, as well as a higher-end Quadro card than the 1000M. It looks good, has easy access to get the best performance, but it certainly is pricey. ®
More Computing Reviews

AMD and Nvidia
extreme GPUs
workout
AMD and Intel
extreme desktop
CPU workout
Raspberry Pi
Ten...
Ultrabooks
Intel Ivy Bridge
Core i7-3770K
quad-core CPU