Original URL: https://www.theregister.co.uk/2012/06/08/hands_on_with_nintendo_wii_u/
Hands on with Nintendo's Wii U
Give it to Mii...
Posted in Personal Tech, 8th June 2012 12:06 GMT
First look It's been widely discussed, dissected and generally accepted that E3 2011 was something of a misstep for Nintendo; last year's unveiling of Wii U was met by much scratching of heads as press and public alike tried to fathom what we might expect from the gaming firm's Mario Wii U console.
How were we meant to hold such cumbersome-looking tablet controllers for extended periods? What exactly was the system's horsepower? Might it suffer the same fate as the Wii and end up ignored by third parties once Sony and Microsoft usher in their next generations? Most importantly, was that really the best name they could come up with?
With its rivals still holding back on their next machines, this year's E3 was Nintendo's to grab by the scruff of the neck, where it could convince punters that we need tablets with our consoles. So, after a year of development, is the Wii U enough to make a wolverine purr?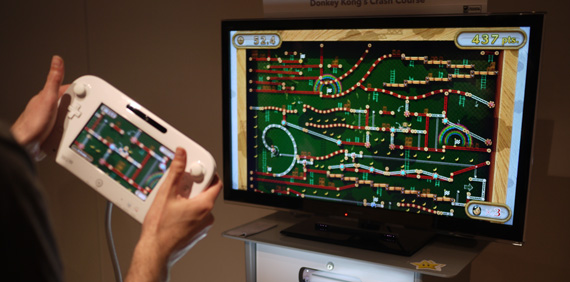 First to the tablet, now known by its official name: the Wii U GamePad. It's a device Nintendo is calling 'the first controller with a screen' (even if we gamers know that Dreamcast already did that whole thing way back when).
It has all the same inputs you'd expect of a regular pad (Nintendo almost shouting to EA and Activision shooters that they'll feel at home on the device). It can scan in character models (in a similar way to Skylanders), it has tilt and Wiimote sensors built in and it can even be used in conjunction with a second GamePad – though, so far, that last point has only been announced and not demoed.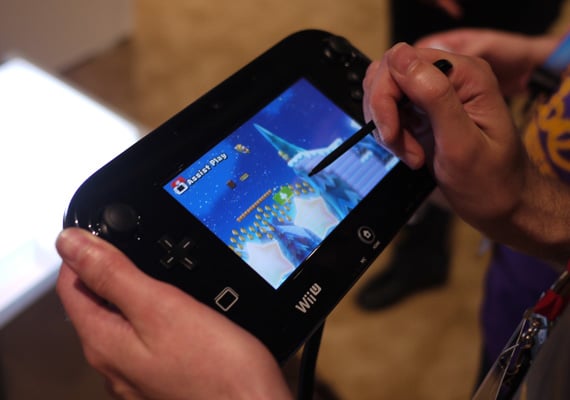 I'm left pleasantly surprised by how light the GamePad feels in my hands. It's a more compact device than, say, the iPad, and while I wasn't able to play for several consecutive hours at E3, the device never felt anything other than a naturally contoured fit in my hands, whether using it as a traditional pad or in a more novel way.
In fact novelty is what Nintendo seems hell-bent on pushing, for while the likes of Mass Effect 3 and Batman: Arkham City are being ported to the console by third parties, none of Nintendo's titles look too far beyond what we've seen on the Wii: its policy of gameplay over graphics seems set to continue.
Nintendo Land perhaps best illustrates this, offering 12 mini-games in the guise of areas of the Nintendo Land theme park, each of which make interesting use of the GamePad to offer their own unique experience.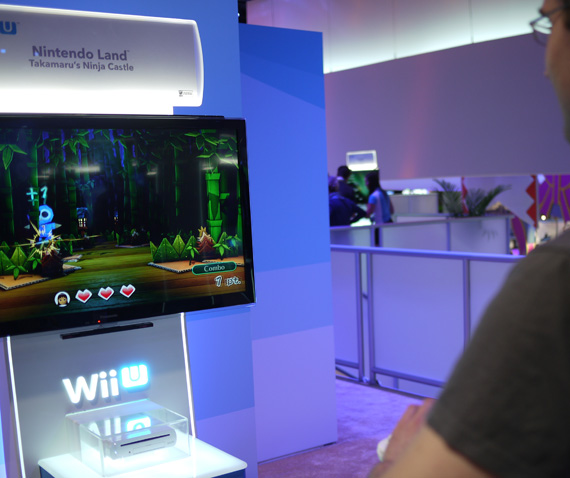 Animal Crossing: Sweet Day, for example, has the GamePad player controlling two candy guards – one mapped to the left analogue stick, the other to the right – while other players viewing proceedings via their TV take up the still-compatible Wiimotes in a bid to collect all the candy without being caught.
Panoramic power
Of course the GamePad player doesn't need to look at the TV at all thanks to the onboard screen, and so begins a game of chase where you attempt to round up the candy thieves, as the GamePad's screen zooms in and out depending on how far apart your guards are. It's what Nintendo has dubbed "asymmetric gameplay" and in the hands of its creators at least it leaves everyone involved in the demo with a big grin on their faces.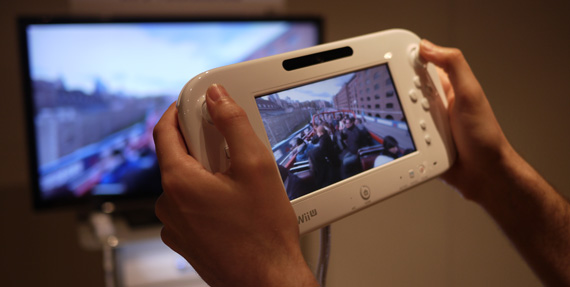 Similar examples are present in Luigi's Ghost Mansion – where the GamePad player controls a ghost invisible to other players – and in a downright cool technology demo called Wii U Panorama View which takes players on a voyeuristic open top bus tour of London, or drops them into the Rio Carnival.
The trick here is, where those watching the TV only see the event from a fixed perspective, the GamePad user can freely look around in 360 degrees with the camera tracking the movement – just watch out for the stat tracker at the end – which didn't suggest I'd spent the bulk of my time surveying a lovely lady's attractive posterior (honest).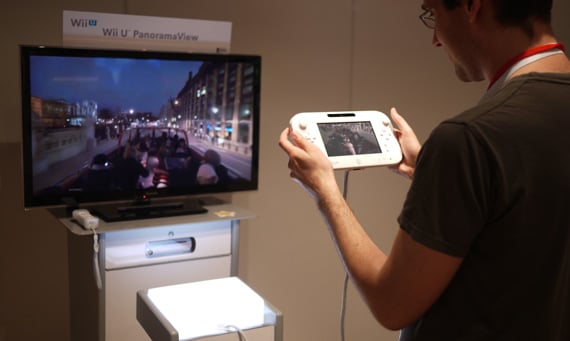 Ubisoft's ZombieU uses a similar premise. The pad's screen lets you look around your environment, creating something approaching tension, possibly mixed with frustration, as your eyes shift from the small screen of the handset to your TV to get an overall picture of what's going on.
For all these curiosities and interesting features there are of course areas of concern. My chief gripe is that Nintendo hasn't unveiled a game which truly pushes the as-yet-unannounced horsepower of its machine (something they've arguably not done since Mario 64 shipped). Secondly, my questions about whether Nintendo Land will be able to usher in online friends too were met with 'no comment' responses. And thirdly, most importantly: what does it cost?
Pricing of such a device will always be a major issue among consumers ever conscious of their dwindling income and Nintendo needs to be wary of that. Speculation was rife at the show, with figures of anything from £200 to £400 being bandied about – all heard from a 'friend of a friend'.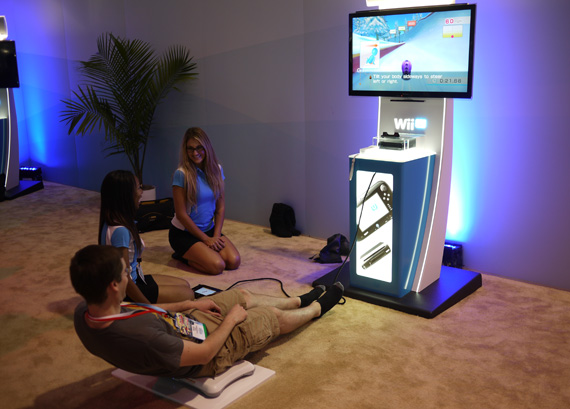 Whatever the truth, if I was Nintendo I'd be looking to price my bold new console at reasonable Christmas present levels with the 'holiday season' conveniently pitched as the likely release window. There's no doubting that Wii U's new gameplay types are a lot of fun for gamers, and I'm convinced my mum will love it too, but whether it carries that same zeitgeist that the Wii's Wii Sports and motion controls combo once carried remains to be seen.
After all, there are currently a lot of Wiis gathering dust in TV stands cupboards around the world and even after this year's E3 there remains a host of unanswered questions. ®