Original URL: https://www.theregister.co.uk/2012/06/06/review_extreme_pcs_amd_and_intel_cpus/
AMD and Intel extreme desktop CPU workout
Feel the burn
Posted in Personal Tech, 6th June 2012 06:00 GMT
Extreme PC Week

Comparing high-end desktop processors that use the latest architecture from AMD and Intel these days, is a bit like comparing apples to walnuts. To pimp up a PC, there is only one company that really offers extreme processing power, and that's Intel. But it'll cost ya. In the extreme arena, AMD gave up arm wrestling with Intel a while back, however, the company has some nifty desktop CPUs that hit a price/performance sweet spot. So what can you expect to find from these two players if you want a desktop PC that packs a punch?
While the focus of late has been on Intel's recently launched Ivy Bridge architecture, at the time of writing, the really powerful desktop CPU's come from the company's Sandy Bridge E microarchitecture. Released before Ivy Bridge in late in 2011, the flagship Sandy Bridge E desktop processor is the mighty 6-cored Core i7-3960X Extreme Edition. If money is no object, then you've found your grail. Shop around and you're looking at just under £800 – a CPU that costs as much as a many a complete off-the-shelf powerful PC.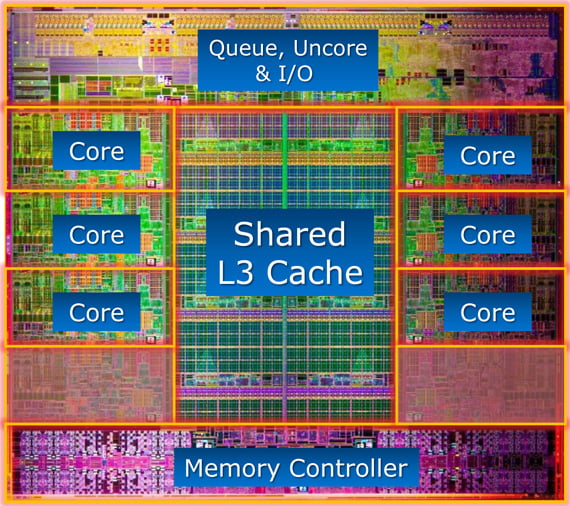 Intel Core i7-3960X processor die detail: note the two 'greyed-out' cores
Thankfully, there is a cheaper Sandy Bridge E sibling that shaves off around £300 from the cost. It's still an eye-watering £450 though, but the Intel Core i7-3930K retains those 6 cores and is undoubtedly quick. Consequently, it's become a firm favourite among boutique system builders to power their extreme PCs. More on this chip in a moment.
When it comes to offering something akin to Sandy Bridge E, alas, AMD has nothing that can match it, but it doesn't stop the company from hitting the headlines. In September last year, the AMD FX-8150 – the flagship CPU of the Bulldozer architecture line of processors – grabbed the Guinness World Record for highest CPU clock speed at 8.429GHz. Yet a glance behind this wonderful PR coup tells a slightly different story.
The machine only had to boot into Windows and allow the clock speed to be reported and, more importantly, it didn't need to fire up any applications or have all eight of its cores running. The world record speed was attained by a single Bulldozer module under the influence of some pretty heavy liquid helium cooling – so nothing like the real world then.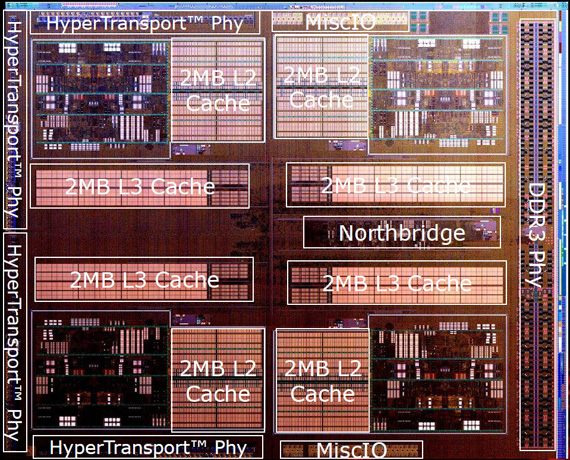 AMD FX-8150 processor die detail
Perhaps more telling is that at launch, the marketing suits at AMD had priced the eight-core, 3.6GHz FX-8150 at around £200. With Intel's Ivy Bridge not yet on the horizon, it was pitched at against the Sandy Bridge Core i5-2500K. Certainly the Core i5-2500K is a very good chip, but you wouldn't call it extreme by any stretch of the imagination.
Core decisions
Indeed, it had been a very long wait for anything totally new to come out of AMD's CPU camp but its Bulldozer architecture was built from scratch and finally arrived in October 2011 – its totally new modular design raised considerable interest. In essence, each module is a dual-core CPU with each core having its own 16KB of L1 cache and 2MB of L2 shared between each module while 8MB of L3 cache is shared between all the cores in the die.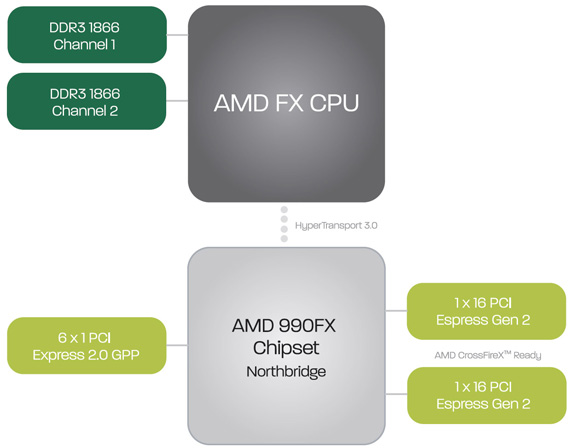 AMD Bulldozer architecture block diagram
All this combined makes the Bulldozer a big chip, with a die size of 315 mm² and a 1.2 billion transistor count. Bulldozer also uses the existing AM3+socket, unlike Intel's Sandy Bridge E that requires new components. The FX-8150 has four of these Bulldozer modules and therefore is a 8-core chip with a core clock of 3.6 GHz, which rises up to 4.2GHz with AMD's Turbo technology.
The fact that it doesn't have any competition from AMD in the high-end performance processor market has made Intel pretty complacent, for example both the Core i7-3960X and Core i7 3930K aren't quite what nature intended them to be. In truth, they are both eight-core chips but have two cores disabled simply because Intel doesn't feel the need to have an eight-core chip in this market space. Besides, if AMD had a complete change of heart and launched some fire breathing chip, then all Intel has to do is to enable those redundant cores and launch a new range to combat it.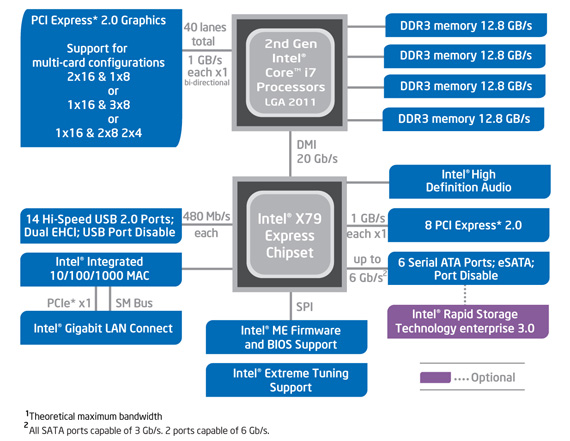 Intel X79 Express chipset block diagram
So for now, just like the Core i7-3960X Extreme Edition, the Core i7 3930K is a six-core Sandy Bridge E processor with hyper threading. In effect, the latter delivers 12 threaded chip built on a 32nm process. The 3930K is a 100MHz slower than the 3960X, clocked at 3.2GHz (3.8GHz with Turbo) with 12MB of Intel L3 Smart Cache and it supports quad memory channels.
Performance charts
The fourth memory channel and a few other tweaks – including that massive amount of L3 cache – mean that it's a huge chip both in terms of transistor count (2.27 billion) and physical size, 435mm². Consequently, a whole a new socket, the LGA 2011 and a new supporting chipset, the X79 Express, are in order. Being a 'K' class chip means that its multiplier's are unlocked, allowing it to be easily overclocked for even more grunt.
Benchmark Tests
PCMark7 overall score

Longer bars are better

Cinebench R11.5 Index Score

Longer bars are better

AMD and Intel X264 V4.0 video encoding rate

Average frame rate: longer bars are better
Verdict
So, for the time being at least, if you've the budget, then it's the Core i7-3960X Extreme Edition for pure performance. Yet in reality, the Core i7 3930K makes a whole lot more sense, it's a hell of a lot cheaper and practically just as fast. Going down the AMD route offers a different way of looking at a fast PC. Yes there's a big compromise in overall performance although the price of the FX-8150 being less than half the price of the Core i7 3930K will allow much more flexibility.
At around £184, the FX-8150 is a bit of a bargain. Indeed, the price is attractive to system builders, providing plenty of leeway to beef up the hardware specs they want to add for an AMD-based, high-end performance system. So if you need to save cash for more RAM, a faster GPU or a decent-sized SSD, then AMD provides a pretty respectable option. ®