Original URL: https://www.theregister.co.uk/2012/06/04/gaga_update/
El Reg's GAGA robot lawn-slasher loses its mind. For now
Credo: Things you can't do from the pub aren't worth doing
Posted in Science, 4th June 2012 09:30 GMT
The weather has been working against us in the Hibernian branch of Special Projects: not only did it rain interminably for months but it then broke into blazing sunshine prompting an explosion of growth for which we were entirely unprepared. Location sensing is still under development, more on that later, but now we're racing to produce some kind of growth retardant while the grass is, quite literally, growing under our feet.
The Genuinely Autonomous Garden Assistant (GAGA) will be autonomous, eventually, and thus will need a decent brain, but right now we need something which can cut the grass even if it has to rely on something a little more fleshy. Fortunately we've already decided that remote operation is the way to go, so GAGA will be fitted with human-operable radio controls and switch to a higher, silicon-based, intelligence down the line.
Not that we're planning on pacing up and down like some kind of primitive suburban tribesman. If we have to be involved with the mowing of the lawn then we will do so from the comfort of some nearby hostelry, or from the sofa at least. Our immediate need is, therefore, for a machine capable of making its way around the lawn while streaming video to the operator, and keeping the grass neat.
Sadly our extensive blade testing has demonstrated there's nothing quite like a whirling chunk of metal to keep the grass shorn. A machine equipped with scything teeth would be visually stunning, and has that Mad Max appeal not to mention being the way in which the very first grass cutters operated (as we're given to understand) but sadly the technique doesn't produce the kind of finish one expects of a 21st Century lawn:
The blades do cut grass, but they also push it out of the way, sadly doing more of the latter than the former and leaving the grass bruised but unrepentant. So we're back to the self-mulching blade we tested earlier, which at least has the advantage of double-cutting the grass once equipped with a suitable cowl - slicing cut grass into small enough parts to mulch down into the lawn, removing the need for collection, which simplifies things considerably.
To get GAGA onto the local area network we've opted for a Buffalo AirStation gateway, connecting four CAT5 sockets to the wi-fi network which reliably covers the garden. That means we can plug in a cheapo (£30) IP camera, and Robot Electronics make a nice relay board with its own IP address and web server (£52), so we got one of those and started plotting out a rig to ensure all this hardware will work nicely together, on which note we present our non-autonomous, non-grass-cutting test rig: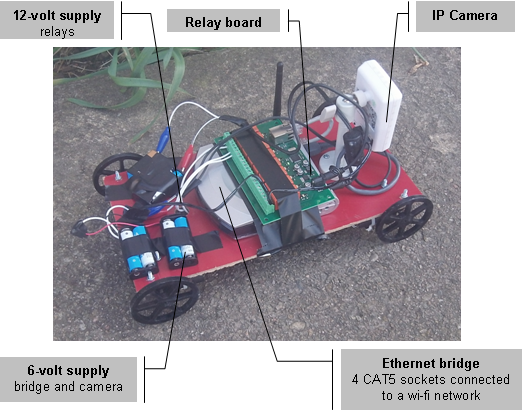 Sadly the Reg Special Projects Playmonaut is busy in rocket training, so couldn't attend the first tests
OK so technically it's not autonomous. And, yes, you could quibble that it doesn't cut any grass as such. But it's got a camera!
The motors and wheels, came from the nice chaps at Mindsets (£1.85 a pop). We didn't worry about steering for this test, though left and right wheels are on separate relays so some basic navigation is possible and it proves that the mechanism will work.
Scaling up the test should be simple enough, bigger motors (and proper motor controllers) won't sit well on hardboard so we've acquired some 20mm steel square tube to build a framework and will be taking on the welding challenge in the next week or two, but the real question is if we can fit everything necessary onto a frame small enough to remove the necessity for edging.
Robot lawnmowers don't do edges, on our recently-deceased stalwart (Mowbot) the 30cm blade is centrally mounted while the robot is a good 50cm across, leaving a 10cm of grass around the edge of the lawn which has to be finished by hand: clearly unacceptable.
30cm is as large as a blade can conveniently be (without fabricating our own), and the blade will need some sort of cowling both to direct cut grass back into the blade and prevent wayward toes going amiss, but the question is if we can fit the required electronics into a robot only 30cm across. We don't have pretty 3D modelling software, but we do have a very old copy of Viso which shows it's possible, even if it can't reveal the practicality of such a plan: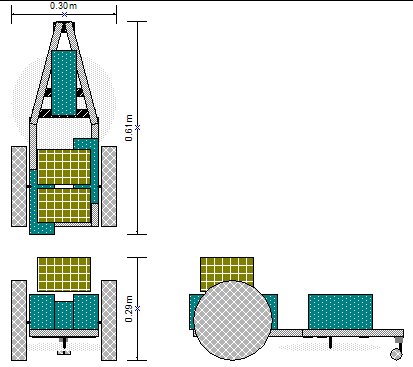 The motors are greenish, the browny blocks are batteries and Visio has a really-strange colour palette. That's all the big parts, but we've still got to fit in the radios and relays, the motor controllers and the camera - it all fits into the space, but it is a a squeeze. We could make GAGA rectangular, adding another castor on the new corner, but it won't look so good and it won't add a lot of space.
The question is if this design makes sense, if we'll be able to fit our electronics package in there once all the wires and bits are included, and if we've missed anything really obvious we should be considering before dusting off the welding kit.
Gaga has a new forum now, of her very own, so head over there for a discussion. ®