Original URL: https://www.theregister.co.uk/2012/05/30/spacex_falcon_heavy_contract/
SpaceX signs deal to put its giant rocket to good use
First commercial contract for Falcon Heavy from Intelsat
Posted in Science, 30th May 2012 15:21 GMT
SpaceX has signed a contract to blast off Intelsat's satellites on the back of their monster rocket the Falcon Heavy.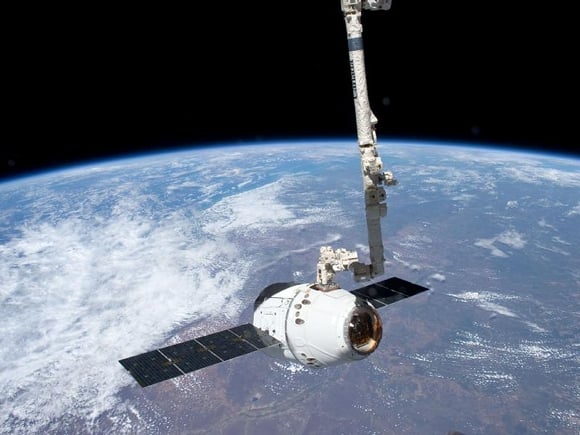 Falcon Heavy is Falcon 9's big brother, a tenuous link for this pretty pic of the Dragon on the Canadarm. Credit: NASA
The deal with Intelsat is the first commercial contract for the Falcon Heavy, which is capable of lifting 53 metric tons to low Earth orbit and over 12 metric tons to geosynchronous transfer orbit (GTO).
The Heavy is the big brother of the Falcon 9 rocket that lifted the Dragon cargoship off to its rendezvous with the International Space Station and is the biggest rocket in the world.
"The Falcon Heavy has more than twice the power of the next largest rocket in the world," SpaceX chief Elon Musk said in a canned statement. "With this new vehicle, SpaceX launch systems now cover the entire spectrum of the launch needs for commercial, civil and national security customers."
Intelsat, which provides satellites to media and network companies all over the world, said it would be keeping a close eye on the progress of the Falcon Heavy.
"Intelsat has exacting technical standards and requirements for proven flight heritage for our satellite launches," the firm's CTO Thierry Guillemin said. "We will work closely with SpaceX as the Falcon Heavy completes rigorous flight tests prior to our future launch requirements."
SpaceX is building a new launch pad for the Falcon Heavy at Vandenberg Air Force Base. The rocket firm broke ground on the project in July last year and the Heavy is supposed to make its way there around the end of 2012 for its inaugural flight. ®