Original URL: https://www.theregister.co.uk/2012/05/30/review_samsung_galaxy_s3_android_smartphone/
Samsung Galaxy S III
The ultimate Android?
Posted in Personal Tech, 30th May 2012 11:05 GMT
Review Samsung's Galaxy S III is one of the most feature-stuffed smartphones yet. Well, at least there's room, as it's equipped a 4.8in screen. Samsung's Galaxy Note 5.3in tablet-phone aside, this handset touts the largest display you'll find on a mainstream mobile and it packs a quad-core CPU too.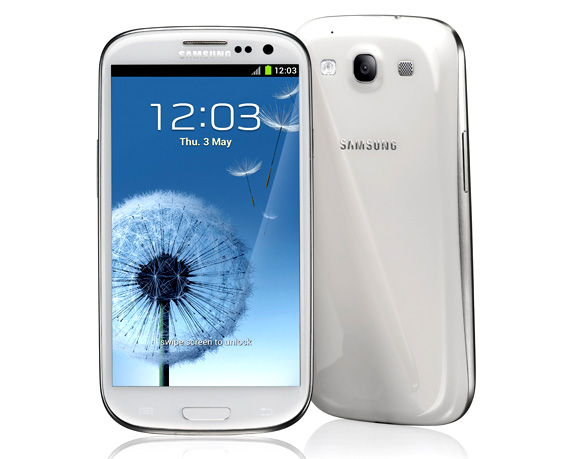 Talk of the town: Samsung's Galaxy S III
Look at the front and it's nearly all screen. The latest version of its Android 4 OS, Ice Cream Sandwich, allows manufacturers to put the home, back and other buttons into the display itself, enabling larger screens or smaller bodies, yet Samsung has opted for offscreen buttons. HTC has made the same choice on its One X. So under the display is Samsung's oblong home button. It's wide and – curiously – slightly raised.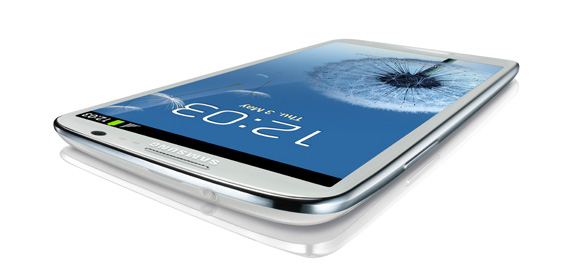 Bigger than you think
And though the latest OS favours a Recent Apps icon as one of the three persistent buttons, Samsung has plumped instead to keep a menu button, alongside a back button. Personally I'd have put the back button to the left and the menu on the right, but there we are. Recent Apps is useful for switching between programs, but menu is more frequently used, surely.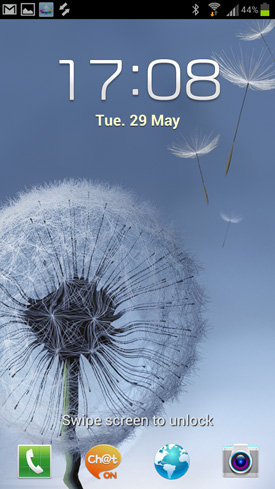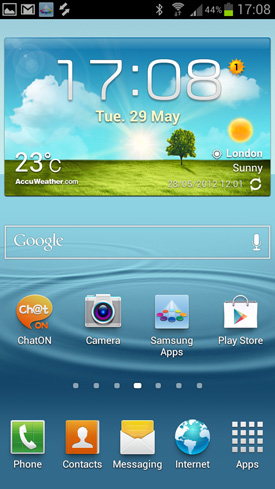 Locked screen and unlocked – widgets aplenty populate the various home screen pages
The phone's display is very impressive. There are cavils from critics who complain that it uses Pentile Amoled instead of the newer Super Amoled Plus technology, but since the results are so good, it scarcely matters. It's bright too, but in use the Automatic Brightness setting can often result in the display being unnaturally dim for too long. Otherwise, it's a great, high-resolution screen.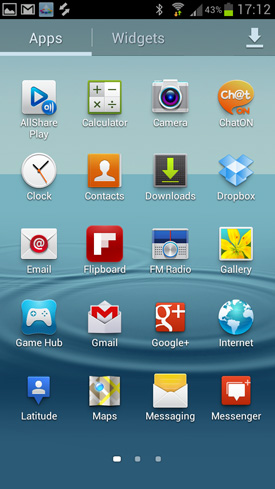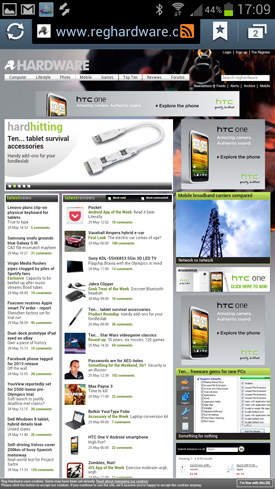 Apps listing and browser
The case, by the way, is high-gloss plastic. Not everyone will like this, and some will wish for the glass and metal class of an iPhone 4S. But it feels good in the hand. The smooth, glossy finish and the thinness from front to back both make it feel more comfortable than the size would suggest.
Vocal opinion
The many headline features include S Voice, Samsung's answer to Siri. It lacks Apple's finesse or wit, and is erratic at best. Commands to send a text message were efficiently handled but took more time than typing them would have. And of course you need strong data connection to make it work at all.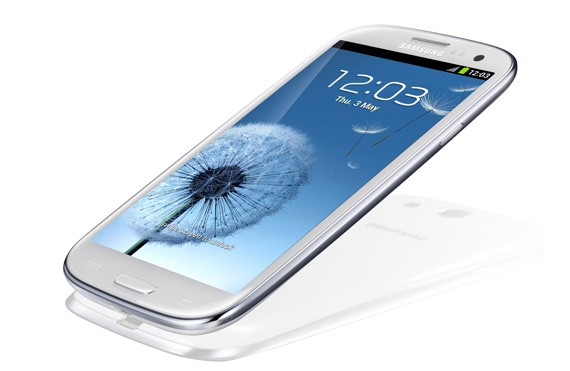 The Smart Screen function reads you while you read
Plus, as soon as it's had enough, it turns off to let you wake it with a cheery "Hello Galaxy". Voice recognition is growing in its importance but its capabilities have yet to match up to desires.
Lots of the innovations, could be called a bit gimmicky. But they're also very cool. Like Direct Dial. When you're looking at a contact's details on screen, the phone's motion sensors spot when you raise it to your head and dials your contact automatically. This works well, though be advised that if there are several phone numbers on a contacts page that it will call the first number it detects.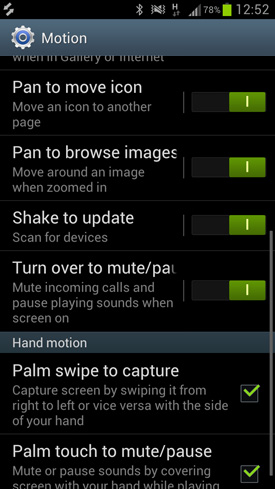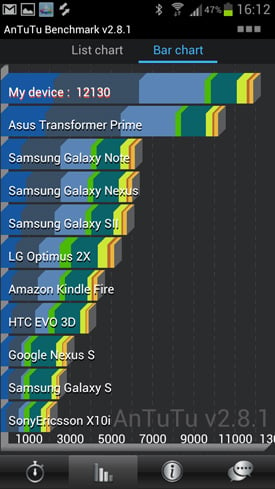 Motion options and high flying AnTuTu score
Or take Smart Stay which is really just a clever way to turn the screen off, or not. Every 15 seconds or more, the front facing camera checks to see if it can see your sparkling eyes. No sign and the display is dimmed. This is handy if you're studying a web page at length and don't want to keep touching the screen to keep it on. Again, it's a small thing but it somehow makes for an intimate relationship with the phone.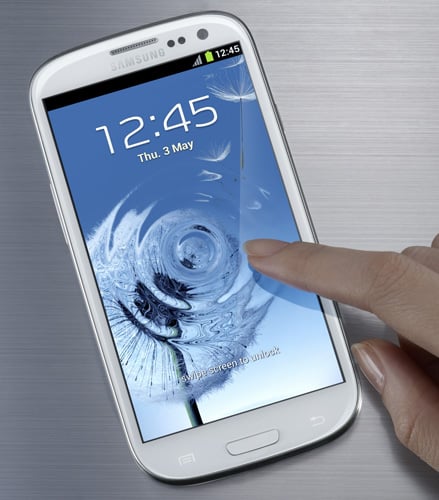 Dripping with features
Then there are the features that haven't found their moment yet. Like S Beam, which is like Ice Cream Sandwich's Android Beam but with the added goodness of Wi-Fi Direct on top of NFC. It means you can transfer big files, even video, wirelessly from one phone to another at high speed. For now it only works between Galaxy S IIIs, though there is Android Beam for other ICS blowers.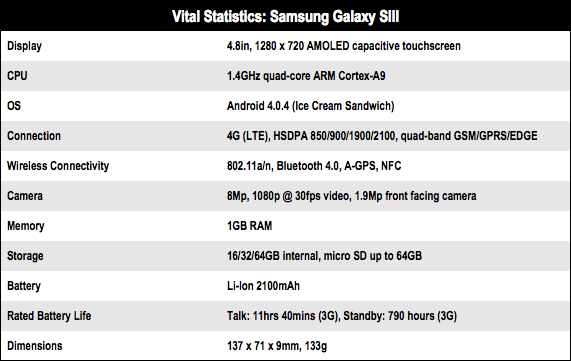 Staying power
Android, of course, is endlessly configurable by phone manufacturers, and while Samsung lacks HTC's light touch with neat widgets and icons, the TouchWiz interface here is less obtrusive than before. And it includes subtle extras like the way home pages pivot as they slide on and off screen. Or the elegant rippling effect that unlocks the screen, and the wallpaper background which remains even when you're in the Apps menu.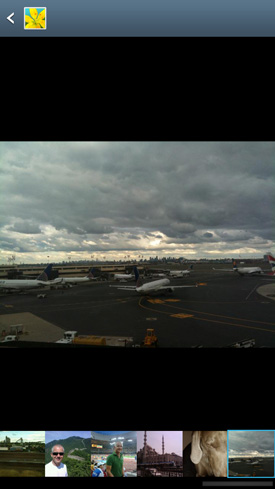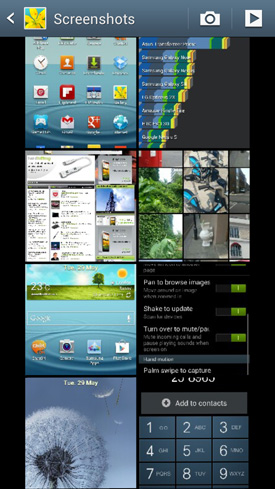 Gallery and Screenshots listing
The S III has a very cool screenshot capability, you stroke the side of your hand across the screen and voila!
Samsung has its Hubs (music, video, social and so on) which work as music or movie stores for instance and a social networking aggregator. They work fine but none is so crucial you'll be buying the phone for it, I'd say.
Sample Shots
The camera on the S III is the same sensor size as last year's S II model – not the 12Mp upgrade some were hoping for. Still, 8Mp is decent enough and it's fast and responsive in the hand. As always, the caveats about low light making cameraphones struggle, apply.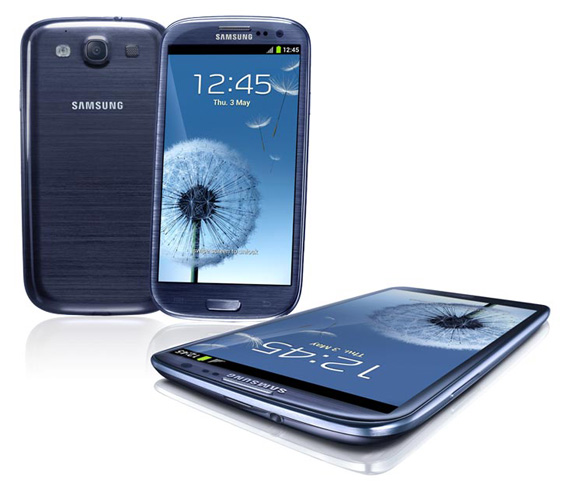 The plastic finish might not appeal to everyone, but its functionality will certainly have plenty of takers
With all those pixels to move about on the screen, and neat features to show off, you need decent processing and a battery with stamina. Fortunately, this phone has both. While the quad-core processor clock speed isn't the fastest out there, the chipset certainly has plenty of grunt. At no point did the phone do anything less than race along, with web pages loading as fast as the data connection permitted. And on a screen that size, you get to see a lot of a web page at a time.
And the battery lasts a full day with ease – and this is a phone you'll be using a lot. The phone basics, call quality and signal strength, were both consistently excellent.
Verdict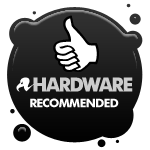 Well, as you know, this a big handset. If the extra real estate appeals and if your digits can cope with the scale of the handset, it has an awful lot going for it, from its deeply enjoyable hi-res screen to the genuinely innovative, if occasionally gimmicky, features. A powerful chip with decent RAM, outstanding battery life and good call quality ensure that the basics are well-catered for, while the headline features will guarantee entertainment value down the pub... for a while, at least. ®
More Smartphone Reviews

Sony
Xperia S
NXT
HTC
One X
Nokia
Lumia 900
Prada Phone
by LG 3.0
Apple
iPhone 4S