Original URL: https://www.theregister.co.uk/2012/05/30/igamer_score_classic_goals_ios_game/
Score! Classic Goals
Score draw something
Posted in Personal Tech, 30th May 2012 09:00 GMT
iGamer Saturday, 6 October 2001 at Old Trafford. It's the nintey-third minute and England are staring into the abyss. Following a typically nervy performance, we're 2-1 down to Greece, facing the ignominy of gifting automatic qualification to Germany and the prospect of a tricky two-leg play-off against Ukraine to reach the 2002 World Cup Finals in Korea and Japan.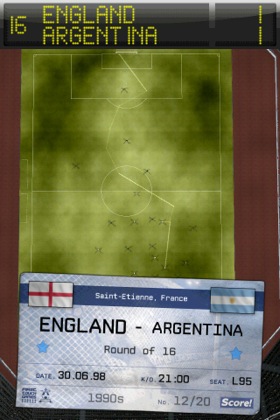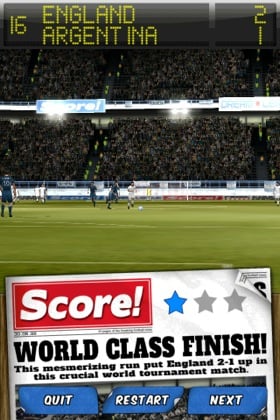 Play the great games
Seconds left and with a free kick 30 yards out, the nation's prayers rest upon one man. Just a short run up; a meagre four steps; that inimitable swivel of his hips to open up that mercurial right foot, and David Beckham curls the ball high around the keeper and into the top-left corner of the goal.
That's just one of many magic goals you can score in Score! Classic Goals, First Touch Games' sublime line-drawing footie sim. Covering four decades of international games between 1980 to 2010, from friendlies and qualifiers to European and World Cup finals, the objective is to recreate classic goals by passing and shooting with just the right power and direction.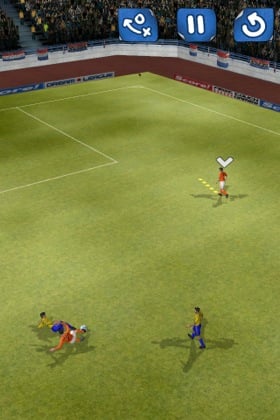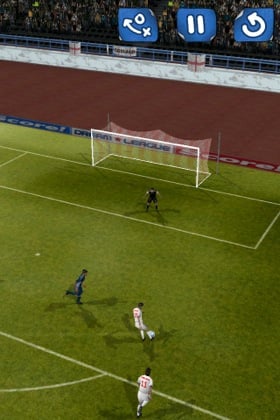 He draws. He shoots. He scores
Want to smash in Josimar's stanchion-busting goal against Northern Ireland in 1986? Simple, just curl a line from the outside of his right boot and let rip.
Or fancy recreating Bergkamp's wonder strike against Argentina in 1998? Simple, draw a line to float the ball from Frank de Boer's left peg onto the dotted yellow path marking his run, watch as he traps it and turns, and then arc another line around the keeper to guide it home.
Shoot!
No game would be fun if it were that simple, of course. The line-drawing mechanics are ostensibly simple, but there's a fair degree of skill involved, with little room for poetic licence. Over-hit or misdirect a pass slightly and the defenders will pick it off with ease, with the goalkeeper comfortably saving anything other than the actual goal scored.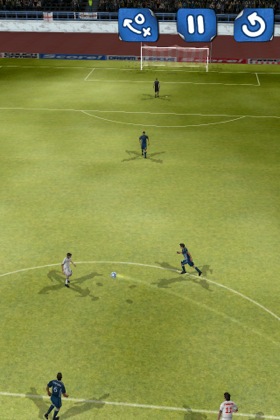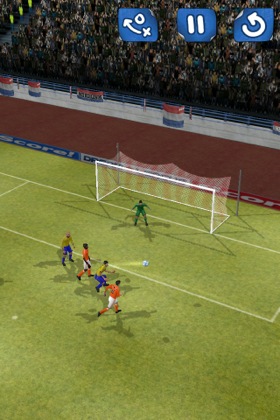 A slight degree of latitude informs the game's three-star rating system, with only a perfect recreation of the goal rewarded with all three stars. It's a great system to encourage replay, but it's let down slightly by a lack of feedback.
If you're unsure how to score the goal, you can refer to a mini-map with lines delineating the exact passes and the shot, but it lacks sufficient accuracy, leading to occasional frustrations where the goalkeeper tips away a seemingly perfect shot.
Luckily, such frustrations are rare, and with 240 goals in total – 60 in each decade – you can always skip a few and return to them later. And even when you are stuck on a particularly challenging goal, decent graphics, a surprisingly varied amount of crowd reactions and brief snippets of commentary from Gary Bloom easily hold your interest.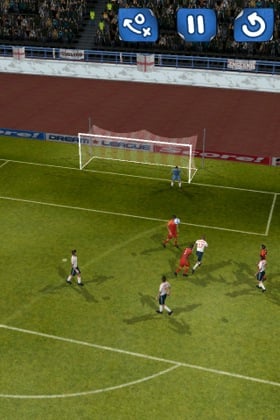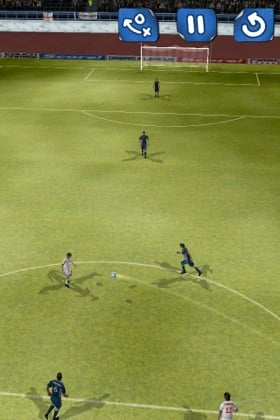 Verdict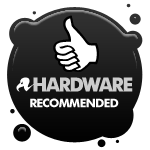 Such a simple mechanic, it's surprising no one's thought of marrying line-drawing and football before. It may not be a full blown sim like Fifa or Pro Evo, but for 69p, it's an intoxicating, highly addictive challenge for nostalgic footie fans. ®
More iGamer

Lost Winds 2
Total War Battles: Shogun
Hunters 2
Angry Birds in Space
Ten top
Android games