Original URL: https://www.theregister.co.uk/2012/05/29/lenovo_plans_clip_on_physical_keyboard_for_tablets/
Lenovo plans clip-on physical keyboard for tablets
True to type
Posted in Personal Tech, 29th May 2012 14:32 GMT
Tablet owners have so far had to opt for keyboard docks to take their typing physical. However, that may be about to change after recently published Lenovo patents revealed an interesting clip-on.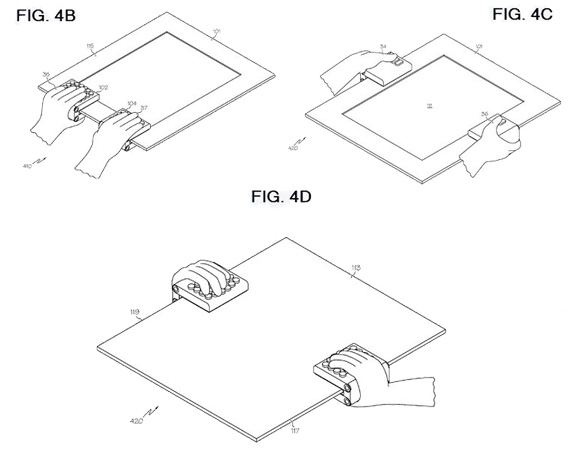 As you can see from the designs, the keyboard features a clamp and can be used in a multitude of ways. The split keys can be clipped to the bottom of the device and users can 'thumb' their sentences in true Qwertyboard fashion.
Alternatively, customers can clip them to the sides and adapt their typing techniques accordingly.
While the patent has only recently been published, the application originally went in in 2010. We won't hold our breath on it ever materialising. But it's a novel idea and could make carrying a keyboard peripheral less encumbering.
For further images, check out the Lenovo hand grip keyboard reveal on Patent Bolt. ®