Original URL: https://www.theregister.co.uk/2012/05/28/review_sony_bravia_kdl_55hx85_television/
Sony KDL-55HX853 55in 3D LED TV
Flagship Bravia with the Olympics in mind
Posted in Personal Tech, 28th May 2012 11:00 GMT
Review The 55inch KDL-HX853 is currently the highest ranked of Sony's 2012 TVs. It heads up a new Spartan range from the brand intended to rebuild its TV fortunes. Interestingly, it doesn't come laden with features seemingly pulled at random from a brainstorming session down the local Karaoke; which means it's not competing directly with Samsung's massively-pimped ES8000 models, and as a consequence it's considerably cheaper, at around £1,800. It is, however, comparable on style and packs Hubble-grade image enhancement.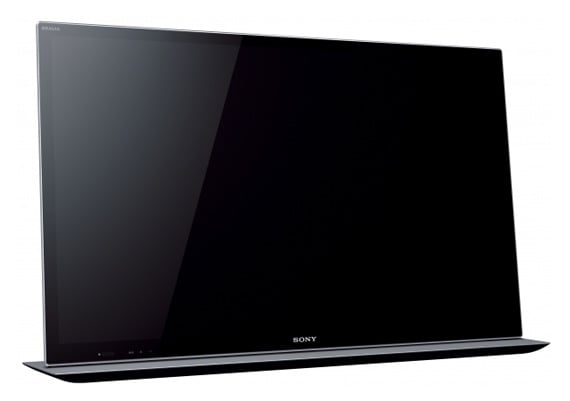 55in flagship: Sony's Bravia KDL-55HX853
Smart connectivity is the key feature on this set. Sony has long offered a wide selection of streaming video services, via an interface the kind might describe as cumbersome. But the HX853 heralds a new look for the rechristened Sony Entertainment Network, with apps, IPTV and music now navigated via a slick-looking Metro-style UI.
It's here that you'll find the latest iteration of BBC iPlayer, plus YouTube, Demand 5, LoveFilm, Netflix, Crackle, Skype, Mubi and Muzi, amongst others. The brand has also joined the apps race, having inked a deal with Opera to supply causal games and sundry trivia via the integrated Opera TV Store.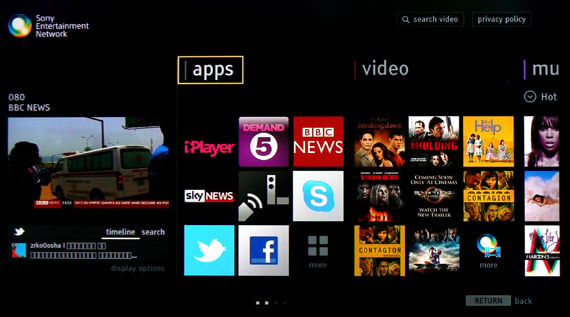 Sony Entertainment Network portal
Network media compliancy is unchanged from the brand's 2011 TVs. There's no support for MKV from either USB or NAS across a LAN, but AVI, MOV, MP4 files play. Audio covers MP3 (with album art), AAC, WMA and WAV. To ease playback problems, Sony offers a DLNA application for PC and Mac called Homestream, which performs on-the-fly file conversion for connected devices when required. The catch, of course, is that you'll always need this PC on.
Fresh for 2012 is a Wi-Fi Direct mode. This supports a local connection with compatible gear. I paired the TV with the Sony Tablet S and was soon throwing JPEGs from tablet to big screen – a very cool feature.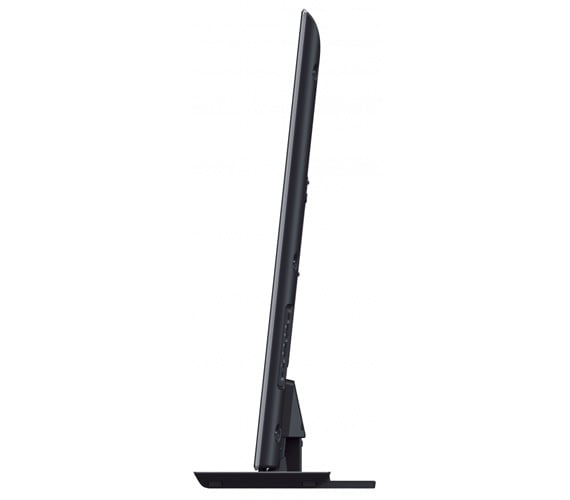 Stand up routine
The HX853 has a surfeit of picture quality controls, including multiple Motionflow modes able to drive its 200Hz panel up to 16x the native refresh rate. Without Motionflow doing its magic, perceived moving resolution falls to around 600 lines; with Motionflow switched on (regardless whether you choose Clear, Clear Plus, Smooth or Standard), moving clarity snaps back to Full HD.
A trio of techniques are used to achieve this: frame insertion, backlight blinking and Image Blur reduction.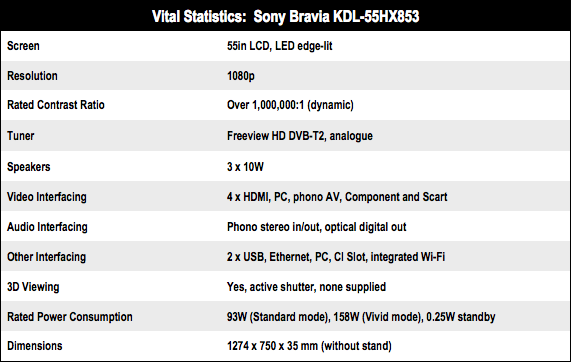 X-Reality check
While effective, such processing typically introduces unwanted smudgy motion artefacts around moving objects. However, the HX853 is remarkably free of these. Indeed, I might argue that with the set's Motionflow on Clear (interpolation with backlight blinking and backlight control) this set delivers the best, uncompromised motion clarity currently available, and it's certainly an improvement on last year's KDL-HX923 flagship.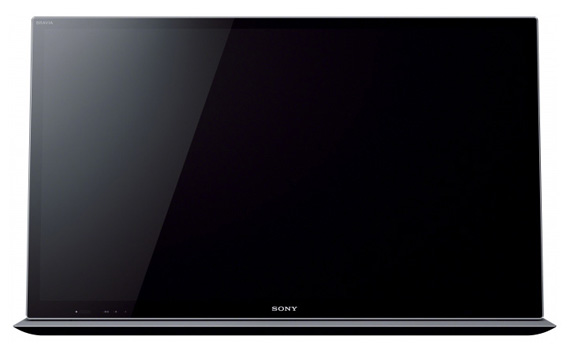 Picture perfect? In two dimensions, it's getting that way
Sony has also upgraded its 3D offering, using 3D Super Resolution image processing tech. This Active Shutter 3D screen certainly pulls scads of detail from dimensionalised BDs, however, that doesn't resolve the basic problem of crosstalk.
This may be a sprightly 200Hz panel, but it still clearly suffers from double imaging, and the viewing experience isn't helped by 3D glasses which are extremely intolerant of viewing deviation. To cock your head left or right is to invite colour shift and ghosting. There are no 3D glasses supplied in the box, they're an optional extra.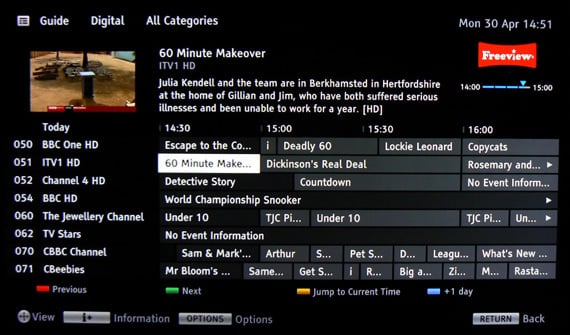 Freeview EPG
On the plus side, the HX853 delivers astonishingly involving 2D images; Freeview HD channels look great and Blu-rays are even better. William Hurt's face proves to be a Google map of detail, in The Incredible Hulk, a test disc chosen for its fast moving action scenes and challenging colour palette.
The results are quite a validation of Sony's latest image cocktail, dubbed X-Reality Pro, which are served from the powerful new XCA-7 IC. 

It's not just broadcast and packaged media that looks good. This X-Reality chipset has also been optimised for low-resolution, internet delivered content, so everything from YouTube to streamed movies from Sony's VoD service look sharper.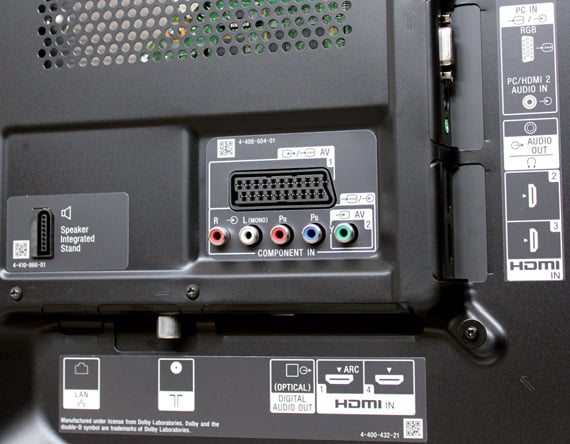 Interfacing aplenty
Contrast levels are outstanding too. A pronounced black makes short work of a 20/20 step B&W scale. However, brightness needs to dialled back to no more than 40 on the sliding scale, to keep things balanced.
Sound barrier
If the set does have a performance weakness, it's with audio. The supplied pedestal features a pair of speakers which are fed by a tether lead on the rear of the set; these are augmented by a third speaker firing from the centre-back of the screen. The latter isn't a subwoofer, but a mid-range driver.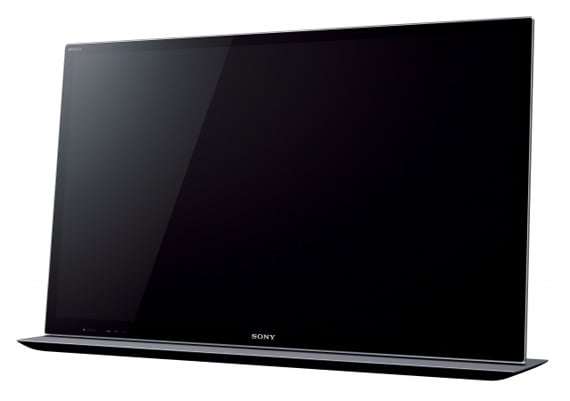 No 3D specs supplied, but it's probably a blessing
However, even this triumvirate are unable to disguise the set's congested character. There are several DSP options, but these are only of limited use. Clear Voice effectively renders the audio as if it was coming down a landline, while Dynamic is throaty and Standard sounds thin.
An S-Front Surround mode can be used to literally lift the soundstage, but that's about it. Rather predictably, the Sound Enhancer mode does the polar opposite to what's advertised. Should you wish to wall-mount the screen, two downward facing speakers in the base of the set come into play, replacing those in the pedestal.
Verdict

In some respects, this next-gen Sony is not significantly different from the models launched during 2011. It offers from the same mediocre multimedia file support and suffers from crosstalk-addled 3D. But the brand has made a big step forward when it comes to 2D imaging performance, particularly motion resolution. In this respect, I'd say this set currently leads the field. If you want a great looking TV, optimised for sport in particular, look no further. ®
More TV Reviews

Toshiba
Regza
46YL863
Philips
42PFL7666
Ten...
smart TVs
Samsung
PS64D8000
Toshiba
Regza
40RL858