Original URL: https://www.theregister.co.uk/2012/05/28/hands_on_nokia_lumia_610_and_nokia_808_41mp_camphone/
Hands on with Nokia's 808 41Mp camphone
Lumia 610 too
Posted in Personal Tech, 28th May 2012 06:00 GMT
First look If a company needed some luck right now, then Nokia would certainly fit the bill. Having partnered with Microsoft to deliver a new range of smartphones based on Windows Phone 7, it consequently shares a platform with the likes of HTC and Samsung. Still, Nokia is thinking lucky because it reckons it can deliver services on WinPho7 that will give it the edge.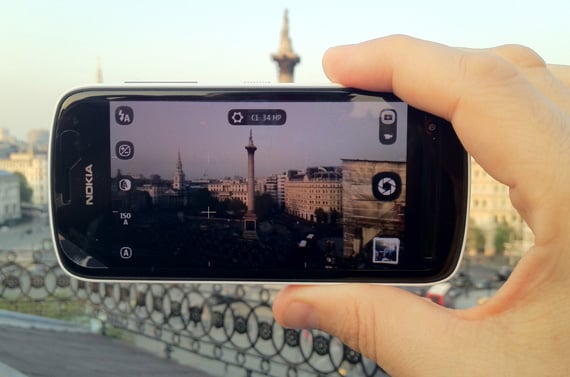 Nokia's 808 41Mp camera phone based on Symbian 3
And, as luck would have it, after months of rain, Nokia had picked one of the sunniest days of the year for a rooftop event in London yesterday. On show was the Lumia 610 – its budget WinPho 7 handset – and the 808, a Symbian smartie worth shouting about given its PureView camera featuring a 41Mp sensor.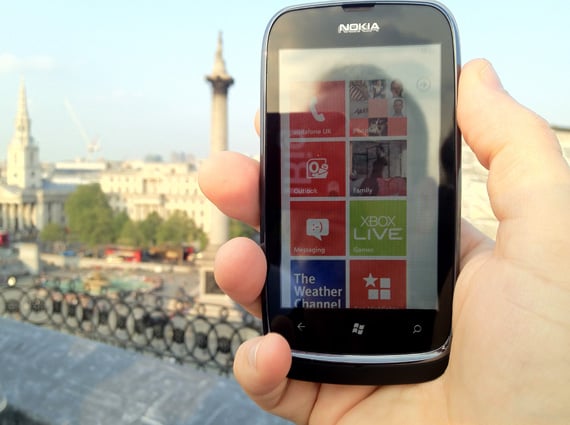 Nokia Lumia 610: Windows Phone 7 on a budget
With Leila Martine, Microsoft's Windows Phone director taking part in the presentation, Nokia's mention of the Symbian 3 powered 808 seemed just a little embarrassing for the WinPho love-fest – like having an ex-girlfriend attend your first wedding anniversary. Still, even though the message from all assembled was to "differentiate us from within the Windows ecosystem" as Conor Pierce VP, Nokia West Europe put it, evidently, Nokia is still free to differentiate with its platform choices too.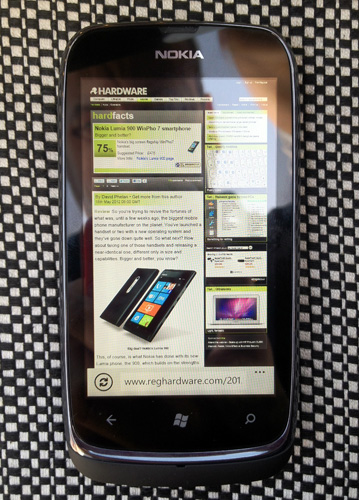 Flown in for the event, and presumably wired on coffee, the WinPho head honcho barely drew breath as she evangelised, remarking, "I challenge you to find a smartphone that is better than the [Nokia/WinPho] innovation that's about to come to market." Er, so we're supposed to find something in the market that's better than something that's not in the market... yet? Mmmh... Again the message from MS was to "Offer a third ecosystem to the market" with Martine's figures of 85,000 WinPho 7 apps, growing at a rate of 300 a day and 110,000 developers on board, suggesting that beyond iOS and Android, the third way is certainly gaining traction.
So given these slight conflicts of interest, who wore the best dress at the party? Nokia's new Lumia 610 – that's a cheap date but feels good in the hand – or its image conscious 808, with its hidden secrets that will keep us waiting a while longer to discover what's really going on under the surface?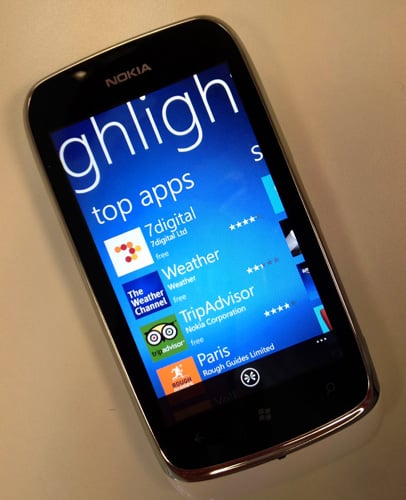 With the Lumia 610 available in early June for deals of around £15/month, both MS and Nokia are keen to tout this handset as the most affordable way to join the third way and tap into these differentiating services. Among these are Nokia Music – with its Mix Radio feature that allows free downloading of music channels for off-line listening – plus Nokia Drive, Maps and Transport that all help in getting around. Also coming is Nokia City Lens, it's augmented reality app that's still in beta.
Image is everything..?
Compared to a Nokia Lumia 800, the 610 isn't as snappy nor are the swipe transitions to move between columns as smooth. The Nokia Blue theme looks rather washed out and the screen appears a bit murky, but turn automatic brightness off and things improve, although the battery life will no doubt suffer. Web browsing also lagged behind the Lumia 800, but it just took a couple of seconds longer to load pages. As with other WinPho handsets – regardless of manufacturer – on many occasions more positive presses are needed to get to where you're going. Frequently, two taps are required, as if the first one is ignored, just in case you pressed by accident.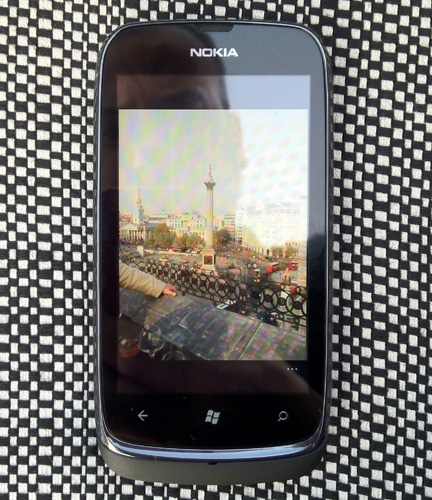 A 5Mp camera but no HD video on this Lumia
With a dedicated camera button on the side, its 5Mp snapper turns out perfectly acceptable images for a phonecam. You can tap on the screen to focus on selected areas and you can get in close macro mode with a focusing distance of about two inches. Sure the images show evidence of JPEG noise artefacts but you can tweak the ISO and, overall, the colour balance is good. Alas, video is limited to VGA resolution – no 720p HD recording here.
When it comes to phonecams though, Nokia has form. Yet with its hands tied by Microsoft's specifications in the WinPho domain, to innovate and differentiate its handsets photographically it has to dial up its old pal Symbian. On the day, the pre-release 808 models had a Symbian Belle revision on board that was less than a week old.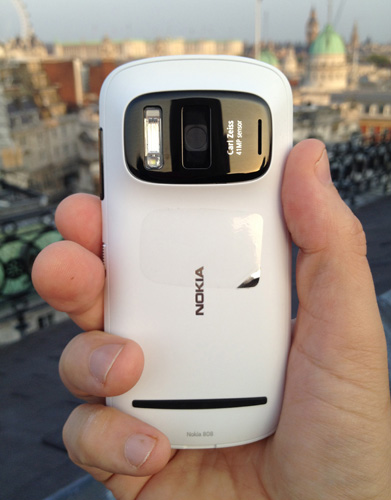 The 808's sensor is around five time larger than a typical phone cam
The Nokia 808 is a chunky beast, with its Carl Zeiss lens and sizeable 1/1.2in sensor bulging at the back and seems a little top heavy. The sensor can manage images of up to 7728 x 5368 – over 41Mp in a 16:9 aspect.
A 4in 640 x 360-pixel touchscreen dominates the front and after all that Lumia fascia smoothness, it's rather quaint to find a hardware call/home/end button bar at its base. At first, you overlook it and then wonder how to get out of the mode you're in, but in a short time it all becomes fairly intuitive. Skimming through the 808's various homescreen and apps inspired confidence although – with no Sim allowed and the Wi-fi reception seemingly wayward at the time – testing was pretty much limited to the camera.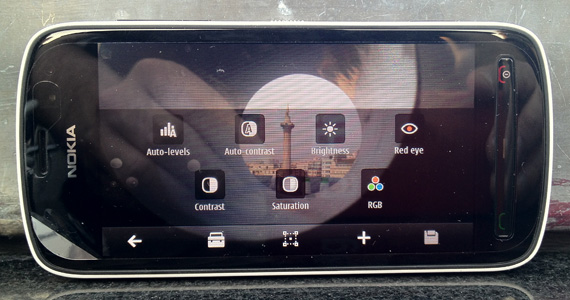 Camera image options
You have to dive into the settings to be sure PureView is active and there's even fine and superfine JPEG compression quality options. The camera is littered with options to modify the image capture prior to shooting and a whole lot more for afterwards.
PureView actually defaults to a 5Mp mode for pics posting which involves noise removal algorithms (pixel-binning) to improve its overall quality. Yet the idea is to use the a combination of pixel oversampling (to deliver the perfect pixel) and the resolution of the sensor to enable a non-optical zoom function that has the capacity to deliver magnification without upscaling. For a more in-depth overview, Nokia's PureView white paper is here [PDF]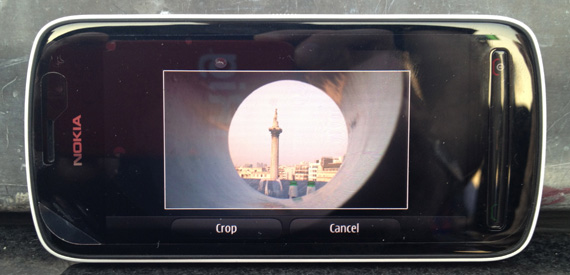 There is the option to capture at full resolution which is 34Mp at a 4:3 aspect and the Nokia bods on-hand encouraged use in this hi-res mode. During capture, there's a bit of a pause before the screen goes live again which can make it difficult to judge just when the image was taken. Trying overhead shots of Trafalgar Square and afterwards zooming in on the Olympics countdown clock was rather on the bleary side, but it was some distance away.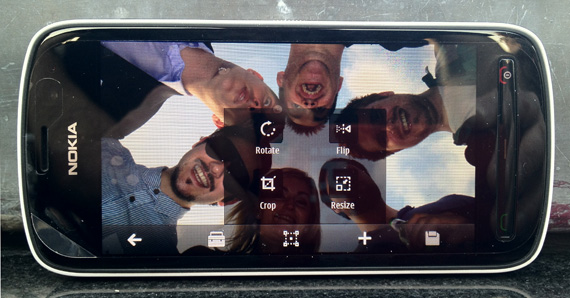 On-board tweaking
Yet even on a a fine day it seemed there was a sensitivity to camera shake, despite my best efforts. Admittedly the temptation was to drill down into every image captured and then mumble about the presence of JPEG artefacts, but unless you're planning to run a poster campaign on billboards across the land, you'll be more than satisfied by the results at less extreme magnifications. With 1080p video recording on board too, and Nokia's slide zoom function offers a 4x magnification in this mode.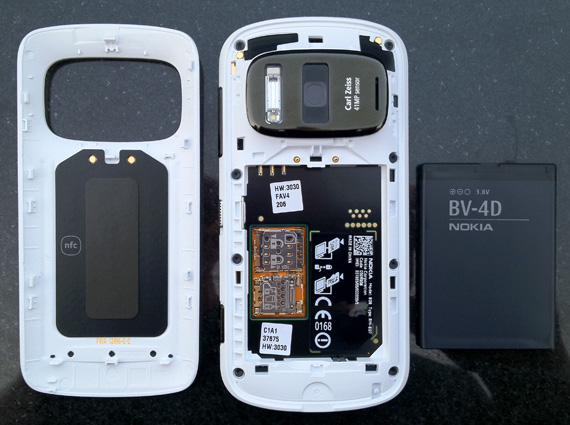 Inside the 808
Yet seeing the results on something more than a 640 x 360 screen is going to be the only way to get a complete picture of the performance of the Nokia 808. However, Nokia has made some sample images available while we wait for the 808 to makes its imminent debut. ®