Original URL: https://www.theregister.co.uk/2012/05/26/ten_tablet_accessories/
Ten... tablet survival accessories
Handy add-ons for your fondleslab
Posted in Personal Tech, 26th May 2012 08:00 GMT
Product Roundup

We like tablets. Way more portable than most laptops - even netbooks - they're nevertheless no less functional. Notebooks clearly have the edge when it comes to outright performance, but you can get a lot done with a fondleslab - and that's before you think about them as entertainment centres.
But, like all technology products, they need add-ons to complete the package. From emergency power sources to adaptors for unsupported cable connectors and memory cards, sooner or later you're going to need extra gadgets. Others, like keyboards, simply help widen the number of tasks you can put a table too. Some just make it more convenient.
So here then is Reg Hardware's ten essential tablet accessories. Useful add-ons all for every tablet owner. One or two are for specific devices, but the majority will prove useful no matter which tablet you own.
Adonit Jot Pro precision stylus

If you're of an artistic bent, you loathe getting fingerprints on your tablet's screen, or you simply regret the passing of the days when mobile gadgets can with a slot-in stylus, there are plenty of thick-nibbed writing and drawing tools for your. Here, though, is a superior one for finer work on any capacitive touchscreen. Thanks to its unique cup-and-ball tip, you'll always get spot-on accuracy and fluid movement. Alternatively, the Jot Flip doubles up as a real pen. There's the Jot nib at one end and a ballpoint at the other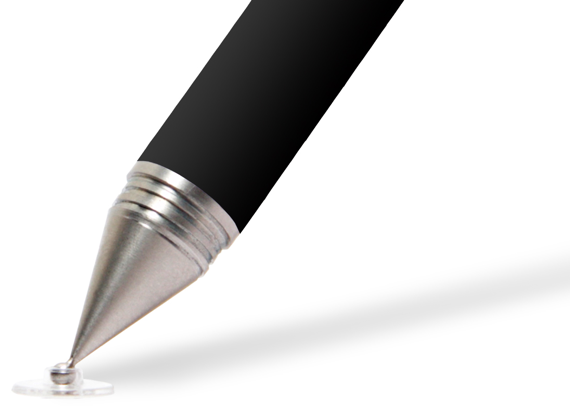 Reg Rating
90%
Price
£25
More Info
Adonit
Belkin FlipBlade stand

A stand is a useful accessory for any tablet that's 7in or bigger. Sometimes is just more comfortable to prop the thing up rather than hold it, whether you're watching a film or reading an e-book. Belkin's FlipBlad was designed for an iPad but it's wide enough to support all but the chunkiest of tablets in landscape or portrait mode - the choice is yours. And then it folds into a compact, easy-to-carry and bag-friendly unit.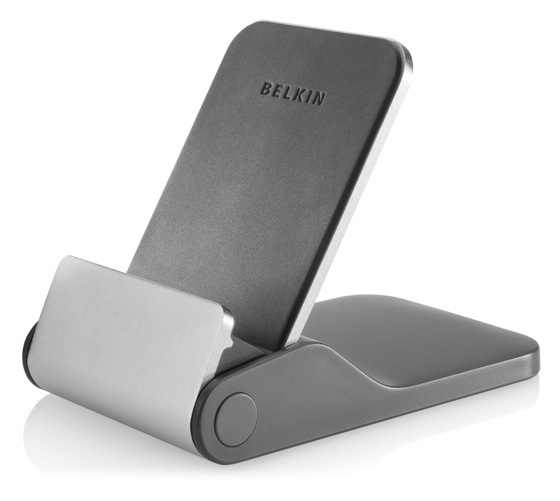 Reg Rating
80%
Price
£15
More Info
Belkin
eKit 4 in 1 Connection Kit For Galaxy Tab

Samsung's attempt to go all Apple and release tablets with nowt but a slimline proprietary dock connector make make for slimmer, more curvy fondleslabs, but at the cost of connectivity. Enter the solution: a clip on port adaptor. Samsung offers several dock adaptors, but this 15 quid boy offers four: full-size USB, micro USB, SD and Micro SD. Flip a switch and the micro USB port become power feeds to charge up the tablet, or to use it in syncing and data transfer mode.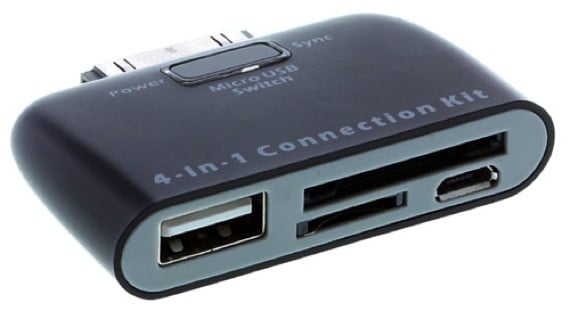 iHome iHM79 travel speakers

Sometimes, headphones or your tablet's on-board speaker just isn't enough. For such occasions, look no further than iHome's collapsible iHM79 set. The collapse for portability - when you want to use them open them up for a powerful, clear yet bass-rich sound that belies the speakers' size. They also contain rechargeable batteries for on-the-go usage - charge them by USB. All done, squash them up again, and clip their magnetic bases together.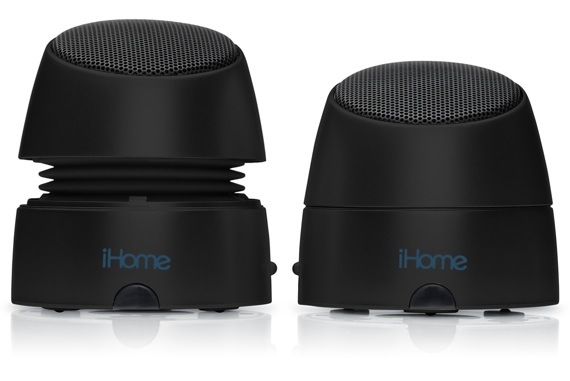 Reg Rating
90%
Price
£40
More Info
iHome
Innergie Magic Cable Trio

Whether you want to charge your table up, sync it with a computer, or do both at the same time, you'll need a cable. Chances are you'll need more than one, depending on what connector your devices use: iPhone dock, mini USB or micro USB. This boy has all three, each sprouting from a clever all-in-one unit: just pull it to reveal the jack you want and rotate the others out of the way. There's a full-size USB 2.0 port at the other end.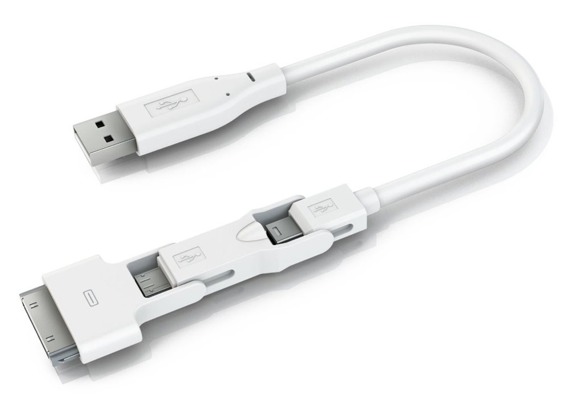 Reg Rating
85%
Price
£22
More Info
Innergie
Kensington PowerBolt Duo Car Charger

Whether you're a driver or a passenger, using a car's ciggie lighter socket is a handy way to top up your tablet effectively for free - the power comes from a dynamo when you're moving, after all. Kensington's PowerBolt Duo is a good choice not only because it has two USB ports - charge two gadgets simultaneously - but because one delivers the 2.1A many tablets require. The other port is only rated at 1A, but that's more than enough to keep your phone going. Comes with a USB cable.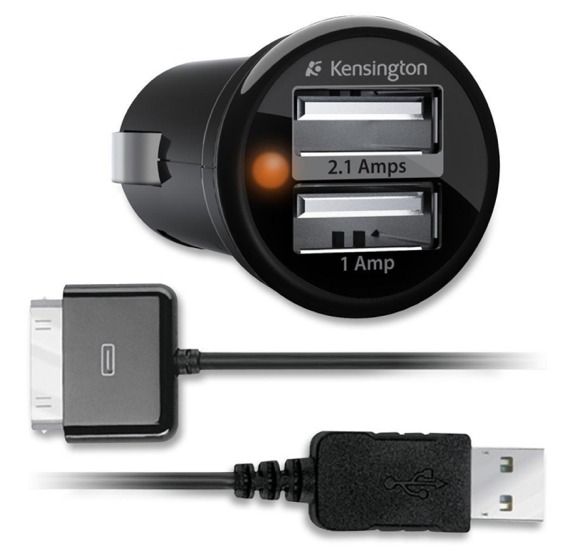 Kingston Wi-Drive

32GB or 64GB of Flash storage in a network drive - you connect by 2.4GHz 802.11n Wi-Fi - that smaller than a smartphone. Kingston's compact, lightweight kit provides extra storage for content you may want to access on the move - handy if you bought a low-capacity tablet with no SD slot, or you have content that doesn't play in iOS' native players. It's battery powered for use away from the mains. The power pack is good for four hours continuous usage; it's charged through a mini USB port, which is also how you get files onto it. It can connect simultaneously to other wireless networks so your tablet can stay connected to the net.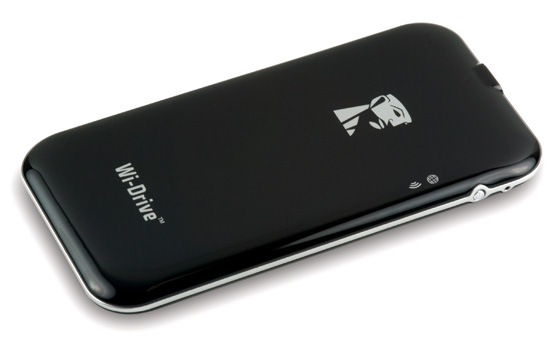 Reg Rating
70%
Price
£65 (32GB) £99 (64GB)
More Info
Kingston
Logitech Ultrathin Keyboard

Bluetooth keyboards are ten a penny, but if you find you need to use one regularly, there are better options than a generic BT 'board you can sling into your bag for emergencies. Case in point: Logitech's Ultrathin offering, which locks magnetically onto the front of the iPad 2 and 3 - as per Apple's Smart Covers - to protect the screen. When you want to type, just pull it off, slot the tablet into an angled slot, and you're ready to key in copy. It too works with Bluetooth, and Logitech promises six months of usage from a full charge of the built-in, micro USB recharged battery.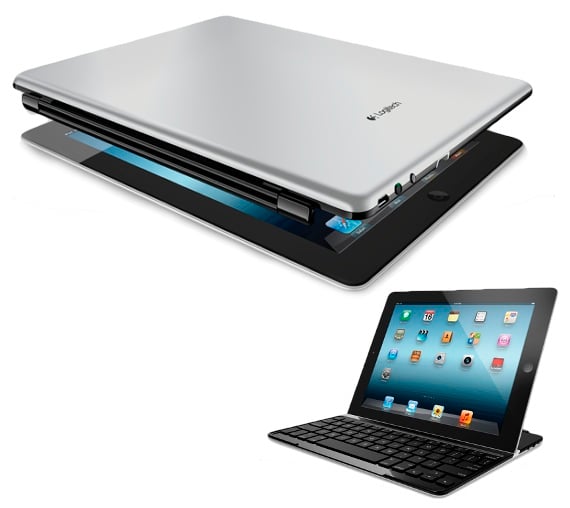 Reg Rating
90%
Price
£90
More Info
Logitech
Scosche goBAT II portable charger

You're out and about, and your tablet's battery falls empty. Here's a handy emergency gadget that will sort you out. There are plenty of back-up batteries around, but Scosche's offering stands out by including not just the usual 1A USB port but also a second, 2.1A port specifically for a tablet, be it an iPad, a Galaxy Tab or whatever. Both ports can be used simultaneously. Inside sits a 5000mAh li-ion battery, and there's a handy level indicator to show how much juice is left.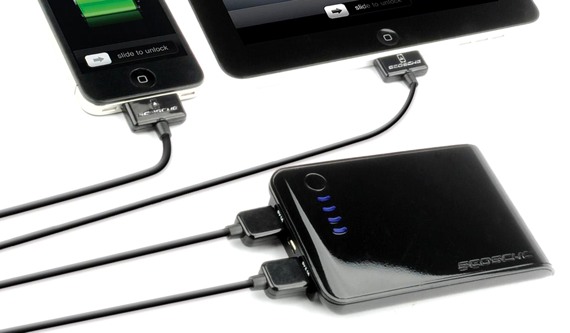 Reg Rating
75%
Price
£60
More Info
Scosche
Vogel's RingO wall-mount kit

Vogel specialises in kit for mounting TVs onto walls, and now it's got gadgetry to help you do the same with tablets. It RingO system incorporates small cylinders that are screwed to the wall wherever you want your tablet to go, and cases for the slates that clip securely to the mounts, ready for reading recipies in the kitchen - stick it onto a cupboard - or controlling your home's Sonos system. The case is easy to unhook too, when you want to take your tablet away with you. Vogel also makes a seat-back mount that the case clips to as well.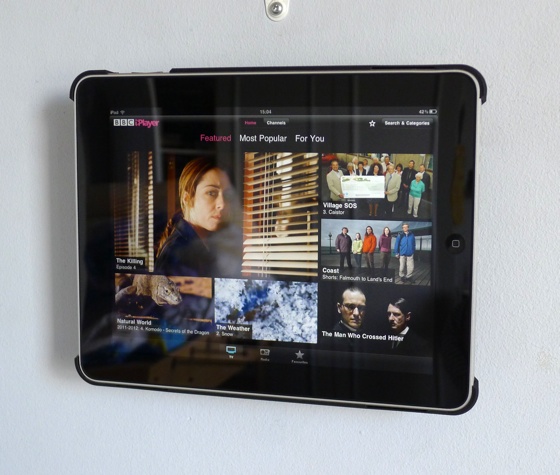 Reg Rating
85%
Price
£110 (all-in-one pack) £80 (iPad holder plus wall mount)
 £37 (wall mount) £60 (car mount) £58 (iPad holder)
More Info
Vogel's