Original URL: https://www.theregister.co.uk/2012/05/25/ten_star_wars_games_from_yesteryear/
Ten... Star Wars videogame classics
35 years, six movies, 120 games
Posted in Personal Tech, 25th May 2012 14:26 GMT
Round-up Star Wars - there was no 'A New Hope' or 'Episode IV' back then - shot onto cinema screens on 25 May 1977, which means the franchise celebrates its 35th birthday today.
A day for celebration, then, that might be enough of an excuse for you to revisit our Star Wars gift guide and snap up some Tatooine tat, much to the dismay of your Trekkie missus.
Here at Reg Hardware, we've decided to take a look back at some of the videogame spin-offs that kept us busy over the decades.
Since 1983, more than 120 Star Wars-themed videogames have been published. And while current focus may still be with the MMORPG The Old Republic, or perhaps even Kinect Star Wars, if you don't mind the dated graphics, you could spend half your life playing old Star Wars games.
Here's a quick look back at ten of them.
Atari Star Wars (1983)
Arcade
Let's start by taking it back to the days of inserting coins in our local arcade, with this polygon-tastic flight fight. The player's ultimate goal was to destroy the Death Star through three attack phases, although as Lucy Orr rightfully mentions in our Arcade Classics roundup, speeding through the Death Star trench was the most memorable moment. Still, a lot of fun to be had for 10p.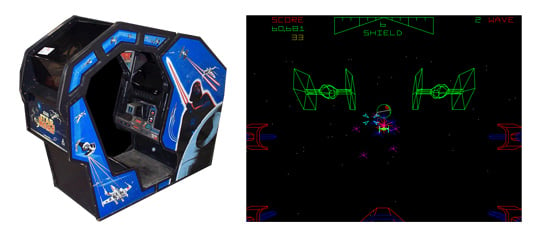 Dark Forces (1995)
PC, Mac
This one may as well have been called Star Wars: Doom, although with a decent plot and the ability to gun through Imperial bases, Dark Forces held its own and was an excellent game for its time. "You're in violation of Imperial law!" Oh yeah? Take this, Stormtrooper. Pew, pew, pew.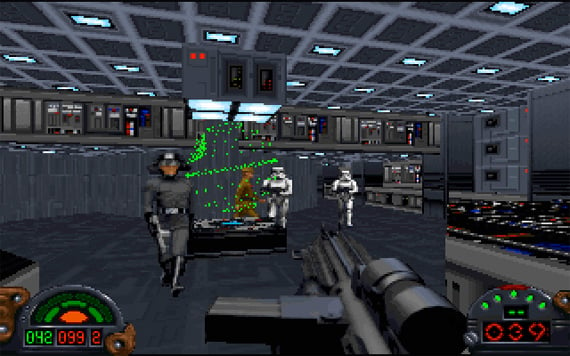 Episode I: Racer (1999)
PC, Mac, N64, Dreamcast, Gameboy Colour
This pod-racing game based on events in The Phantom Menace featured dozens of tracks and plenty of playable characters. It was a riveting experience that brought with it a true sense of speed, and despite being somewhat overshadowed by the poor reception of Episode I, remains one of the better racing titles in the Star Wars' line-up.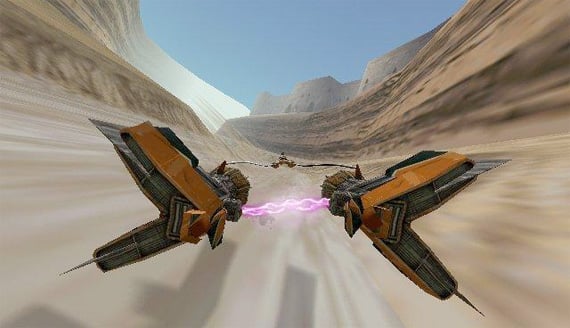 The Empire Strikes Back (1982)
Atari 2600, Intellivision
It may not be the greatest of games, but as the first title ever produced that bore the Star Wars name, this Parker Brothers' scrolling shooter for the Atari and Intellivision has to be mentioned. Players took control of a snowspeeder, battling Imperial AT-AT walkers, which took a surprising number of hits to take down. Just look at those graphics. Wow.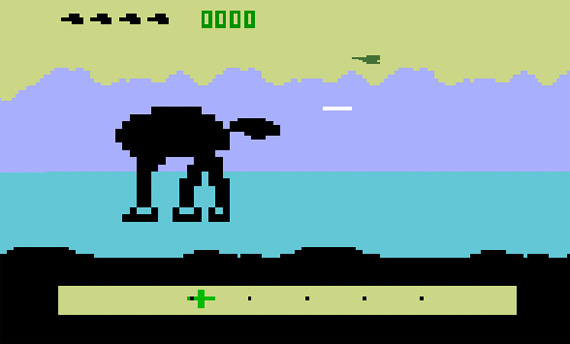 Galactic Battlegrounds (2001)
PC, Mac
Battlegrounds was a real-time strategy game, built on the same engine as Age of Empires. In true AoE fashion, gamers gathered resources to build their units and sent armies out to destroy the opponent. For those who loved both this genre of videogame and the magic of Star Wars, it was a perfect combination.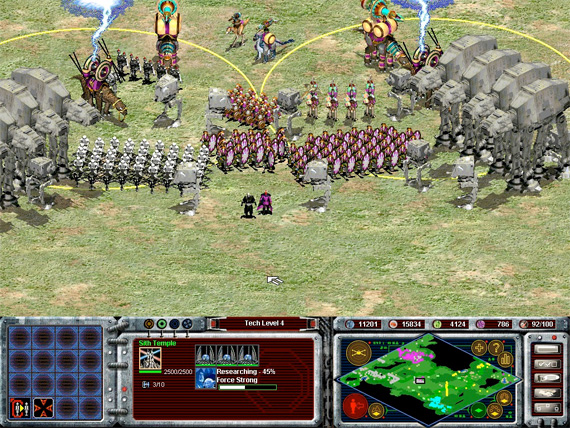 Lego Star Wars (2005)
PC, Mac, PS2, Xbox, Gamecube, Gameboy Advance
The first of many successful Lego spin-offs, LSW was received in high esteem and while geared more towards nippers, it made for fantastic family enjoyment. Players tackled levels with various Star Wars characters, completing puzzles and running through chapters in the prequel trilogy, adapted with a Lego feel. A well-built game - ahem... - that spun several sequels, the latest of such being The Clone Wars, released last year.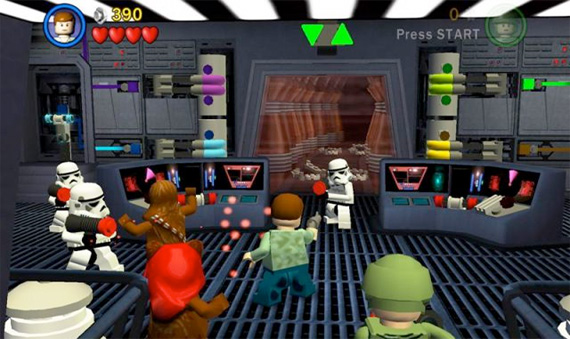 Rebel Assault (1993)
PC, Mac, Sega CD, 3DO
This video-looping on-rails PC game inherently tried to recreate many of the movies' most known scenes, with various flight missions in which players had to shoot targets that appear on screen. While its pre-rendered 3D graphics meant that visuals looked impressive for the day and age, there was very limited scope for what a player could actually do. This did mean it got quite repetitive. Nevertheless, our memories of pilot Rookie One remain strong with this one.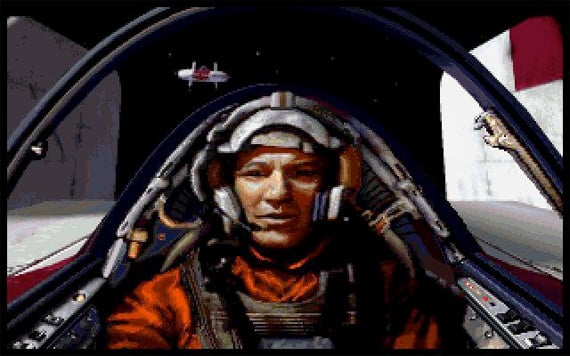 Rogue Squadron (1998)
PC, N64
This fast-paced flight-based beast of a game was my first experience of a Star Wars title, on the Nintendo 64. It also wowed with expansion pack goodness, upping resolutions to an impressive 640 x 480 pixels, which at the time was mind-blowing on a console. Players took control of Luke Skywalker and his Rogue Squadron of X-wing pilots, as they battled the Galactic Empire's TIE fighters across 16 missions.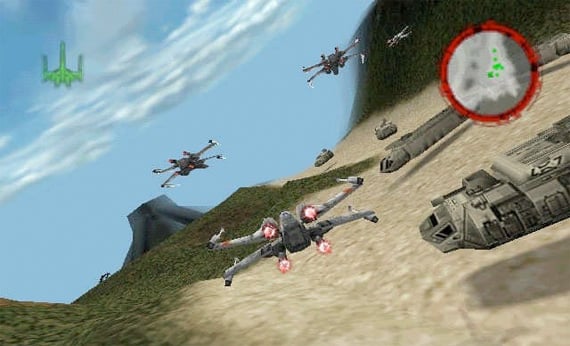 Super Star Wars (1993)
Super Nintendo
This platform run-n-gun SNES classic was essentially a remake of Star Wars for the NES days and loosely followed the plot of Episode IV. Gamers played as Luke Skywalker for most of the game, battling aliens, piloting vehicles and fighting their way through the Star Wars galaxy. The two sequels were pretty good too.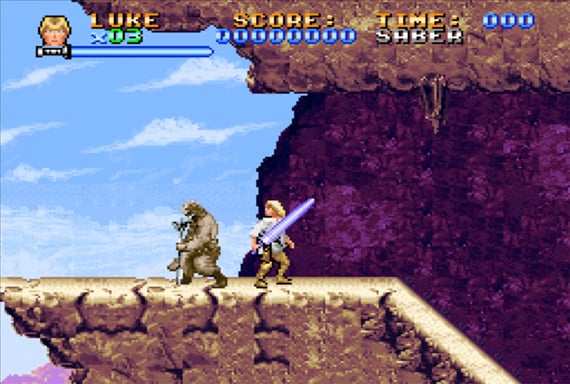 X-Wing (1993)
PC, Mac
No Star Wars game roundup would be complete without a mention of the almighty X-Wing, LucasArts' first game for DOS, which blew gamers away with its 3D game engine and awesome spaceship combat. Full of dogfights with smaller craft and huge assaults on the capital starships, X-Wing was one of the more exciting games out there for Star Wars fans and often ranks as the finest. ®