Original URL: https://www.theregister.co.uk/2012/05/25/spacex_dragon_final_approach/
Dragon starts final approach to International Space Station
Rendezvous sensors need last-minute tweak, but SpaceX is a go
Posted in Science, 25th May 2012 13:48 GMT
The SpaceX Dragon is still approaching the International Space Station and on course, with a few minor delays.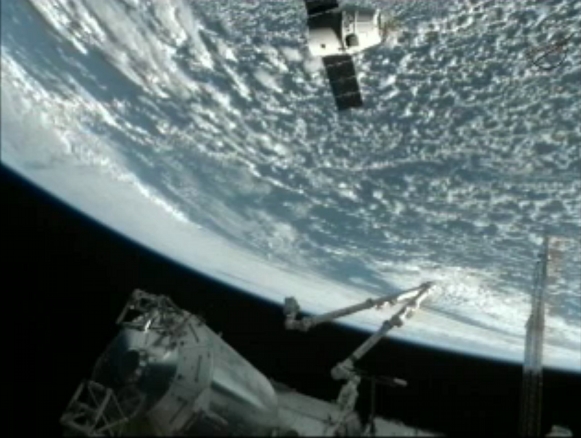 Snapshot of the Dragon on final approach. Credit: NASA TV
At the moment, NASA is projecting a grapple time – when the ISS's robotic arm Canadarm will reach out and grab the Dragon – of 10.02am EDT, or 15.02 BST, but the grab time is fluid as the ISS moves in and out of daylight.
Since this is a test flight, NASA, SpaceX and the ISS crew are all being reasonably cautious about the ship's first-ever docking with station. While the ship was on its way to its pit stop 30m (98.42ft) outside the station, the Laser Imaging Detection and Ranging system (LIDAR) – which along with the thermal imager is what Dragon uses to "see" the ISS – had to be adjusted by the SpaceX team back on Earth.
Dragon had to hold up before it got to the 30m mark to make those changes because it was seeing reflections from the Japanese Experiment Module which were putting it off.
Elon Musk's private cargoship had to hold again at 30m while the SpaceX team once again fine-tuned the rendezvous sensors for the final approach. Meanwhile, Mission Control Centre was trying to decide to give the go or no-go for the final capture, part of which was to try to time it with the daylight.
The crew could theoretically grab the Dragon in the darkness as well, but chatter on the live feed between Andre Kuipers and Mission Control has suggested that everyone would prefer to do it in the light as it's the first time.
Dragon is currently moving to the 10m point, where it will hold once more before getting snatched by the Canadarm. Each hold is so that the ISS and Dragon can compare the data they're getting from their cameras and imagers and make sure it all matches up.
The ISS has also been given two windows of daylight for the capture. If the crew misses the 10.02 EDT window, the Dragon may have to wait alongside the station for the later opportunity at 10.28 EDT (15.28 BST). ®