Original URL: https://www.theregister.co.uk/2012/05/25/ibm_xeon_e3_e5_server_refresh/
Big Blue flaunts scantily clad Xeon E3, E5 racks
Disrobed servers give Dell an eyeful in 4-socket arena
Posted in The Channel, 25th May 2012 09:44 GMT
Pics Like all the other tier one server makers, IBM is ramping up shipments on the next wave of Xeon chips from Intel inside of its System x, BladeCenter, and Flex System machinery. Big Blue says the new machines will help fill in some gaps in its x86 system lineup, which previously had been exploited by rivals Hewlett-Packard and Dell.
"We've had a thinner portfolio with a few gaps going up against HP and Dell," Scott Hawkins, manager of worldwide System x x86 server marketing at IBM conceded to El Reg. "But with these new products, we think we are going to do really well and our footprint will grow."
That, of course, has been Big Blue's goal as well as that of its channel partners for many years in the x86 server racket. IBM has a long way to go to catch Dell, which has yet to catch HP except in market sub-segments, like bespoke servers for hyperscale customers, where Dell rules.
But as has been the case for decades, the competition is tough in x86 servers, and judging from the falling profits that both HP and Dell are seeing in their respective ProLiant and PowerEdge lines, it has been particularly cut-throat in recent months. And possibly not just because the world was waiting for the "Ivy Bridge" Xeon E3-1200 v2 and "Sandy Bridge" Xeon E5-2400, E5-2600, and E5-4600 processors. (You can see our detailed coverage of the Xeon E3-1200 v2s here, of the Xeon E5-2600s there, and the Xeon E5-2400s and E5-4600s here.)
IBM has put seven new machines in the field, four of which will start shipping on May 31. Two others ship in June and one in July.
Two of these are based on the Xeon E3-1200 v2 processor, which is a single-socket chip that was historically aimed at workstations and entry tower and rack servers but which is now also shooting for the nascent and fast-growing microserver segment that is popular with certain hyperscale data center and hosting customers.
IBM also has four machines using the Xeon E5-2400, a cut-down and cheaper version of the Xeon E5-2600 that was announced back in March. These include one blade, two rackers, and one compute node for its Flex System UCS-alike modular system.
And finally, IBM is also kicking out an updated quad-socket box based on the Xeon E5-4600, which is a much less expensive and compact processor than the Xeon E7-4800 – which has been used to build four-socket boxes in the most recent Intel-based machines. The E5-4600 is going to breathe new life into the four-socket market, as has the Opteron 6100 and 6200 chips from rival Advanced Micro Devices, particularly for virty server workloads where the size of guest machines can vary greatly and software licenses costs are an issue.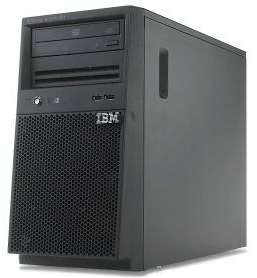 IBM's System x3100 M4 entry tower
The two Ivy Bridge Xeon E3 machines are essentially the same boxes, with slightly different feature sets: one puts the chip into tower box with a fair amount of space and the other crams it into a 1U pizza box with more limited space for peripheral expansion. To date, IBM has not launched a microserver aimed at hyperscale cloud operators, and Hawkins tells El Reg that none are in the works.
The System x3100 M4 tower server is aimed at SMBs and departments of larger organizations that need local computing, but not very much. While the box will support Celeron and Pentium G series chips as well as Core i3-2100 series processors used in desktop boxes, the 4U minitower can take either the "Sandy Bridge" Xeon E3-1200 or the new Ivy Bridge v2 variant, both of which top out with four cores. The machine uses Intel's C202 chipset and has four memory slots, supporting up to 32GB of DDR3 memory; memory can be cranked up to 1.6GHz if you want to pay for the speed. The box has four simple swap 3.5-inch SATA drive bays and can be configured with up to 12TB using 3TB drives. It has another two 5.25-inch bays and comes with software-based RAID mirroring and can be upgraded with a mezzanine card to have RAID 5 data protection across its disks as well. The x3100 M4 sports four PCI-Express slots: two PCI-Express 3.0 slots (one x8 and one x16) and two PCI-Express 2.0 slots (one x4 and one x1). The machine can run Windows Server 2008 in its many incarnations as well as Red Hat Enterprise Linux 5.7 and 6.2 and SUSE Linux Enterprise Server 10 and 11. VMware's ESXi 4.1 Update 2 hypervisor is also certified on the x3100 M4, and the embedded versions of KVM and Xen on RHEL are also supported
The barebones System x3100 M4 comes with a dual-core Core i3-2120 processor running at 3.3GHz, 2GB of memory and no disk, and costs $547. A heftier configuration with the four-core E3-1220 v2 chip – which spins at 3.1GHz, plus 8GB of memory, and no disks – will run you $774. With a 3.5GHz E3-1270 v2 and 16GB of memory (two 8GB sticks, leaving two slots open for later expansion), and three 1TB disks, this machine costs $2,561. This is a reasonably beefy entry server.
The System x3250 M4 is a rack-based singler that can use the new Ivy Bridge Xeon E3s as well as those older Celeron, Pentium, and Xeon E3 processors. The x3250 M4 uses the same C202 chipset and its mobo is put into a 1U rack box that has room for two 3.5-inch SATA or four 2.5-inch SAS drives that have the same disk controller options as the x3100 M4. The server has one PCI-Express 3.0 x8 slot and one PCI-Express 2.0 x4 slot, and comes with a 300 watt power supply with an option for a redundant 460 watter. The same Windows and Linux operating system and hypervisor options are certified on the x3250 M4 as on the x3100 M4.

The Ivy Bridge racker from IBM
The barebones x3250 M4 configuration has the same Core i3-2120, 2GB of memory, and no disk as the tower box and costs $1,119. A more reasonable configuration with the E3-1220 v2 processor (four cores at 3.1GHz) and 8GB of memory costs $1,771. With the four-core E3-1270 v2, 16GB of memory (again, with two of the four memory slots left open), and two 1TB 2.5-inch SAS drives costs $3,142.
Both of these Ivy Bridge servers ship on May 31.
Two socket to me
On the Xeon E5-2400 front, IBM has four new machines, and interestingly, it hasn't pushed out an updated iDataPlex node using these variants of the Xeon E5 processors. There is an iDataPlex x360 M4 node using the Xeon E5-2600, which has more oomph, and El Reg told you about this server as well as Big Blue's other Xeon E5-2600 rack and tower servers announced in March here. You can read about the Flex System modular servers announced in April there.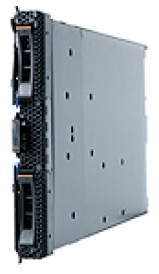 The BladeCenter HS23E blade server
The first new Xeon E5-2400 machine with two sockets for your computing pleasure is the BladeCenter HS23E blade, which slides into the BladeCenter family of chassis IBM has been peddling for years.
Like other IBM blades, this one is a full height and skinny enough to put 14 of them into a 10U chassis. The HS23E has two Xeon E3 sockets and a dozen very low profile (VLP) DDR3 main memory slots and supports up to 192GB of main memory using 16GB sticks. The HS23E has dual connectors for power and networking into the chassis midplane for redundancy.
The blade has just enough room for two hot-swap 2.5-inch drives and not much else, as you can see. You can plug 1.35 volt or 1.5 volt memory into this blade, but the 1.35 volt sticks consume 19 per cent less juice and emit less heat in proportion – so you might want to go that way if you want to use faster CPUs. SATA and SAS drives can be striped or mirrored, but you need different mezzanine features to do it depending on the drive type. You can also slide in 200GB SATA drives if you want to get all flashy.
The HS23E has two Gigabit Ethernet ports on the mobo, and the CIOv (chassis I/O vertical) slot supports one PCI-Express 3.0 x8 slot and the CFFh (chassis form factor horizontal) mezzanine card supports a PCI-Express 3.0 x16 slot. You can link to a PCI-Express expansion blade to the HS23E to give you two PCI-Express 2.0 x8 slots, and you can daisy chain up to four of these expansion blades together. You can put a single Nvidia Tesla GPU coprocessor in each expansion blade if you want and snap it into the two-socket Xeon E5-2400 blade to make a baby supercomputer. In fact, IBM wishes you would.
IBM has certified Windows Server 2008, including the HPC Edition, to run on the HS23E blade as well as SLES 11 and RHEL 5 and 6. VMware's ESXi 4.1 and 5.0 hypervisors are also certified.
The HS23E blade is available on June 4. A base HS23E blade with a four-core E5-2407 and 12GB of memory and no disk runs $1,699. A beefier blade using the eight-core E5-2470 with 24GB of memory costs $4,295.
The mystery Xeon E5-1400 in a rack
IBM has two rack servers that employ the lower-priced Xeon E5-2400 processors:
The System x3530 M4 is a 1U rack server that double-stuffs the Xeon E5-2400s into the pizza box. Like the HS23E blade, it has a dozen DDR3 memory slots, which support up to 192GB of total memory using 16GB memory sticks. IBM's spec sheets say that it supports the Xeon E5-1400, which is a processor that Intel has not yet launched and that has four cores running at up to 2.8GHz and 10MB of L2 cache. (Presumably, this is a chip aimed at high frequency trading.) In any event, the x3530 M4 box can only have one of these E5-1400s. The system uses the "Patsburg" C600 chipset, of course.
The x3530 has room for four 3.5-inch or eight 2.5-inch drives, and RAID 0 and 1 are supposed in the base machine with various RAID 5 options available. The server has three PCI-Express 3.0 slots, with a mix of x16 and x4 slots, depending on the rise card options you pick.
The base System x 3530 M4 with one four-core E5-2407 and 8GB of memory costs $1,699. A more reasonable configuration with two eight-core E5-2470s running at 2.3GHz, 64GB of memory, and eight 600GB 2.5-inch SAS drives will cost you $14,271. So there is a big difference between base and heavy configuration, obviously.
The System x3630 M4 just airs this machine out inside of a more spacious 2U rack chassis, allowing for more peripheral expansion.
The x3630 M4 supports the same processor options, including the mysterious Xeon E5-1400 and is based on the C600 chipset. The system has the same maximum of 192GB of memory, and the chassis has room for eight 3.5-inch SATA drives or up to fourteen 3.5-inch drives with another two plugging into the back.
The dozen 3.5-inch drives are particularly important for Hadoop clusters, since Hadoop works best with one drive per core and Hadoop shops like cheap and fat drives. That implies using the six-core E5-2400 variant of course. IBM needs two more disks somewhere to get enough drives to balance using the eight-core Xeon E5s. If you use only a dozen drives, you can have five PCI-Express 3.0 slots (you need to have the second processor installed to drive slots 4 and 5). If you want to use the two back-door disks, then you sacrifice two PCI-Express 3.0 slots. Depending on the risers, you get a different mix of x16 and x8 slots.
The base System x3630 M4 with a single four-core E5-2403 and 4GB of memory costs $2,029. A machine with one eight-core E5-2470 running at 2.3GHz and 8GB of memory costs $4,969. If you put in two of those E5-2470s, 64GB of memory, and a dozen 3TB SATA drives, the list price is $23,367.
The System x3530 M4 and x3630 M4 servers support RHEL 5.7 and 6.2 and SLES 10 and 11, but in the announcement letters for the machines, Windows is not mentioned. This does not seem possible, really. But that is what they say. VMware's ESXi 4.1 is supported on the x3530 M4 and the x3640 M4 adds ESXi 5.0.
Both of these rack Xeon E5-2400 machines are on sale starting May 31.
Don't forget Flex
IBM has put the Xeon E5-2400 processors into the half-width, single node servers used in the Flex System modular system as well. The Flex System x220 compute node is very similar to the existing x240 node, except that it has a third less memory and uses the low-gear two-socket Xeon E5s.
Specifically, the x220 node has the same dozen slots and uses 1.35 volt memory in up to 16GB capacities per module for a total of 192GB maximum. IBM is offering the full set of E5-2400 processors in this node, and Windows Server 2008, RHEL 5 and 6, and SLES 10 and 11 are supported. So are VMware's ESXi 4.1 and 5.0 and the embedded KVM and Xen hypervisors in Linux distros. The node has room for two hot-swap SAS or SATA drives in 2.5-inch form factors, just like the existing x240 node based on the E5-2600 processors from Intel.
This Flex System x220 node starts shipping on June 14. Pricing and configuration information were not available at press time.
Double stuffing the System x to a quad
"We're expecting Dell to come after us in the four-socket space," says Hawkins. "We think we will be able to hold share."
While IBM does have two-socket and four-socket machines using Intel's Xeon E7 processors and sporting its own Max5 memory expansion modules, now that Dell is downshifting to four-socket machines based on the Xeon E5-4600 processors, IBM has to do so as well. (HP has not made its plans for an E5-4600 box known, but it is inconceivable that HP won't have one.)
In any event, IBM's low-gear four-socket box using the E5-4600s is the System x3750 M4, and it is a sibling to the System x3755 quad-socket, 2U rack-mounted machine that IBM created to house the Opteron 6100 and 6200 processors from Advanced Micro Devices.
Note: IBM did not announce an HS43E blade server or a Flex System x440 compute node based on the E5-4600, but these are logical future moves for Big Blue to complement the four-socket HX5 blades based on the Xeon E7s and the four-socket, Power7-based x460 blades already in the field.

The System x3750 quad-socket server
The x3750 is a 2+2 design, which means it has a two-socket motherboard, so another card with two more sockets and two dozen memory slots can be connected into it.
IBM says that it has an edge over Dell's PowerEdge R820 racker in that it can safely overclock the memory in the System x3750 M4 by 25 per cent compared to Intel's own specifications using either RDIMM or LR-DIMM memory across all four memory channels on the E5-4600 sockets that have three sticks per channel. Generally, if you go with more channels, you have to step down the memory or move to LR-DIMM sticks. Fully loaded, the 48 memory slots on this server (a dozen per socket) can handle 1.5TB of memory, which is a lot to cram into a 2U rack chassis.
The x3750 M4 can house a dozen 2.5-inch disk drives or up to 32 eXFlash 1.8-inch SSDs. The base server has five PCI-Express 3.0 slots with another three more available with a riser card. It has two hot-swamp power supplies and two optional 10GE ports in a dedicated slot (you have to pay extra for the mezz card to get those ports, however). The x3750 M4 mobo has two Gigabit Ethernet ports standard. It crams a lot of stuff into the box, as you can see:
The x3750 M4 will be used as a fat node in supercomputer clusters and hence supports Windows Server 2008 HPC Edition as well as the regular Windows variants and the two latest versions of RHEL and SLES Linux. VMware's ESXi 4.1 and 5.0 hypervisors as well as the Xen and KVM embedded in Linux are also supported.
The x3750 M4 will ship on July 14. A base machine with one four-core E5-4603 spinning at 2GHz and 8GB of main memory costs $7,959. Essentially, you have to really want to expand this box to make it worth your while economically. With four eight-core E5-4650s running at 2.7GHz, 384GB of memory in half the open slots, and a dozen 600GB SAS disks, this baby costs $53,021. Not exactly discretionary spending at most companies. ®