Original URL: https://www.theregister.co.uk/2012/05/25/game_review_max_payne_3/
Max Payne 3
Time to kill
Posted in Personal Tech, 25th May 2012 11:00 GMT
Review With a tip of the hat to director John Woo and The Matrix, Remedy Entertainment's Max Payne wowed the gaming world in 2001 with its unique slow-mo shooting action. And since Max Payne 2 appeared in 2003, I've been holding my breath in anticipation of the third in the series.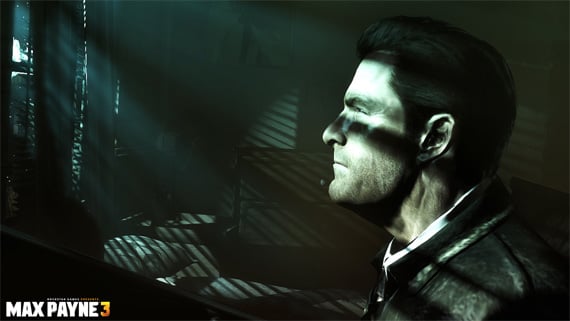 Squintessential character
Although with Rockstar taking development in-house and moving script-penning duties into the hands of Red Dead Redemption writer Dan Houser, Max Payne 3 had a lot to prove. Fortunately, Rockstar knows exactly how to deliver a great game and, true to form, has dispatched another exciting instalment here.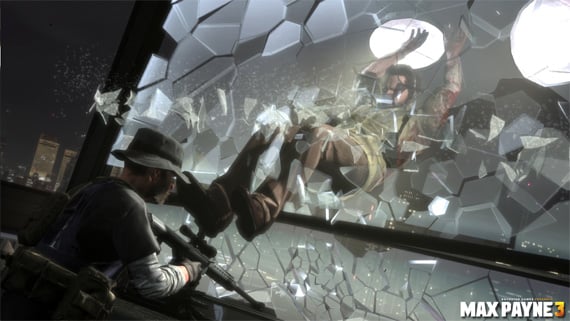 Smashing Paynes
Still gripped by the traumatic loss of his family many years ago, Max is now an even more washed up bitter alcoholic whose glass is always half empty – or in most cases completely so. In this instalment our anti-hero finds himself working as a bodyguard in São Paulo for rich business tycoon Rodrigo Branco.
When Branco's wife is kidnapped, he embarks on a long bloodbath campaign, split up with witty cynical monologues and inevitable plot twists that contribute to this game's scintillating pace.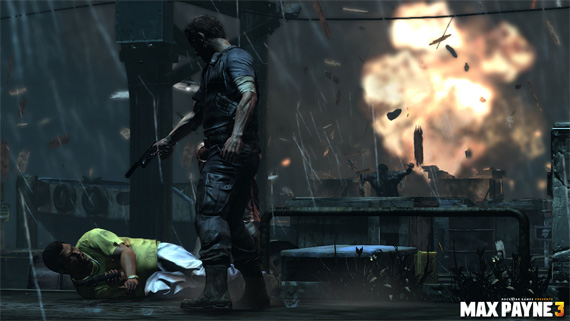 Several shots later he was on the floor
Although some moments do feel a tad cliché, the script brings with it purpose, highlighting the world's inequities and the morose mentalities of those at the top. But that was always Max Payne, who continues his bitterness against the world in spectacular fashion with humour dryer than a mouthful of Jacobs crackers.
Noir under par
The dark comic-strip style of storytelling of the first two games has been replaced with almost Real Hustle-like multiscreen splits. Presumably this is an attempt to reconnect with its comic-strip roots, yet spruced up with animated cutscenes rather than static images. In the process, I feel it does lose some of its 'noir' but, fundamentally, this is still Max Payne, and boy is it back with a bang.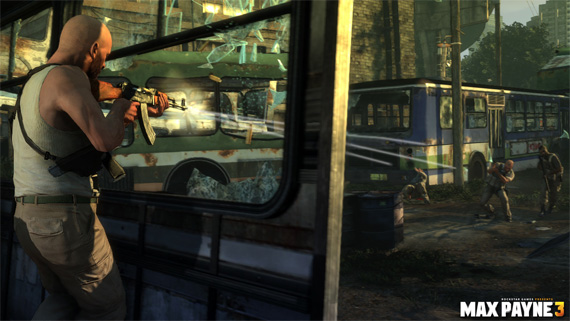 Max becomes Breaking Bad's Walt at one stage
There's also a video transition that feels overused and its blurry effects are a bit nauseating, although you eventually become accustomed to it. While the cut scenes are often long, you always feel connected with the story, ready at all times to get straight back into the action.
As expected, the gameplay is all about the bullet-time, diving in slow motion and watching shrapnel fly past while you put holes in your enemies. It can take a while to master the controls, particularly if you're used to playing Max Payne on a PC. However, once familiar, you'll be dodging bullets, flipping direction mid-air and taking cover with ease.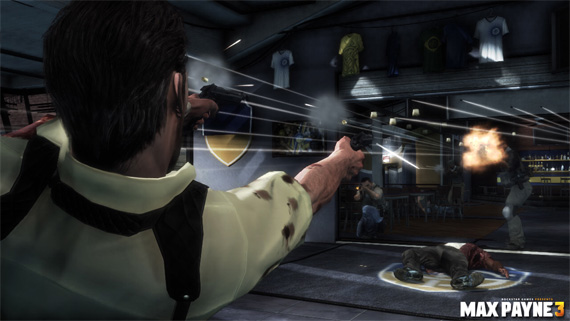 Shooting through time
That said, it's completely unforgiving, so you're unlikely to survive by diving into a room full of baddies gung-ho, nor does health replenish if you run and hide. Yep, in fine Max Payne tradition, you'll be hunting down and popping enough painkillers to pickle your liver thousands of times over.
It would have been nice for the surroundings to slow down bullet-time style as you change weapons, similar to the system used in The Witcher 2. Still, as you can only carry a maximum of three weapons at any given time, switching between them doesn't cause too much trouble once accustomed.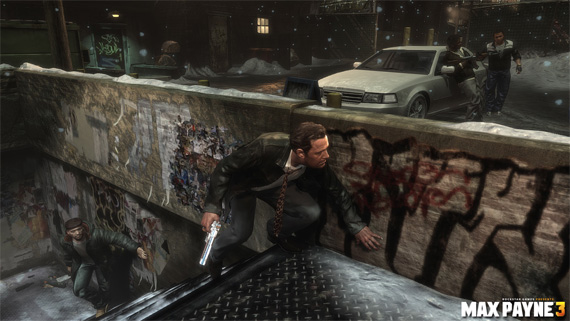 Crawl along the wall
Checkpoints eliminate the frustration of death anyway, as you'll generally start again at the beginning of a given shootout, correcting the mistakes you made last time around and taking additional care not to be showered with lead.
Wield those weapons
AI has dramatically improved as well, and while enemies still run out in droves to attack, they don't do so in the same mindless fashion as before. Instead, they now take better cover behind walls themselves and throw grenades more strategically as they flush you out at every opportunity.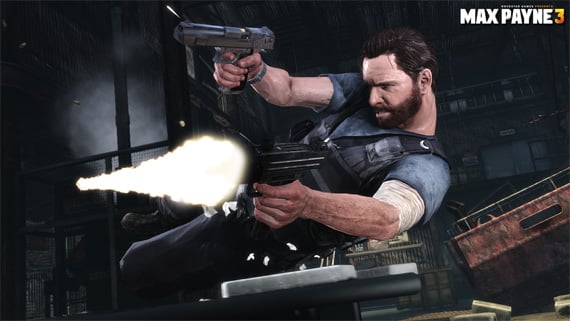 Diving with wails
A new feature, 'Last Man Standing', sees a face-off with an enemy close to taking Max's remaining life capacity. If you shoot down the guy before he kills you first, you take a painkiller and continue. This can happen quite a lot if you're not careful, especially in a room brimming with gunfire. Wipe out all your enemies and you're rewarded with a prolonged, follow-the-bullet shot of your final kill.
Gamers can even slow this down further, watching ammo pierce enemies at snail speed. It soon loses its novelty, but for the sadistic Payne killer players (possibly all of them) they'll be sure get their money's worth of gore.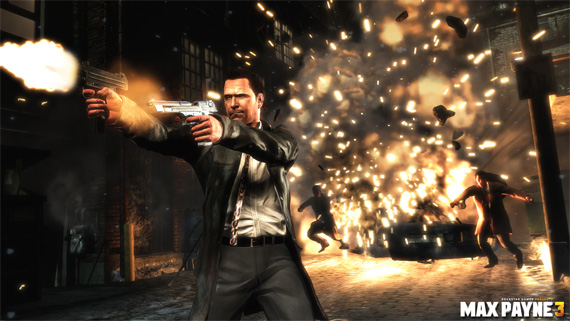 Banging stuff
As with the previous Max Payne epic, when the campaign mode ends, you're desperate for more – yearning to engage in fresh levels without another decade of waiting.
Fortunately, multiplayer is a whole new game in itself. Usually on-line modes are thrown into games like this as a means of necessity, but with Max Payne 3, the on-line multiplayer is ridiculously addictive and stands on its own. It incorporates the bullet time feature ingeniously and offers the ability to build your own gang of mates to play Payne, as well as future Rockstar games together, through the publisher's Social Club feature.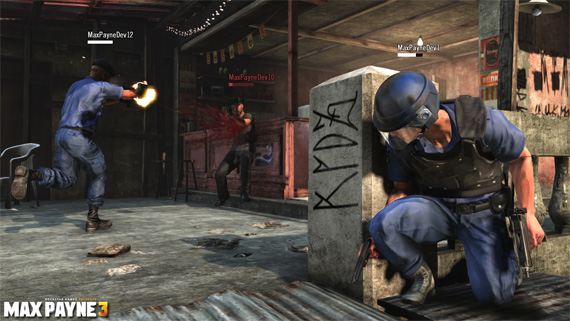 Payne in the gang
Verdict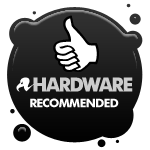 The single player campaign doesn't quite match up to the more varied experience of Uncharted 3, but as interactive movie-like shooters go, Max Payne still takes some beating. The man himself may have aged but his bullet-time antics feel as newfangled as ever. Max Payne 3 is a seriously awesome game that you'll keep playing until both your favourite drinking arms ache. ®
More Games Reviews

Diablo III
Prototype 2
Resident Evil:
Raccoon City
Twisted
Metal
Mass Effect
3