Original URL: https://www.theregister.co.uk/2012/05/24/netapp_q4fy2012/
NetApp streaks ahead, avoids trip-up by bum flash leg
Don't want to be an all-flash also-ran
Posted in The Channel, 24th May 2012 12:42 GMT
NetApp is a veritable money machine these days, and is currently clocking in growing fourth quarter and annual results, but a blip may have appeared on the horizon as it searches for a way to bolster its flash offering.
The tech giant has signalled it will partner up to expand on flash technology and work on a few in-house flashy developments.
It recorded fourth quarter revenues of $1.7bn, 10 per cent up on a year ago and showing NetApp's usual fourth quarter surge over the preceding quarter, $1.5bn in this case, as the sales force pulled out all the stops to get a bumper final quarter. Profits were $181m, the second highest on record we think, and $20.4m up on the year-ago quarter.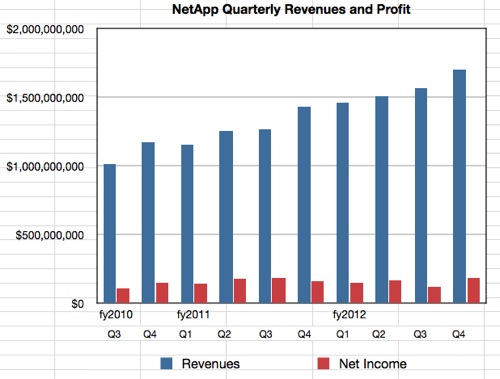 For the full fiscal 2012 year NetApp recorded $6.23bn and profits of $605m. The equivalent fiscal 2011 numbers were $5.12bn and $673m; so 2012 profits were $68m lower than those of 2011 – although revenues rose 22 per cent over that period.
CEO and president Tom Georgens issued the sort of self-congratulatory statement you would expect, and why not: NetApp has done well, after all. Georgens said: "NetApp delivered our ninth consecutive quarter of over 20 per cent year-over-year product revenue growth. … As the innovation leader in the industry, and the only company offering a unified scale out platform, we are the clear choice for enterprises as they re-architect their data centres to provide agility while reducing complexity and cost."
Results don't appear to have been affected by drive shortages.
The company expects the next quarter to be lower though, which it emphasises would reflect a normal seasonal pattern, with revenues between $1.40bn and $1.50bn, "which equates to a sequential decline of approximately 12 per cent to 18 per cent and a year-over-year decline of approximately 4 per cent to an increase of 3 per cent."
Europe's euro situation isn't helping and NetApp is concerned about the outlook in the European and USA public sectors. Major account growth generally is lagging the rest of the business, although channel business is up.
One thing that went very well in the year was the Flexpod business with Cisco, the converged system template which contrasts with the VCE converged Vblock product. More than 850 Flexpod customers exist and VDI is the most popular workload for the Flexpods. EMC has responded to this with its VSPEX converged storage/server/network system template.
Georgens said both the FAS2000s and FAS 6000 arrays had great results although the mid-range FAS 3000 arrays "were down slightly" due, he said, to the recently refreshed FAS 2000 arrays. The acquired E-Series did okay too: "We exceeded our full year E-Series OEM revenue expectations."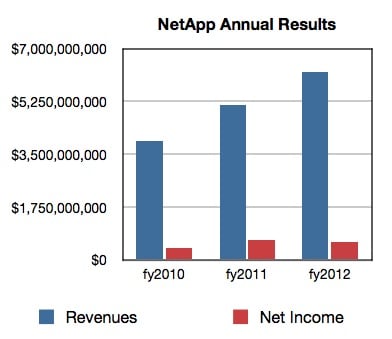 NetApp flash strategy
We're really interested in NetApp's flash strategy. It currently has SSDs in the arrays if users want, plus FlashCache in the array controllers, but no flash outside the FAS arrays. This contrasts with EMC which has SSDs in its arrays, flash caches for is controllers, VFCache flash caches for servers, a coming Thunder box with one to 10 VFCache cards connected to servers by InfiniBand for low latency and high IOPS, and a coming "Project X" Xtremio box with SAN connectivity to servers and the ability to have eight of them clustered.
Georgens said:
We have consistently said that flash will be deployed throughout the hardware stack, and our flash offerings will be aggressive and multifaceted. Our belief is that offering flash primarily in the form of the cache is the most efficient and effective way to deploy this technology in storage arrays, and most of the industry is now following this approach.
Yes Tom, but what about outside the arrays? There are large numbers of start-ups and others offering server cache, all-flash arrays and ground-up designed hybrid SSD/HDD arrays.
NetApp has a second refresh of its ONTAP 8 O/S due later this year and this may be used to introduce external (to the array) flash products with A-SIS deduplication. Whether NetApp will tier data to such external flash boxes is debatable; it's eschewed automated tiering in favour of caching so far but it may have to revisit that rejection.
Georgens confirmed flash was coming from NetApp outside its arrays;
With an over 50 per cent attach rate in our 3240 and 3270 systems and 0.5 terabyte of flash embedded in every 6000 system, NetApp is on the forefront of flash integration. In addition, our R&D pipeline contains projects to further exploit the use of flash on other layers of the stack, and our next release of ONTAP will contain additional flash-related offerings.
We expect server flash caching to be supported, and an all-flash array box to be developed with FAS array integration and some form of data tiering.
That's the organic, in-company flash developments we see. Georgens also said NetApp would possibly/probably acquire flash technology as well as partner when talking about NetApp's flash strategy in the earnings call:
You'll see it inorganically and you'll see it through partnerships. So I think you'll see NetApp participating on flash on multiple dimensions, and primarily, it is to basically expand our data management footprint.
NetApp and Isilon
He also said NetApp would not directly compete with Isilon in the scale-out NAS business but focus on data centre business apps: "Data ONTAP 8.1 is not necessarily a head on head with Isilon. It's in fact the way we're going to attack business apps and the data center to fundamentally change the way data is being done... The predominant use of 8.1 is actually business applications deep in the data center at larger and larger scale.
"When I think about 8.1, I don't think about it at all in on the Isilon range. I mean, certainly we compete there with it, and that will be the case. But the bulk of our engagement with EMC is around their traditional offerings and their core product offerings in the data centre."
NetApp is sticking to its enterprise core data centre knitting and adding external flash arrays to its product mix because they are going to appear in its customers' data centre anyway. ®