Original URL: https://www.theregister.co.uk/2012/05/24/mars_rover_dips_into_shade/
Mars rover Opportunity spots WALL-E in crater ramble
Me and my shadow
Posted in Science, 24th May 2012 14:50 GMT
Pic NASA's Mars rover Opportunity snapped a dramatic photo of itself roaming around the planet's Endeavour Crater today.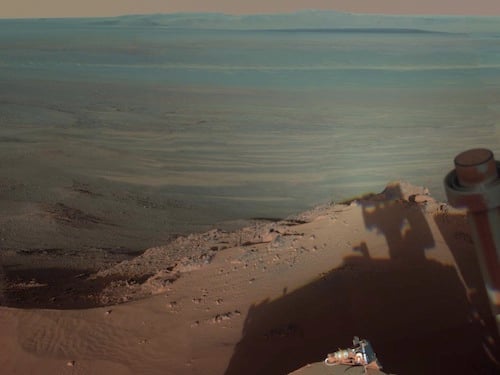 Image credit: NASA/JPL-Caltech/Cornell/Arizona State Univ
The image caught the clear shadow of the hardworking robot, which to our wise eyes on the Vulture space desk looks a bit like the cute movie character WALL-E. The Register is quite certain, however, that NASA has not been taking design advice from Disney or indeed Pixar.
This wonderfully lit image captured Opportunity's late-afternoon shadow. The view is eastward across the Endeavour Crater that spans 14 miles (22 kilometres) in diameter. Which, fact fans, is about the same size as the city of Seattle in the US.
NASA explained:
The rover used the panoramic camera (Pancam) between about 4.30 and 5.00PM. local Mars time to record images taken through different filters and combined into this mosaic view.

Most of the component images were recorded during the 2,888th Martian day, or sol, of Opportunity's work on Mars (9 March, 2012). At that time, Opportunity was spending low-solar-energy weeks of the Martian winter at the Greeley Haven outcrop on the Cape York segment of Endeavour's western rim.

In order to give the mosaic a rectangular aspect, some small parts of the edges of the mosaic and sky were filled in with parts of an image acquired earlier as part of a 360-degree panorama from the same location.
The ageing Mars rover has been exploring the western rim of Endeavour Crater since August last year. ®