Original URL: https://www.theregister.co.uk/2012/05/23/review_ten_mifi_hspa_3g_wireless_mini_routers/
Ten... Mi-Fi HSPA 3G wireless mini-routers
DIY hotspots
Posted in Personal Tech, 23rd May 2012 06:00 GMT
Product Roundup

If you want cellular data connectivity when you're out and about you can cough up for a laptop or tablet with a Sim card slot, but they are hardly cheap. Or you can tether your phone if your telco lets you.
Another alternative is a portable router. These can be bought with data contracts from the usual suspects, or unlocked so you can just pop in any old Sim and top up your account as and when. Once you have one up and running, you can use it with any Wi-Fi device and service more than one device at a time.
Most of the routers here have batteries, but a couple don't and need USB power. That's not as silly an idea as it sounds. Some are no larger than a USB dongle while others are larger but offer Ethernet connectivity too. None offer a better Wi-Fi throughput than 150Mbps, but don't get hung up on that. These devices are about on-the-go convenience not performance.
To test battery life, I simply left the routers connected to a Windows laptop with a web browser and e-mail client running, and to an Android smartphone. I also put each in my back bedroom to see if I could get a signal in my front room. My house is a three-bed semi built between the wars. They all managed the trick, but most only just.
D-Link Le Petit Router DWR-510

It may look like a 3G dongle but the modem/router switch on the side gives the game away - it's a dongle and a Wi-Fi router. It's small because there's no battery - to use it as a router you have to plug it into a USB power source, either an AC adaptor, a PC or a portable battery like my TekNet 7000mAh Power Bank. As I never leave home without my TekNet, the D-Link makes a good deal of sense to me. There's no Micro SD card slot and HSPA 3G speeds only extend to 7.2Mpbs download, 5.76Mbps upload, but it supports 802.11n Wi-Fi and the fold-away USB connector design is rather clever. In the minus column, there's no default security out of the box and the eternally flashing bright blue LED when you have a 3G connection in router mode is annoying.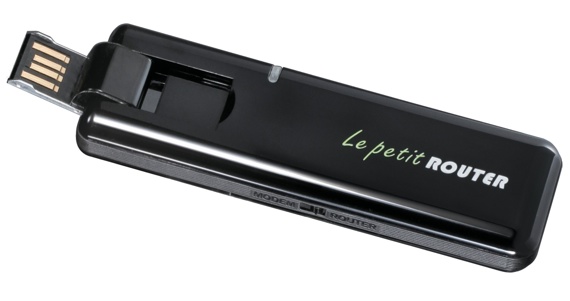 Reg Rating 80%
Price £80
More Info D-Link
Edimax 3G-6218n

The Edimax looks more like a shrunken domestic Wi-Fi router than a pocket device but, at 102 x 69 x 16mm, it's smaller than it looks in the picture. There's no Sim card bay. Instead, you either plug a 3G dongle into the USB port or a cable/DSL Ethernet feed into the RJ-45 port, the Edimax then relaying either as a 802.11n signal. The 1880mAh battery may sound manly, but you'll struggle to get more than three hours from a charge. But at less than £60, this is a cheap and versatile device. The only caveat is the set up, which is a bit of a palaver. Wi-Fi range was very impressive, though.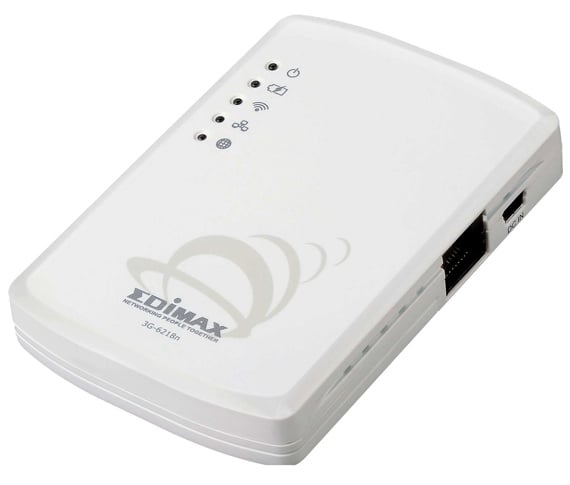 Reg Rating 70%
Price £54
More Info Edimax
Novatel MiFi 2352

A 2.4GHz 802.11g device with the added attraction of a GPS radio. OK, I'm personally struggling to see what use the location tech really serves now that every smartphone has a GPS chip too, but what the heck. Connection isn't quite as straightforward as some of the other devices here, which basically don't require that you do any more than you would to log onto any secure Wi-Fi network, but the MiFi web-based UI is at least easy to understand and use - and flexible, thanks to a selection of widgets. Supporting 7.2Mbps up and 5.76 down and having a Micro SD slot, the Novatel is nice enough device but a bit expensive and bit long in the tooth. Roll on the arrival of Novatel's funky 4000 range of mobile hotspots, though as these are aimed primarily at LTE networks that may take a while.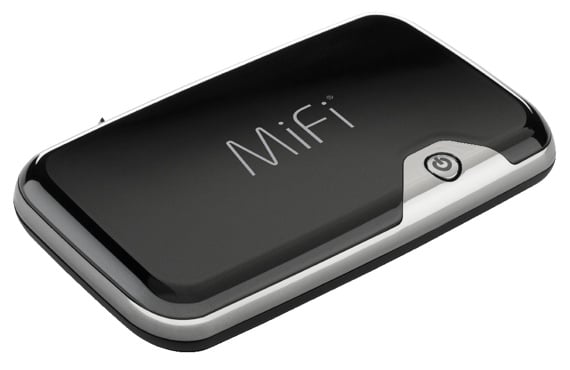 Reg Rating 60%
Price £104
More Info Novatel
Option XYfi

A brand new 802.11n device that first saw the light of day at the Mobile World Congress show earlier this year, the Option requires a separate USB power source to work as a hotspot. Wi-Fi throughput is only rated at 72Mbps (1x1) rather than the 150 (2x2) of the other devices here, but since that's still many times more than the best 3G speeds you'll encounter - and the 14.4Mbps supported HSPA speed - it's not a drawback. The unit itself is small and sleek, and the retractable USB connector flicks open at the touch of a button. If the final price is right, the XYfi would well be worth a shufti though I wish the front cover was easier to remove - I was constantly afraid of breaking it.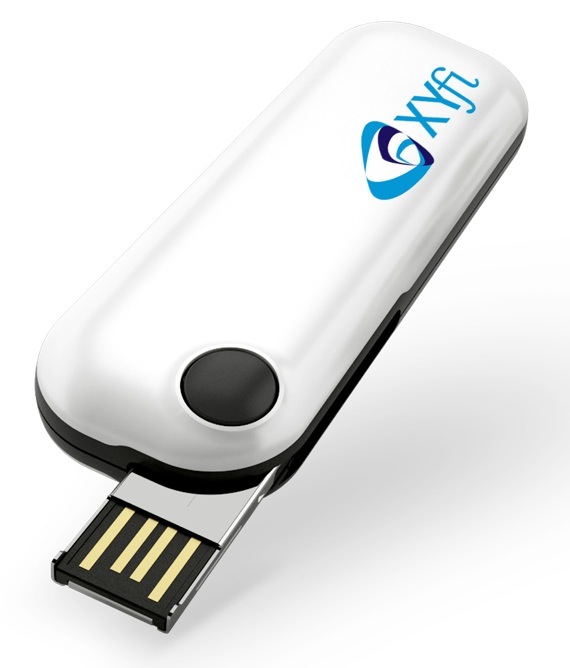 Reg Rating 80%
Price TBC
More Info Option
Solwise NET-3G-A10 3G

Solwise's 2.4GHz, 150Mbps 802.11n router is very easy to use. Just open the rubber Sim slot cover, insert a card and that's it. You don't have to open the device, though to get the Sim out, you'll need to remove the 1500mAh battery. You have to use a mini USB cable to charge said, which is a pain in this age of micro USB ubiquity. It feels a bit plasticky compared to some of the other devices here, and the packet of 20 Rothmans size betrays its age - as does the absence of a default security key. The five status lights are bright and easy to understand though. The three-and-a-half-hour battery life isn't bad and it can support 20 users at a time. Wi-Fi range is about 10m line-of-sight, less if a wall or two is in the way, but that's acceptable for a device like this.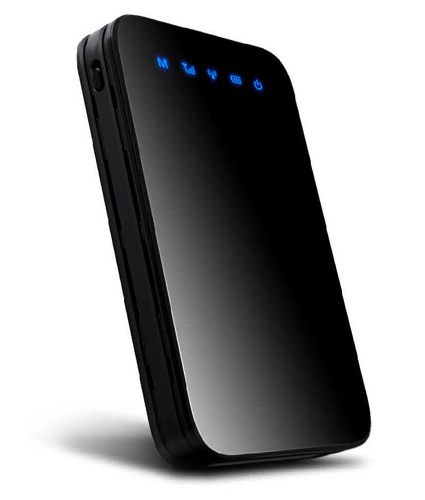 Reg Rating 75%
Price £62
More Info Option
Three MiFi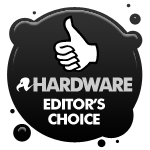 There's no denying the Three-branded Huawei E586 is a nice looking device with it's 1in OLED display and charging stand. However, the micro USB connection between stand and router isn't the easiest thing to use, so I suspect many people with end up just plugging the charger cable directly into the router and forgetting about the stand. Usefully, the router has a pre-defined SSID and security code - just press the key button on the side and they scroll past - and it supports download speeds of up to 21.6Mbps. Not that you see anything like that from a 3G network in the UK, but it's nice not to be capped at 7.6Mbps. There's also a Micro SD slot, but cards can only be accessed over a USB cable. The battery lasted just under four hours.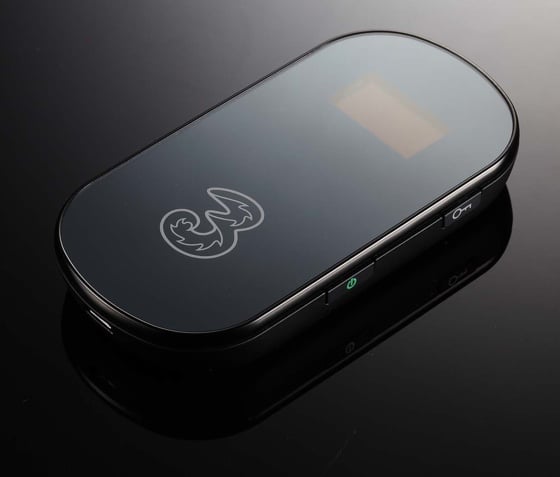 Reg Rating 90%
Price From £10.87 per month
More Info Three
T-Mobile Wireless Pointer

The Huawei-made T-Mobile Wireless Pointer and the Orange Mobile WiFi are exactly the same unit. The front of the Pointer is home to a circular power key and a WPS button. Above them sits a small OLED screen. It's simple arrangement and while the Pointer is dull to look at, it's very easy to use. The default WEP security is printed underneath the battery cover, and you get a Micro SD slot which supports wireless file sharing. Maximum supported speeds are 7.2Mbps downstream and 5.76Mbps up, and the 1500mAh coughed up four hours on the nose of Wi-Fi connectivity, putting it on a par with both the other Huawei devices here. It also has an external antenna port.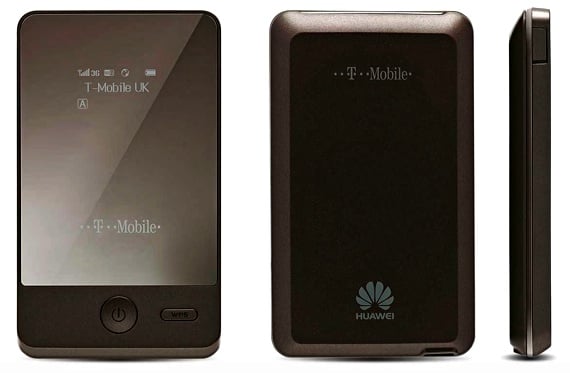 Reg Rating 80%
Price £15 per month or £60 PAYG
More Info T-Mobile
Vodafone Mobile Wi-Fi

Another rebranded Huawei device - in this case the R201 - the rather stylish Vodafone router has a monochrome OLED screen, but to see the default network security code you need to pop the battery cover off and see what's printed there. The front of the router is dominated by a large slider power switch which looks the part but I was always worried it would accidentally turn itself off (or on) when in a bag or pocket. One area where the Vodafone router does impress is battery life: I got just shy of four hours 20 from a charge of the 1400mAh battery, the best result here. Maximum supported cellular speeds are a slightly old-hat 7.2Mbps down and 5.76Mbps up but the Micro SD can be accessed over the Wi-Fi network. At least it should, but my review unit refused to acknowledge any of the cards I put in it.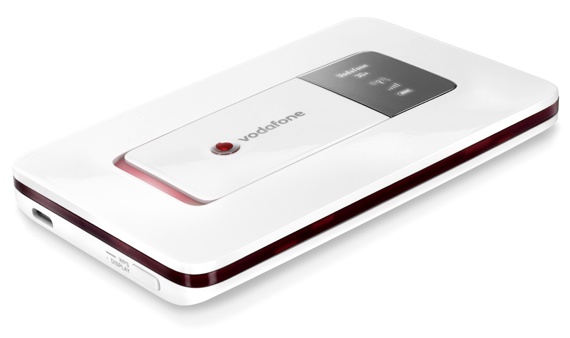 Reg Rating 80%
Price From £15 per month
More Info Vodafone
Zoom Telephonics Zoom 4506

Like the Edimax, the Zoom 4506 is a portable rather than a pocket router so you still need a conventional dongle to snag a 3G signal from the airwaves. You can also use it with a cable or DSL Ethernet modem. The smart and very sturdy body contains a 1700mAh battery which proved good for four hours ten minutes. Zoom claims that the 4506 will support no fewer than 253 devices at ranges of up to 300m. I can say the signal reach was easily the best of all the devices here. One small drawback is the need to carry the Zoom's AC charger with you, thanks to the maker's insistence on using 3mm small power jack rather a USB charging socket.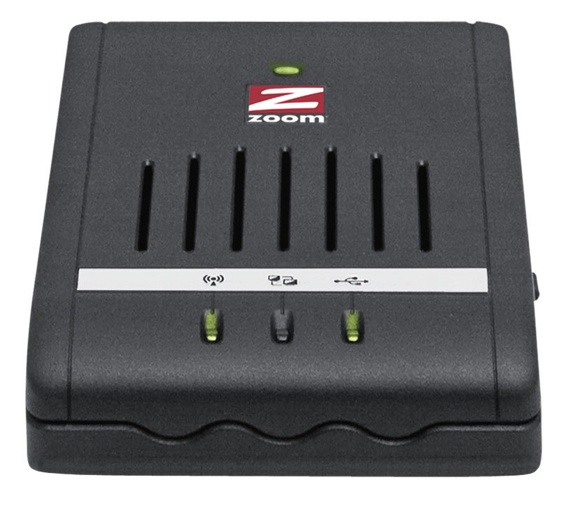 Reg Rating 80%
Price From £55
More Info Zoom
ZTE MF60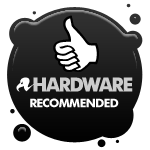 The ZTE router is beautifully made: a slim black pebble of a device with a simple and easy-to-read OLED display that vanishes after a few minutes to conserve power. Like all the more modern designs here, you can slip a Micro SD card into the ZTE, though it's only accessible over a USB cable, not the network. The 1500mAh battery gave me a little over four hours' connectivity. HSDPA down speeds of up to 21Mbps are supported, and the MF60 can manage eight Wi-Fi connected devices at a time. It proved the fastest connecting device in the round-up. The only flies in the ointment: the 802.11g Wi-Fi spec and the fact you have to remove the battery to read the default security key. Other than that, it's a very nice little device. My recommendation if you want an unlocked pocket router.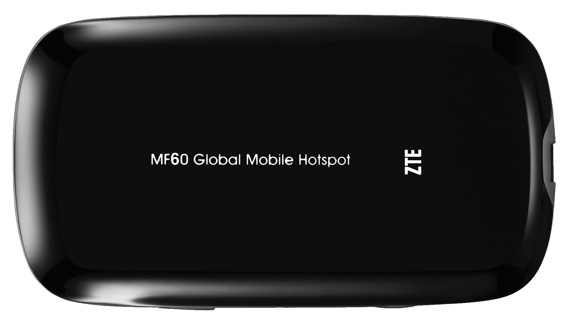 Reg Rating 85%
Price From £65
More Info ZTE