Original URL: https://www.theregister.co.uk/2012/05/23/apipg_enquiry_evidence_session_ipo/
MPs wrestle slippery bureaucrats in intellectual property Jell-O
'Evidence base weak' for IP, says UK's IP top cop
Posted in Business, 23rd May 2012 13:19 GMT
Analysis The all-party group of MPs looking into the UK's looming obliteration of copyright rounded on their quarry yesterday - and it turned out to be an enthralling battle of wits.
John Alty and Edmund Quilty of the Intellectual Property Office (IPO) were quizzed on their controversial role in maintaining - or failing to maintain - protections for creative work after being invited to the informal inquiry's third evidence-gathering session in Westminster.
For over an hour the two senior civil servants showed striking indifference to Blighty's creative industries, whose existence relies on copyright law and enforcement. The pair couldn't even muster a word of lukewarm praise nor comment on said industries' economic value to UK plc.
There is one area in which Britain is indisputably world class: armed with a mother tongue that has a vast vocabulary, our mandarins have the ability to create more ways of not answering a question than anyone else. They've perfected it, in the way the Brazilians and Dutch turned football into art. Step overs, dribbles, perplexing diagonal passes into space - the lot. And the IPO officials put all those skills to work yesterday in an exhibition performance.
But the six MPs raising questions, spearheaded by John Whittingdale (Con), Pete Wishart (SNP) and Don Foster (LibDem) were wise to this - and, unlike too many parliamentarians your humble Reg hack has witnessed, they were highly effective.
They wanted answers, and working like tag-team wrestlers they struggled to pin the slippery bureaucrats down. Most points were asked several times, doggedly, in different ways. Ultimately, however, it may be what the witnesses left unsaid that made the greatest impression.
Probing questions: a pain in the neck?
The point of focus was Alty, chief of the IPO. He'd brought along Quilty, the IPO's copyright boss, whose actions had sparked this gentle probe by MPs. Quilty was sat at Alty's left, looking like a pink Sontaran battle commander.
Now, if you know your Doctor Who, you will know that the Sontarans are a fierce and cunning race of warriors, who are capable of hypnotising humans. But they have one weak spot: a "probic vent" at the back of the neck. Even a blow from a shoe on this hole can incapacitate a Sontaran. Sat directly behind Quilty, in the audience, was Ministry of Fun official Adrian Brazier.
Brazier is the digital rights lobbyists' second-favourite civil servant after Quilty, and he has led his department's implementation of the Digital Economy Act. Which, you'll notice, hasn't been implemented. Maybe his positioning was no coincidence. The DCMS man had the vent covered.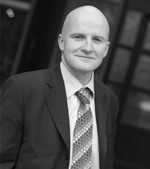 Ed Quilty
IPO Copyright and Enforcement Director
The IPO has a peculiar position. It has one function, which is merely administrative, of registering trademarks and patents. But it also has an advisory role giving ministers policy advice. Alty said it was also "influencing the global rights-granting agenda".
It's this policy creation that's united the creative sectors - a rare achievement - against the IPO and prompted much concern. Wasn't this dual role odd, asked Whittingdale? No, said Alty, the insolvency agency did much the same.
Do you see copyright as impeding innovation and growth, asked Whittingdale.
"Clearly you need a copyright system. I don't think anyone in the mainstream is really challenging that," said Alty. You could feel the "but..." approaching. "The question is where you draw the boundaries, what's the economic impact on difference arrangements, and that's the thing on which people differ, and we gather the evidence and draw a view."
One MP pointed out that Alty's mission statement for the IPO didn't include the protection or support of intellectual property (IP) industries, and in fact made it impossible to support them. Alty repeated the mission statement but at greater length. Copyright is evolving, Quilty chipped in.
Then we got down the nitty gritty: to what extent were bureaucrats not just suggesting policy but creating it, the panel wanted to know. Who makes the recommendations, asked MP Mike Weatherley.
"It's no different to any other part of Whitehall," said Alty. "You wouldn't expect a minister necessarily in a very technical area to suggest 'these are things I want you to consider'. You have to take responsibility."
Whittingdale pointed out that options for overhauling copyright - put forward by the (supposedly) independent Hargreaves Review - were radical and bound to cause controversy when aired by the IPO in a consultation.
"There had to be a rigorous examination of what options were available, what they cost… and that's one of things that has evolved in recent years in a way that wasn't before," Quilty replied. "You'll see impact assessments that support consultations, and which do look at all the options. People have to recognise that's going to be part of policy making."
Well, there's blue-sky thinking, one of the panel countered, and then there's sensible policy. You don't just put all the options out there, surely.
Don Foster tried to pin down the IPO as the source of the controversial education exception proposal in which school textbook authors are effective denied royalties: "Just for the record - you would not recommend that option?" he asked.
"I think the ministers also said…" Alty began to reply.
What about you? Do you recommend that particularly?
"Um. I think that, er… I'm in a slightly awkward position because we have to give advice to ministers, and not to all-party groups," said Alty. "We've given a pretty clear signal that's not the way we intend to go."
(There are times when public servants appear to be extremely uncomfortable with the concept of accountability - and this was perhaps one of them.)
Reforming the IPO: 'There is no right way of doing this'
If you were building a new IPO, asked Foster, is there anything you do that isn't appropriate and any functions you'd like to take on?
Alty started another mazy dribble that showed off his technical skills, mentioning things like "build up capability in individual areas", "there is no right way of doing this", "I've worked in one role", "I've worked in a different role", and so on, running the ball over the line by the corner flag.
MPs questioned whether the IPO's current home at the Department for Business, Innovation and Skills is the right one - the office used to be in the Ministry of Fun. Where should it be, Whittingdale asked, while wondering that the IPO's current home may "rather skew you to look for policies that pursue innovation perhaps by diluting rights ownership?"
"The creative industries are also about innovation… there's no magic answer," said Alty.
On the subject of appointing an IP czar, the IPO didn't like the suggestion of creating a secretary of state for the digital economy.
"I don't think you could have a minister responsible for all those things," said Alty as Quilty nodded vigorously. "You could say having two ministers is better than one."
"[The Department of Culture, Media and Sport] is there to support the creative industries, they have that voice, so do we," added Quilty.
How closely was Google involved in the process, wondered Wishart.
"I don't know any more than you do. I've met lots of stakeholders and I don't think one has an undue influence," Alty replied. Quilty chipped in: copyright policy was all about fairness, and he strived to position it as a wise and dispassionate bystander.
"In the copyright area, you're often talking about a cake which has to be divided up between people," said Quilty. "And the questions are just how big is the cake, who gets the biggest slice of it: do creators get a bigger slice, do consumers get a bigger slice?"
For a "copyright and IP enforcement director" that's a fairly hug-a-hoodie-grade idea.
Dodgy dossiers
Finally MPs touched on the empirical evidence for copyright reform and the positive effects it will have on the UK economy and finances - specifically, figures and numbers published in the Hargreaves Review that were backed by the IPO in its subsequent consultation. To put it charitably, much of this evidence turned out to be bizarre and implausible. Whittingdale's view was that Prof Ian Hargreaves had made "sweeping assumptions - and you [the IPO] didn't cast a critical eye over them".
"Hargreaves was signalling a sense of direction and there's much more detailed work to do," said Alty, distancing himself a bit further from them. Foster was more specific: the evidence lacked "authenticity and validity" to support Hargreaves' eyebrow-raising ideas, such as a digital marketplace that would be worth £2.2bn to the UK economy every year.
Alty said "there was a balancing act to be struck and we were not going to do the Hargreaves Review again. One of the things we've built up is our economic capability to do that sort of analysis". Maybe Hargreaves was in a hurry, suggested Alty: "He did his job in six months and most reviews take longer."
Hang on, asked Jim Dowd MP, the Gowers Review into intellectual property had only just been completed. (It was actually finished in 2006.) All the evidence was still sitting there, wasn't it?
"Well that's helpful too, then," said Alty. "There's an implicit assumption that somehow we nobbled Hargreaves to do the report."
"Perhaps if you'd seen the disparity between Hargreaves' evidence and his conclusion," replied Foster, "then you might have pointed it out. That's all."
Why did you allow such nonsensical assumptions to just sit there, wondered Wishart.
"The truth is the evidence base for copyright is not that great," replied Alty.
"These [figures] were delivered as if they were coming down from the mountain," one of the panel said. "Nobody believes these economic assessments. Hargreaves said 0.5pc of GDP benefit would result - do you still believe that? They're just so ridiculous, so nonsensical do you worry about being foolish?"
Alty remained unapologetic: "To get a debate going was a reasonable way of going about it. Of course you can argue about numbers. We're breaking new ground."
"It does start a debate," echoed Quilty. "That's how academic debate goes on." The MPs were massively unimpressed.
"People aren't interested in 'a debate' - but the outcomes," replied Dowd, sharply. "What some people believe at the moment is that the government, through its various agencies, has a view of intellectual property in terms of value to consumers which in the short-term may look very attractive, but in the long-term, may undermine the whole principle of creative industries that produce products of benefit to consumers, and others."
Alty said EU law forbids any copyright exceptions from damaging commercial interests - just in time for the final whistle to mark the end of the group's time slot.
The IPO officials had held their line as doggedly as the MPs had questioned them. The pair insisted that the IPO must balance consumers' interests with copyright holders; that any unpopular proposals weren't really theirs and must have come from the independent review; and that they were starting a great big debate on copyright.
What they hadn't done is show any indication that IP is important to the UK, rather than something unpleasant you step in, let alone how it's important.
(The UK isn't the only country to find anti-copyright activism embedded in its civil service, creating policy for ministers - but that's for another day.)
The minister responsible for the officials, Baroness Wilcox, has yet to agree to appear. In an earlier appearance before Parliament in November, Quilty and Alty did most of the talking for her. Further snubbing the cross-party MPs would leave the impression that the bureaucrats were really in charge ... ®
Still not had enough IP policy at Westminster? See our coverage of the enquiry's evidence session one and two, the IPO's November appearance in Parliament, and the special Commons debate on the IPO's conduct from February.