Original URL: https://www.theregister.co.uk/2012/05/21/rubber_chicken/
Brit knits jumper for NASA space chicken
Rubber mascot wraps up warm for solar eclipse mission
Posted in Science, 21st May 2012 09:18 GMT
A British woman has enjoyed the peculiar honour of knitting a jumper for Camilla the rubber chicken – the mascot of NASA's Solar Dynamics Observatory.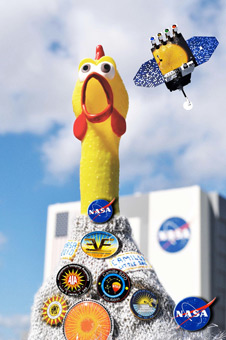 Rugby lass Sue Drage, 62, was recommended to the space agency by BBC Coventry & Warwickshire, after she took part in a charity "knitathon". Camilla (pictured), was due to soar heavenwards yesterday under a meteorological balloon to view the annular solar eclipse over the US, suitably protected from the chill by Britain's finest knitwear.
A proud Mrs Drage said of her knitting mission: "I feel quite honoured. It's the first suit that's gone from this country. Camilla has lots of outfits knitted for her by people in America, so they thought it was a good way of putting Britain on the map."
She added: "Before this I didn't even know it existed. I thought it was a live chicken the first time I heard about it. It took me three attempts – I'm not one for giving up – and I had to get a rubber chicken to check the sizes, but I managed to do it."
Camilla is a seasoned veteran of the upper atmosphere, who twice ventured aloft back in March as part of a California high school student project to measure solar radiation. The second mission, on 10 March, returned this spectacular shot of the helium-filled balloon bursting at around 120,000ft (36,576m):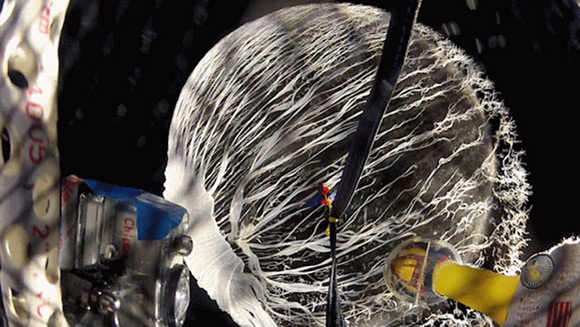 On that occasion, the fearless space chicken was wearing an outfit put together by Cynthia Coer Butcher from Blue Springs, Missouri. ®