Original URL: https://www.theregister.co.uk/2012/05/21/review_uk_carriers_network_vs_network/
UK mobile broadband carriers compared
Network vs network
Posted in Networks, 21st May 2012 08:00 GMT
Product Roundup

Two years ago, I plugged a selection of 3G dongles into my laptop at various locations to see what the coverage and speed offered by the major mobile networks was like. You can see the results here, but with HSPA being introduced at ever higher upload and download speeds, it's time to compare them afresh.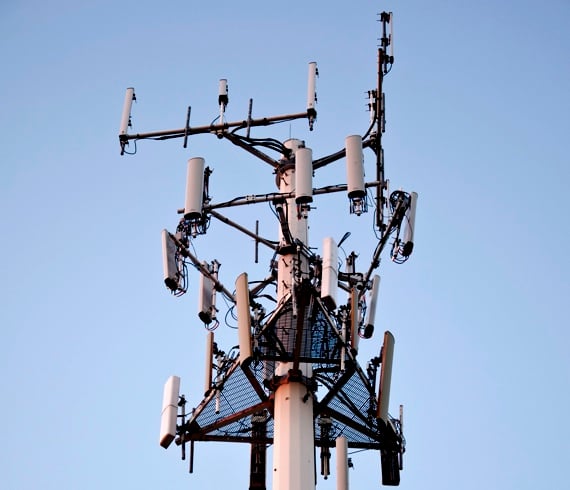 Source: Vxla/Flickr
Last time, I also tested Virgin, which uses T-Mobile's network, as well as the Big Five. This year, I decided to try Giffgaff, which relies on O2 to haul the coal. Giffgaff seems to be the favoured option for those who think that the major networks data offerings are too expensive and too Byzantine.
I've made another couple of changes from 2010. Then I used the supplied USB modem dongles from each carrier. This time I used a single ZTE MF60 portable 3G router to ensure all the networks were tested with exactly the same hardware.
Of course, when Mr Editor Sir asked me to do the speed tests back in 2010 I thought it'd be the for the first and last time. Surely, LTE would hove into view and usher a brave new dawn of super-fast data downloading? Like heck it did.
I asked all the cellcos about their 4G/LTE roll-out plans. Everything Everywhere reckoned it stood like greyhounds in the slips, while the others opined that until the Government works out WTF it's doing with the spectrum auctions there was little they could tell me.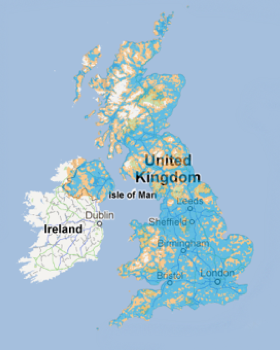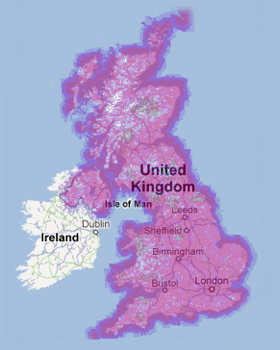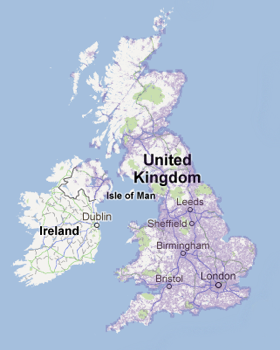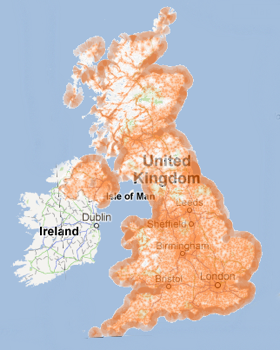 Current coverage: Clockwise from top left, O2, Vodafone, Orange and Three
As before, tests were carried out using speedtest.net. Yes, I know it's a wee bit basic and dirty, but it provides a level playing field and allows for rapid tests to iron out any freak spikes and anomalies.
The good news is I got HSPA connectivity wherever I went, and all the networks have taken a step forward since 2010 in terms of outright speed. For some - step forward, O2 - it's only a small step, however.
Networks compared
O2 will try to tempt you with talk of free Wi-Fi access from BT Openzones and its own, growing array of hotspots, but that should fool no one. There are plenty of free hotspots to use. There's no need to factor it into your mobile data payments.
The data offers from Vodafone are also difficult to get excited about. Actually, make that 'impossible to get excited about'. The costs are high, the data allowances miserly and to cap it all, as with O2, you can't have a Sim-only deal.
Network Performance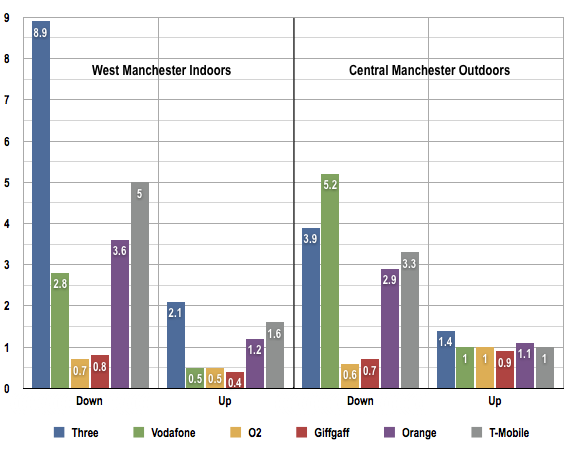 Speeds in Megabits per Second (MBps>
Longer bars are better
All tests are averages of five runs taken in quick succession
Everything Everywhere has a lot more to offer. Decent speeds on both T-Mobile and Orange, and its unlimited, if fair-use proscribed, data policy could work for you if you don't plan on downloading large attachments or streaming video.
If you want cheap and are not too bothered about outright speed, take a look at Giffgaff. Even if the speeds are a bit crummy, I always managed to get on-line and the pricing system is biblically straightforward and very good value.
But if it's speed you want, consider Three. Along with Giffgaff and T-Mobile, Three will happily do you a Sim-only deal. Ally this to the truly impressive speeds on offer and Three is by a country mile my primary recommendation for the regular or intensive user of mobile data.
Everything Everywhere: Orange & T-Mobile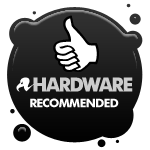 The PAYG data deal is now standard across Everything Everywhere, Orange having in effect co-opted T-Mobile's offer. For £2 a day or £7 a week or £15 a month you get unlimited internet access but only within the terms of the fair use policy. So if you pay by the day and exceed 250MB in a day or 500MB in a week you could find yourself being restricted when it comes to streaming video or downloading file attachments. If you buy by the week or month the fair use policy is more generous but 1GB fair use over 30 days looks poor when Giffgaff will give you three times the data for £2.50 less. On the plus side, T-Mobile's speeds have increased impressively, you can have a Sim-only deal and the PAYG web control panel is a great bit of design that lets you buy your daily, weekly or monthly access at the touch of a button and see what you have left both in terms of credit and time.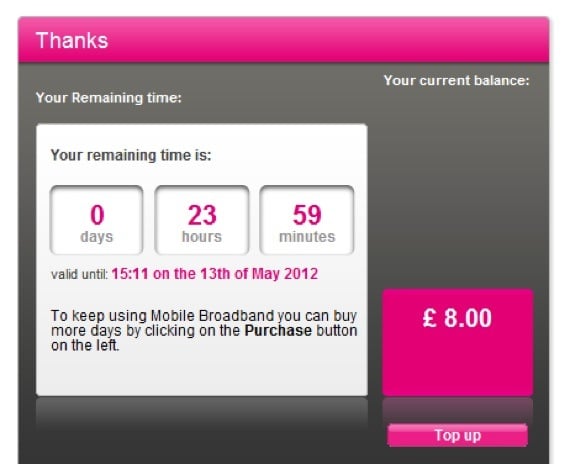 Verdict
Unlimited data meets fair use which could work for some
Rating
80%
More Info
T-Mobile
Giffgaff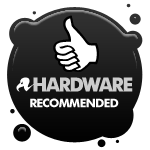 Everyone's favourite PAYG data wallah thanks to a simple and easy-to-follow price plan. Data users you can buy a one month 500MB "gigabag" for a fiver, 1GB for £7.50 of 3GB for £12.50. If you run out, Giffgaff will give you a 50MB buffer to keep you surfing until you next top up. The network in question here is O2, which may put some folk off as its reputation for speed isn't great. Sadly, it's a reputation my tests showed to be entirely deserved. But at least on Giffgaff I noticed no throttling compared to O2 proper. If you are not worried about outright speed, happen to need 3G data somewhere O2 can deliver a decent speed - Brigadoon? Dunharrow? Camelot? - or are stoney broke, then giffgaff is a good choice.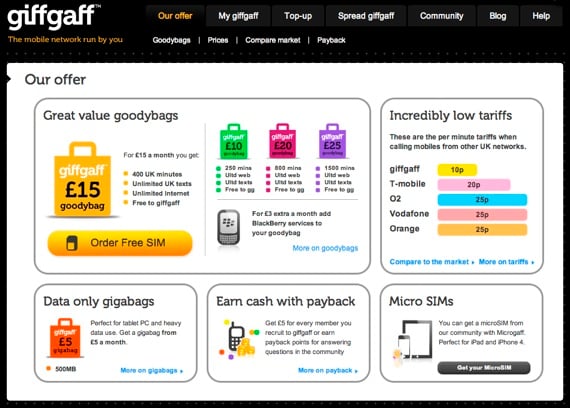 Verdict
Slow but cheap
Rating
75%
More Info
Giffgaff
O2

If you want PAYG data, O2 insists that you also cough up £20.42 for a dongle. After that it's £2.04 a 24 hours and 200MB, or a more reasonable £10.21 for 30 days and 1GB, or £15.32 for 2GB. Uniquely among the major telcos, O2 doesn't offer any sort of Sim-only deal or portable 3G router. O2 does offer something called "double data with every third top-up", though. I'd have loved to have been in the marketing meeting when that was thought up. The elephant in the room here is Giffgaff. Same network, cheaper prices, more generous data allowances, no contest.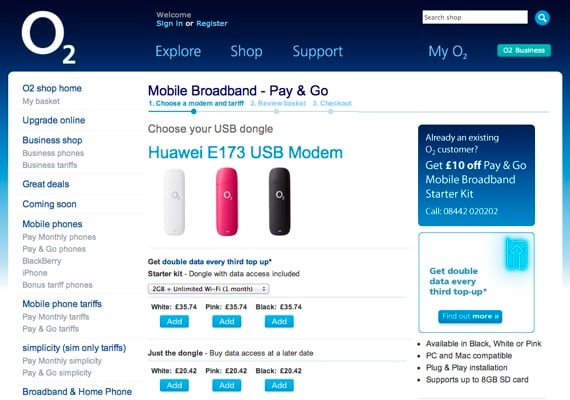 Verdict
Slow, and you can get more data for less elsewhere
Rating
60%
More Info
O2
Three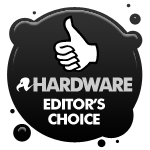 With a smaller subscriber base than the other major players, no virtual networks and no 2G customers clogging up the system, there's less strain on 3's network than on the others. This showed with the fastest average test speeds up and down the pipe at all three my test sites - though especially at my first test site, Starbucks in Manchester's Trafford Centre, making it on paper and in real life the obvious choice for anyone after a fast data deal. With Sim-only PAYG data plans starting from £10.49 a month with 1GB the price offering isn't too bad either. If you want a little extra, £20.49 gets you a Sim with 3GB to burn over three months, while £70.49 gets you 12GB that will last for a year.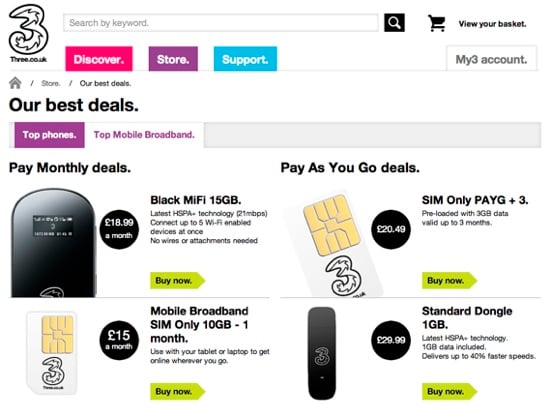 Verdict
Good speed and good value
Rating
90%
More Info
Three
Vodafone

If you want a PAYG data deal from Vodafone you also have to cough up for a USB modem costing £24.99 but you still only get 500MB of data thrown into the deal. OK, that 500 is good for 60 days but if you can make it last that long you probably don't need mobile broadband to begin with. From then on it's £5 for each additional 250MB lasting 30 days. To my mind that is a spectacularly poor offer and makes me wonder if Vodafone actually wants any PAYG data business. Maybe it doesn't. The various 30-day rolling contract plans Vodafone offers are slightly better value for money and the speeds are not bad but if you are after PAYG I'd suggest looking elsewhere.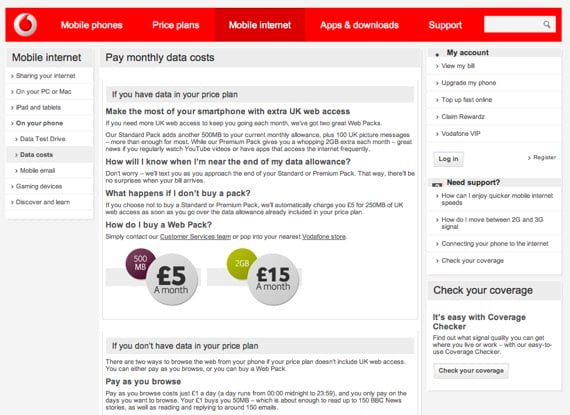 Verdict
Speeds not bad but data allowances are poor for the money
Rating
70%
More Info
Vodafone