Original URL: https://www.theregister.co.uk/2012/05/21/audi_proposes_pc_integrated_bicycle_concept/
Audi proposes PC-packing stunt bikes
CPU assisted wheelies, anyone?
Posted in Personal Tech, 21st May 2012 14:12 GMT
Audi has revealed what it believes to be the future of e-bikes: the Wörthersee, a electric bicycle that features smartphone connectivity and a built-in computer system.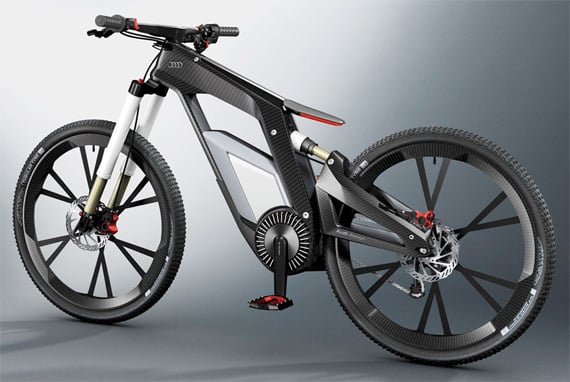 The Wörthersee is built for the sporty types, encouraging punters to record trick sequences through the bike's computer system and then share those feats with their Facecrack buddies. While they wait at the traffic lights, presumably.
The touchscreen computer is built into the handbars, displaying figures for speed, distance and slope angle, as well as providing an interface to control other electric functions such as a stunt mode, which can assist riders while they cruise along on a single wheel.
"Hey Chavvy, you call that a wheelie?"
And who needs bike locks when you could just use your smartphone to immobilise the darn thing? Ah, the beauty of digital security. You never know, we could see a wave of "hacked" bicycles flood the market of London's Brick Lane in the near future.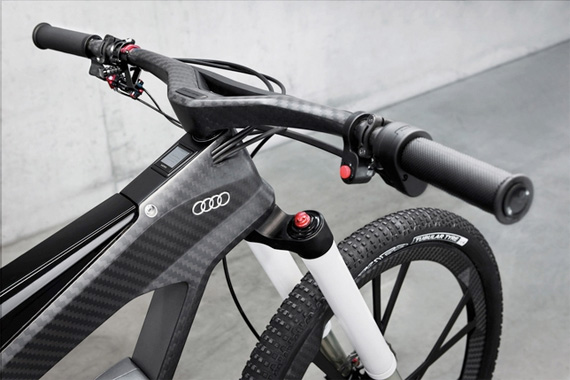 The bike's 1.6kg carbon fibre frame is made more weighty with a 530Wh Li-Ion juice pack, fully chargeable in 2.5 hours. This powers the 5kg electric motor which, with the combination of manual pedalling, can produce speeds of up to 50mph.
The Wörthersee concept was revealed at the 2012 Wörthersee Tour, a show dedicated to Volkswagen and Audi vehicles.
The company has no plans to peddle the tech-centric bicycle anytime yet, but we'll keep our fingers crossed and our eyes on the roadmap. ®