Original URL: https://www.theregister.co.uk/2012/05/18/review_diablo_3_game_blizzard_entertainment/
Diablo III
Hell's bells
Posted in Personal Tech, 18th May 2012 06:00 GMT
Review Back in 1997, I worked in a youth centre and some fool gave me the keys to the place. So I would sneak in every night to continue a degrading tryst with Diablo I, cutting down waves of monsters in anticipation of a loot splurge. It was a while before I worked out the portal system – I used to moan about the amount of walking – until someone pointed out I was a noob. Luckily, in Diablo III, the portal is shown as a small blue vagina on the user interface, so there's no risking sore feet now.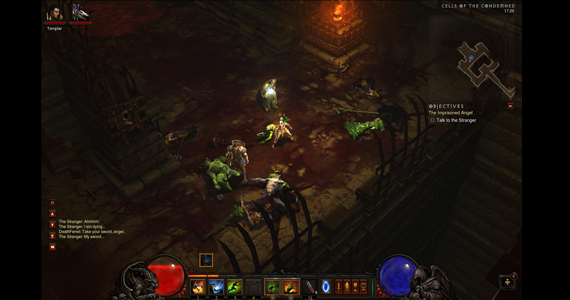 A good omen? Diablo III
Moving on, about a year ago Steelseries very kindly sent me out a Diablo III mouse and headset and I began thinking, if peripherals are getting sent out, the game must be imminent. So I waited and waited. I was happy to wait because Blizzard is well known for keeping us on tenterhooks until a game is finished. I have been waiting about 10 years now for the bloody Mists of Pandaria
Blizzard's tardy timing is for a reason though; so it can produce games with awesome lore and thrilling cinematics that end up as benchmarks for the industry. Yet when I heard rumours that Diablo III was being released without PVP, I was concerned this new version of Diablo – now being created by a different set of people – wouldn't live up to my expectations. Really, I shouldn't have worried, Diablo III is a splendid example of Blizzard's prowess at hack and slash.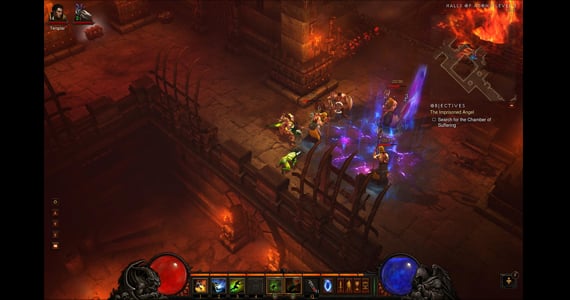 Fire fighting
From the beginning Diablo III draws me in with full voice acting from returning characters and some impressive new folk. This characterisation if a little hammy and hilarious at times is not only immersive but adds to the game's lore and backstory.
Starting twenty years after the end of Diablo II, Diablo III takes place in the world of Sanctuary and sees the Archangel Tyrael returned to help me explore what might have become of the lesser evils and their minions from the burning hells... time to save the world with some keyboard bashing.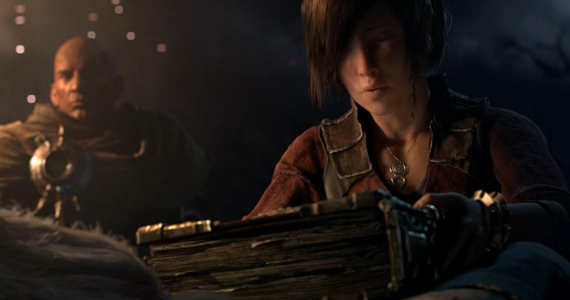 Looking for a spell to lift the curse of Error 37
So Tuesday night I sat up waiting with 'Error 37' glaring at me. Why, oh why Blizzard, when I just want to play a single player game? This is a real problem at peak times and it feels like Blizzard has flogged too many tickets to a sold out show, but truly what a fine show it is.
Some kind of voodoo
At 2am, I'm in, having played the previous instalments of the game I knew what to expect and was grateful everything felt familiar. Sinister tone enhanced by crows? Check! Although the mechanics of the game are your bog standard MMO controls it already feels fun to play.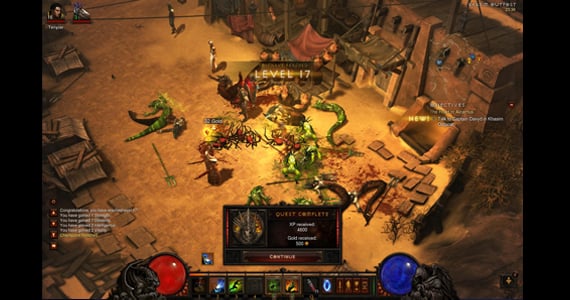 If you make it onto the server: quest complete?
I played a rogue back in 1997 and with the choice of Witch Doctor, Barbarian, Wizard, Monk and Demon Hunter I decided to play a Witch Doctor, even though it was a really hard choice. Admittedly, I was drawn to the Barbarian but ended up looking too much like a sausage. The Witch Doctor I just couldn't resist, equipped demon dogs, bats and voodoo dolls – my close friends know I have always enjoyed a good fetish army. This chick's all about pets and poison.
Skills are unlocked automatically when you reach a certain level, as well as unlocking the slots themselves, to a maximum of six skills with three passive skills added on. I allocate these to either my action bar or my mouse.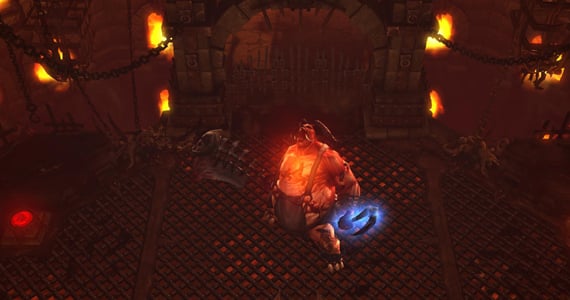 Heating up
I start combining these to create and define my character but it's not until level 16 that I found I had a sufficient combination of skills to stop spamming spider jars and to start spamming firebombs instead. In co-op mode, I am pretty sure I would kick ass in the role of ranged artillery.
The addition of Skillrunes to Diablo III is important allowing me to alter my skills and change the benefits of them. For instance, poison dart with skillrune numbing dart slows my enemy.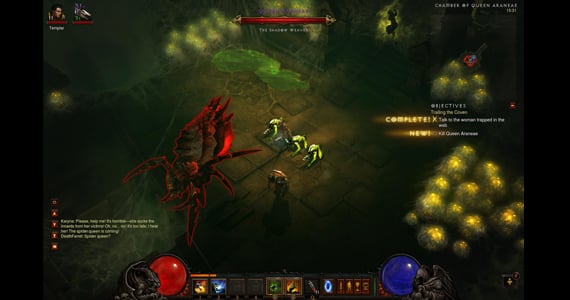 A game of skills
Blacksmithing is one of the artisan trades I learn whist playing the game, it allows me to forge weapons and armour, which come with random magical properties. I can also train as a jeweller to combine gems of different powers to add to my weapons for bonus buffs. The combinations are infinite.
Are you being served?
This is where the on-line auction house will really add depth to this game especially when the real money starts to appear. Currently, it's too early to tell, let's just hope the hackers and scammers don't spoil it for us straight away. But ultimately in Diablo III it's not important which weapon I am holding, it's the damages stats that matter.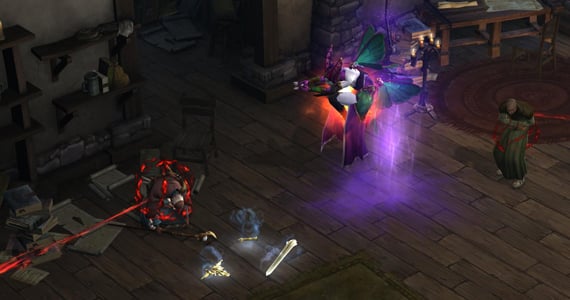 Getting wrapped up in the game
I can never have enough cider health potions, and the quaffable life savers of Diablo II are replaced by absorbable health globes dropped by certain monsters – potions are now only for emergencies. Slightly overpowered with my spider jars and constant health top ups, it's quite a while before I die.
The beautiful dark world aesthetics that were once just a pretty backdrop to the action of Diablo take on a spooky realism in Diablo III. Stunning dynamic environments – that collapse around me and shower bones and masonry – add to the evil ambiance of the game as much as the zombie torsos that creep out of bushes to chew on my leg. But it's the cut scenes that take my breath away. Ah, so now I see where the money went.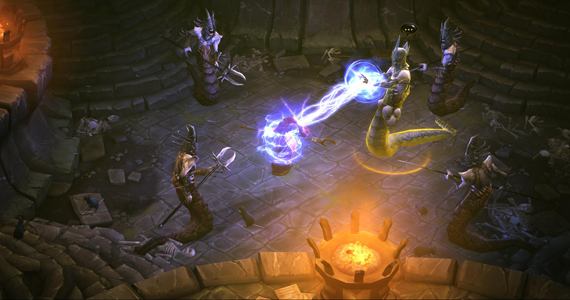 These prawns look a bit dodgy
Along with the main storyline quests, which are very linear, there are character specific quests and random adventures to keep me busy. At one a point I thought I was on Arrakis, as a huge worm attacked me and opened up a cave with so much loot, I had to teleport home to get rid of my stash.
Verdict
Being able to drop in and out of games using battle.net would be great if there were enough servers to cope. Yet at the moment, once I'm logged in, the fear of logging out and then trying to reconnect brings on the Error 37 tremors. Still, I reckon with the amount of issues hitting users out there, this will soon be fixed. So here's looking forward to duelling it out in the now eagerly-awaited PVP patch.
Incidentally, there has been a lot of chat about how Blizzard tested Inferno mode, considered if it was hard enough and then doubled the difficulty. But blimey, first I need to finish the game on normal mode, so I'll get back to you. ®
More Games Reviews

Prototype 2
Resident Evil:
Raccoon City
Twisted
Metal
Mass Effect
3
The Darkness 2