Original URL: https://www.theregister.co.uk/2012/05/17/lohan_motor_trigger/
LOHAN starts to feel the barometric pressure
Mulls spaceplane rocket motor trigger
Posted in Science, 17th May 2012 09:03 GMT
As the design of our Low Orbit Helium Assisted Navigator (LOHAN) Vulture 2 spaceplane continues apace, we've been considering just how to fire the aircraft's solid rocket motor at a predetermined altitude.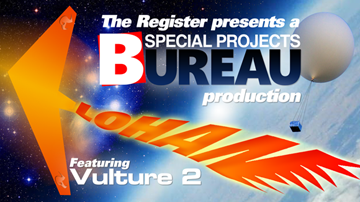 We haven't yet revealed exactly which mighty unit will eventually power the Vulture 2 heavenwards, and still have to determine whether off-the-shelf solid rocket motors will actually fire at low pressure and temperature.
That's what our forthcoming Rocketry Experimental High Altitude Barosimulator (REHAB) experiment is designed to do, although we're still waiting for a few last bits for our shed-built hypobaric chamber.
If the rocket motors won't fire under simulated high-altitude conditions in an out-of-the-box state, we'll obviously have to find a way to make sure they will ignite when the big day comes.
So, assuming we've got our powerplant to go bang at altitude and -60°C, how are we going to trigger it when LOHAN launches for real?
Well, our instinct is to go for a pressure-operated electronic trigger board, like AED's Rocket Data-Acquisition System (R-DAS). This piece of rocketry kit could be programmed to fire up the 12V igniter system at a predetermined altitude, based on the barometric pressure.
There is a slight problem, though. The R-DAS has a Motorola MPXS4100 pressure sensor, which is only good down to 20kPa, which by our reckoning represents an altitude of around 12,500 metres, or 41,000 feet.
We need a sensor that will go down to 1 kPa, so we threw AED an email asking if the R-DAS could be fitted with an alternative Motorola sensor covering the required range.
We're still waiting for a reply, and while we're twiddling our thumbs, we thought we'd invite our LOHAN reader experts to give us their opinion, or perhaps suggest an alternative line of attack.
Over to you...®
Further LOHAN resources: