Original URL: https://www.theregister.co.uk/2012/05/16/review_nokia_lumia_900_windows_7_smartphone/
Nokia Lumia 900 WinPho 7 smartphone
Bigger and better?
Posted in Personal Tech, 16th May 2012 06:00 GMT
Review So you're trying to revive the fortunes of what was, until a few weeks ago, the biggest mobile phone manufacturer on the planet. You've launched a handset or two with a new operating system and they've gone down quite well. So what next? How about taking one of those handsets and releasing a near-identical one, different only in size and capabilities. Bigger and better, you know?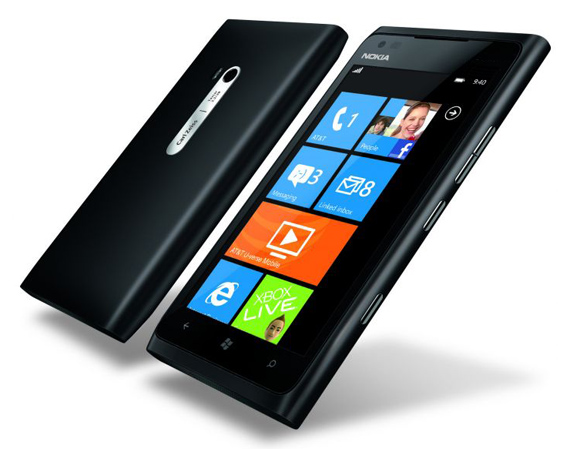 Big deal? Nokia's Lumia 900
This, of course, is what Nokia has done with its new Lumia phone, the 900, which builds on the strengths of last autumn's Lumia 800. So it retains the chic matt finish, the industrial design language and the nifty Windows Phone operating system. But the screen is bigger, there's a front-facing camera, and some other improvements.
At a glance, it looks very similar, and you could be fooled into thinking we'd zoomed in on the Lumia 800. Changes in the shape are mostly limited to a screen which is now flat, unlike the curved-edged display on the earlier handset. This screen is gorgeous: bright and colourful as you'd expect from an OLED screen – or Clear Black Display as Nokia calls it. It's sharp and vivid, making the Windows Phone tiles look great.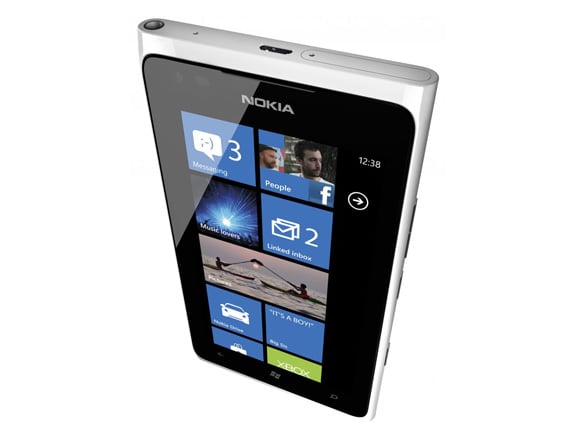 Cover story: gone is the flimsy plastic connector protector
The most disappointing detail of last year's model was the fiddly charging socket cover: a flip-up slice of plastic that was easy to break. This has been replaced with a neat open socket, centrally positioned on the top edge. Much better. The new phone feels different, too. Both old and new models favoured a matt polycarbonate finish but this one is smooth, though still pleasant to the touch. And being plastic, the phone is light, too.
The new model has the standard Windows Phone virtual buttons beneath the screen and the bigger real estate here makes them easier to activate. More importantly, the Lumia 900 comes with a bigger battery. This 1830mAh cell lasts significantly longer than the Lumia 800 did. This is just as well, because that model was beset by power management issues. Despite the juice needed to power the bigger screen, the Lumia 900 won't run out during a day's heavy use.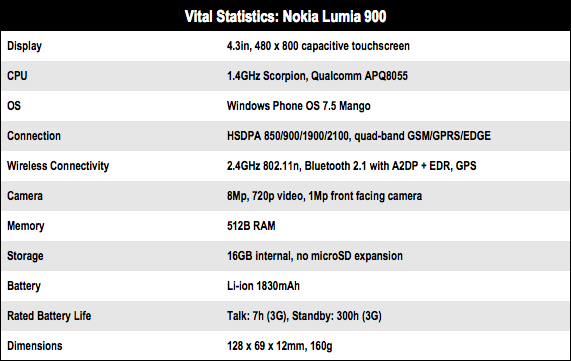 Core values
With smartphones it's important to know how fast the chip is, at least so you have something to blame when the phone dawdles. Though the Nokia doesn't have a quad- or even dual-core processor, the Qualcomm 1.4GHz Snapdragon S2 with its single-core gets on with the job. There are few moments when the phone slows and they are rarely for long. That said, even though Nokia is somewhat hamstrung by WinPho7's lack of official support for multiprocessors at present, this is its flagship phone and it should be as snappy as they come.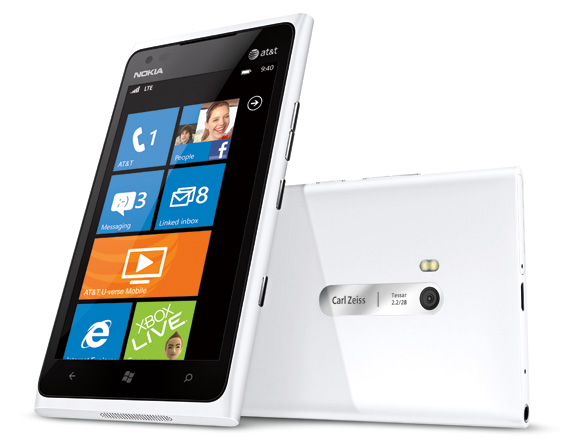 Single-core CPU but no slouch... usually
Since this is a Windows Phone handset there's no microSD card – Microsoft doesn't permit this – which continues to be a shame, but Apple is the same with iPhone so its not unheard of. Yet unlike the iPhone there's only a 16GB model available and, if you've a penchant for movies on the move, this will fill up quickly, and with a screen this size you could easily pass a bus journey immersed in a TV show. Still, Nokia's not to blame here.
Nokia has built a strong camera into the 900 – the 8Mp sensor with dual LED flash is responsive and reasonably fast, though as with other camera phones it struggles in low light. It shoots video as well, of course, but not at full HD resolution. It manages 720p, helped along by video stabilisation, though in tests this seldom made a huge difference.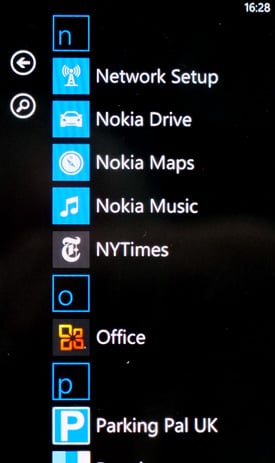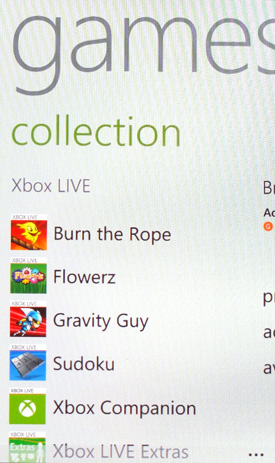 Productivity apps and games are all at hand
Still, Microsoft also insists on a hardware shutter button and the facility to launch the camera quickly from it even when the phone's locked and these features continue to work well. Then there are the apps which are such an essential part of any smartphone. With iOS and Android app store to contend with the Windows Phone Marketplace has way fewer, but what's on offer is certainly growing.
Microsoft's design controls permeate here and apps on these phones often look better than on rival systems. Nokia has added its own special extras like Nokia Drive. A car centric reworking of the old Nokia Maps Symbian version, Drive enables you to download maps over Wi-Fi covering any territory and then turn off data when outside using the phone as a satnav. This is a great feature when you're abroad, avoiding any scary data charges. Alas, for pedestrians, the Nokia Maps version for Windows doesn't feature offline downloads.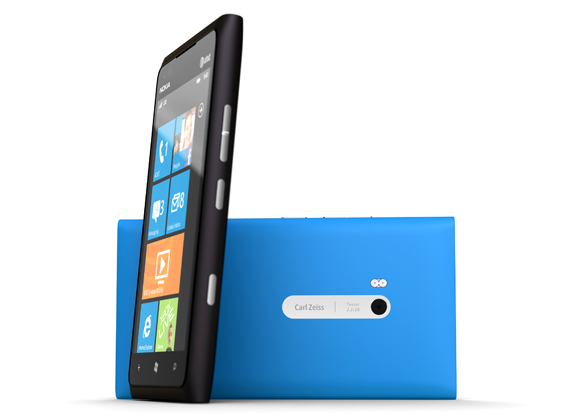 Nokia's exclusive apps give its Lumia handsets more to play with on WinPho7
There's also Nokia Music, a free music streaming service, which is great – not only are there genres you can choose from but these 'channels' can be downloaded for listening later when out and about. Lest we forget Tango, an app that makes the most of the front-facing camera to permit video calling. Nokia Transport is the latest addition and helps you navigate public transport by suggesting routes from A to B. It's neatly done and can be a real boon.
Of course, the platform could do with more apps, but there's no longer any reason to disregard Windows Phone for a complete lack of them. Incidentally, the Lumia 900 has excellent call quality and picks up a signal strongly – something that Nokia phones have always managed to pull off better than most.
Verdict
This is a handsome phone with an improved design matched by a strong battery life, decent camera and fast-enough processor. The Windows Phone system with its eye-catching dynamic tiles looks tremendous. And there are Nokia specialities like driving and public transport apps to enjoy. Even so, Windows Phone still doesn't have the app range of iOS or Android. But what is available is turning out to be pretty good quality these days. ®
More Smartphone Reviews

HTC
Titan
Apple
iPhone 4S
Sony
Xperia S
NXT
HTC
One X
Prada Phone
by LG 3.0