Original URL: https://www.theregister.co.uk/2012/05/15/consumers_as_likely_to_watch_video_on_a_pc_as_a_tv/
World+Dog as likely to view vids on PC as TV
But viewing figures down
Posted in Personal Tech, 15th May 2012 11:42 GMT
Folks, you're as likely to watch video content on your computer as your TV, if stats collated by asking tens of thousands of web-surfing consumers around the world is anything to go by.
Nielsen, a US market research firm, asked 28,000 or so people in 56 countries how often they watch video content on a computer, on a TV or on a mobile device. It asked online through those little 'help us improve our website' surveys.
The figures for computers and TVs are remarkably similar, give or take a percentage point. More folk watch video on TV at least once a day that those who do so on a computer, but for more frequent viewing the roles are reversed.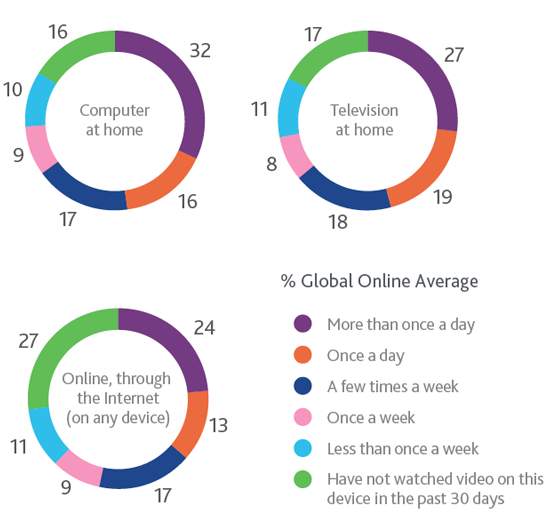 Source: Nielsen
In all, 84 per cent said they watched video on a computer a least once a month. Some 83 per cent said they did so on a TV.
Two years ago, the figures were 86 per cent and 90 per cent, respectively. The implication is clear: fewer folk are watching video on these devices, particularly on TVs.
Are they viewing elsewhere? Just over half of those who watch video on a mobile device do so at least once a month, 28 per cent a least once a day. Those figures rise, respectively, to 74 per cent and 38 per cent if you zero in on people in Asia-Pacific. The figures are much the same for folk in the Middle East and Africa, Nielsen said.
Even so, almost a quarter haven't watched video on a mobile device in the past 30 days. ®