Original URL: http://www.theregister.co.uk/2012/05/15/cite_empty_city_testing/
Inside the Skynet ghost town built by bunker-based boffins
Brainiacs beaver beneath barren burg called CITE
Posted in Science, 15th May 2012 12:02 GMT
Analysis It's an empty city in the middle of the New Mexico desert ringed by a security perimeter. The wind will blow down barren streets, whisper through a vacant school, round high-rise offices cleared of commuters and out through lonely houses in suburbia. Unseen boffins will beaver away in underground bunkers.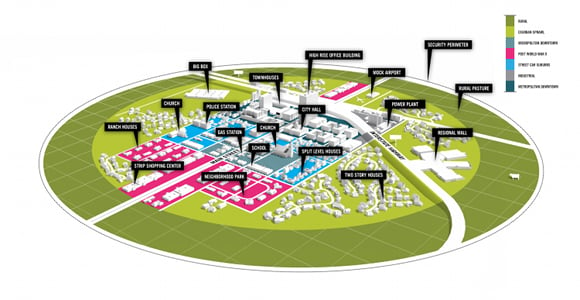 But this is not the setting for the latest Stephen King novel - nor a precursor to the terrifying Skynet computer system in the Terminator movie series. This is CITE, the Centre for Innovation, Testing and Evaluation, an ordinary American town that would have a population of 3,500 people if anyone lived there.
CITE is the private project of Pegasus Global Holdings, which became tired of trying to get space in US government labs or going abroad for its main line of work – testing technology for homeland security and defence – and decided to build its very own evaluation playground.
"Most test facilities were essentially owned by the government or they were very specialised facilities owned by corporations and because of security clearances or because of confidentiality, we couldn't get access to them," Pegasus MD Robert Brumley told The Register.
"So we would find ourselves testing in Korea or Iceland or other far reaches of the world because we needed test data in order to raise money for the technology."
The firm first thought of making a place that was just focused on their own line of work, but eventually, they decided to go big, with 20 square miles of property in Lea County, New Mexico.
"Everything that needs to be tested is generally headed to a city anyway or a community so [we thought] 'Why don't we build a community just like a regular American community and that would be where people would come and test?'," Brumley said.
Pegasus also looked at other areas in New Mexico, as well as various places in Texas, but the choice was simple.
"We needed infrastructure that we didn't want to spend money on, like high transmission lines, cheap energy, good highways, fibre optic cabling so we can get out to the grid and then we needed land," Brumley explained. "To be able to get 20 square miles of affordable property that was isolated enough that you could do all kinds of testing without affecting the community around you - that's what led us to the state."
CITE was first thought of three years ago, but the plans only went public in September last year when the memorandum of understanding was signed with the state of New Mexico. As soon as it was inked, Brumley said interest in the testing ground soared.
"When we originally announced in September last year, we had a lot of interest from both federal labs and corporations that said 'when you're ready to go, we have some things to test'," he claimed.
Fortune 500 firms keep hitting our website
That interest peaked again when Pegasus announced last week that it had chosen Lea County and Hobbs as the area where it would break ground on CITE.
"We've started again getting interest for next generation energy systems, energy storage systems, autonomous vehicles, next generation wireless systems, biomass as a different form of energy," Brumley said.
"We talked to one federal lab about a different kind of solar energy technology that they would like to put on about 500 hundred acres which would allow them to get a real scale level of test data on how it would operate."
Naturally, he wasn't keen to name names at this stage of the project, but he reckons that his site impressions tell the tale.
"We normally have about 200 hits on our website a week. We had around 2,500 hits in 12 hours and on those we have a software that tells us who's hitting us so we had a little over 200 Fortune 500 companies hitting the website and staying on the website longer than three minutes looking at details of the company and the CITE project," he boasted.
The ghost town has also sparked some foreign interest, including the likes of King Abdullah Economic City in Saudi Arabia, a smart city megaproject announced by the Saudi head of state in 2005, as well as the PlanIT Valley smart city project in Portugal.
Pegasus is kicking off CITE with a $400m investment, but there's room for a total $1bn investment, which would build a city capable of hosting 35,000 people.
"What [the $400m] will get you is essentially the core elements of the city as well as the backbone and the campus and all the utilities and infrastructure that supports that," Brumley said.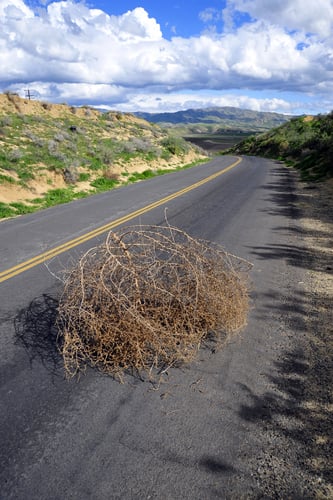 Via Shutterstock
"We've always said that once we build that, then there will be bolt-ons and build-ins into this venture that would in fact extend that build to $1bn, but that additional $600m will come from what we call specialised customer builds - which means they want something special there like a solar farm or a wind farm or a geothermal facility, which we're happy to build but they will be investing the money for it."
The first phase will have included empty businesses, shops, warehouses and everything else a city holds, as well as houses equipped with working appliances, power and water "not totally move-in ready, but almost".
The idea is to try to make the place as authentic as possible, allowing experimenters to encounter pretty much what they'll get in regular towns in terms of legacy equipment with which their brand spanking new tech will have to work.
The only bit missing will be the human element, which will only be seen in the town when there are no tests going on: that's when Pegasus will happily show folks around as part of its community awareness programme so that folks can see there's "nothing dangerous about it".
Introducing the underground boffin Oompa-Loompas
Otherwise, the only people around won't be in the city, but rather underneath it. That's where a 350-person staff of engineers and IT specialists will work 24/7 for the entire year (in three eight-hour shifts each day), operating and maintaining the city's experiments in pristine, state-of-the art labs known as the NOC (Network Operations Centre).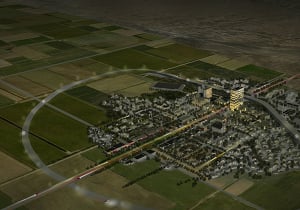 If you have a project on CITE you want to keep a close eye on, you could rent a place at the 200,000 square foot administrative campus.
"We are providing a campus so when users want to come in and rent office space or have access to lab space they can do that locally and not have to worry about not having adequate state-of-the-art lab space to conduct their research," Brumley said.
And the plan is that anyone who wants to stay more permanently will fill up the outlying industrial park, which is why Lea County is happy to have a somewhat spooky test facility.
Underground, Pegasus staff will be monitoring the experiments and gathering the test data, as well as ensuring that experiments from different corporations and government bodies don't interfere with each other.
"I will admit, it's going to be an interesting challenge how we manage," Brumley said. "For example, autonomous vehicles are running on the highway and while they're out there maybe someone wants to test next generation wireless services which might interfere with the control systems of the autonomous vehicles!"
And with just 350 employees to pay and whole city to play with, Pegaus is looking forward to a tidy earning from the project.
Brumley said Pegasus would be making a 20 per cent return on investment, which if he's following the general equation for ROI would mean he's expecting CITE to make about $480m a year. But most of the readies won't be coming from the testing itself, but the resources the town produces.
"I have a city that needs power but I don't have any inhabitants, so once I run the city power, the additional energy that I produce I will sell to the local power company, same with the water and communications and other output we have," Brumley explained. "People forget that cities really are big producers of consumable resources and this city will be the same."
Resource production will bag about 40 per cent of the cash, while testing revenue will be 20 per cent and the operation and maintenance of experiments will come in at around 40 per cent as well.
The first phase of the city isn't expected to be finished until 2015, but CITE will be making money from selling resources from the end of next year.
"It takes a while to spend $400m," Brumley joked. "So our first plan is to build the city from the ground up and below ground as well. We're building all the utility and the infrastructure and the civil engineering over the next year."
And all from the frustration of not having anywhere to run some technology tests.
"We said; 'Why don't we look at a privately owned, privately funded test facility that guys like us could use and let's make our focus one where we attract the smart city community which is a $54bn a year market and also the federal labs which is another $140bn market?" ®