Original URL: https://www.theregister.co.uk/2012/05/15/amazon_gearing_up_to_launch_illuminated_kindle_ebook_reader/
Mole sheds light on incoming illuminated Amazon Kindle
No colour reader, though
Posted in Personal Tech, 15th May 2012 15:23 GMT
The E Ink display in Amazon's Kindles may be great for reading in bright sunshine, but it's pants on gloomy days and totally useless in the dark. But that may soon change: Amazon is said to be preparing a front-lit version of the popular e-book reader.
Citing a source who claims to have seen the prototype, Reuters reports the lit-up Kindle could be on sale in July.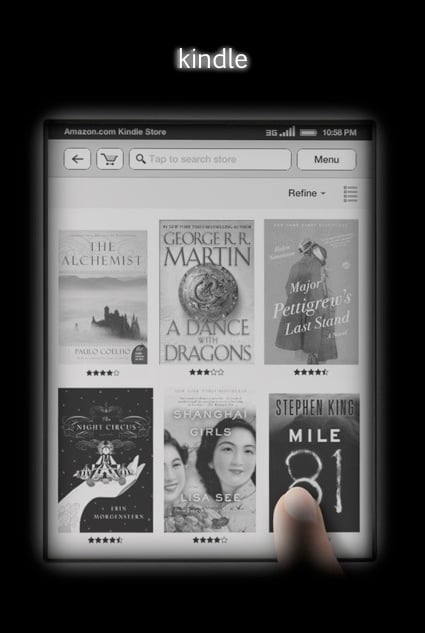 Read it in the dark
Whenever the tablet is released, it comes as no surprise, not least because Amazon's US rival, Barnes & Noble, has already announced an e-book reader, the trips-off-your-tongue Nook Simple Touch with GlowLight, with an Indiglo-style illumination.
Adding a wee LED lighting strip into the upper bezel would not tax Amazon's engineers. The company's bean-counters wouldn't be troubled by the move, either.
Reuters' source poured cold water on speculation that Amazon has a colour Kindle in the works, saying it's not likely to happen this year. But do expect an 8.9in Kindle Fire in Q4... right in time to compete with the Fire-targetted tablet Google is expected to announce Real Soon Now. ®