Original URL: https://www.theregister.co.uk/2012/05/14/local_tv/
Ofcom: Now's your chance to make Local TV for Local People
Getcher applications in for White Space telly channels
Posted in Policy, 14th May 2012 08:00 GMT
Ofcom has received 87 expressions of interest from groups interested in running Local TV channels, and three companies interested in broadcasting them, so has launched the beauty contest to see who gets to be the next Alan Partridge.
Local TV should be up and running within the next two years, in the 21 locations selected for the first roll out, but those interested in running a channel need to get their application in by August 13 to be considered in a process which will let the regulator decide who will provide the best, and most sustainable, local content.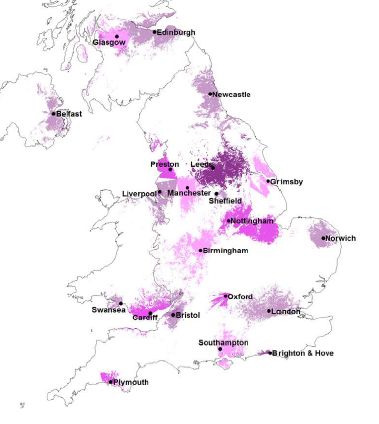 The channels will be broadcast at low power in White Space spectrum not being used locally for one of the proper channels. Each of the 21 areas selected has space for three standard-definition channels, but only one will get the special treatment, and BBC cash, which is going to be necessary if Local TV is going to make enough money to keep operational.
Local stations won't be held to limits on advertising minutage, and the BBC is committed to spending £5m a year buying content from the new channels: but even allowing for the peppercorn licencing fee (£5,000) and using students as well as university resources (as several of the bidders have suggested) it won't be easy to raise enough revenue to keep a TV channel on the air.
The channels will have to negotiate their own rates with the to-be-created MuxCo company, but reference numbers from Arqiva put the annual transmission cost for, say, Norwich at £57K. Bargain-basement Sheffield will only cost £17K a year while transmitting local news to Leeds will set you back more than £75K thanks to the number of transmitters needed.
That follows the up front costs ranging from Sheffield's £147k to just over a million quid (Leeds again). Arqiva estimates total up front costs are just shy of £10m, with running costs around £1.1m a year, but license-fee money comes to the rescue again as the BBC will be chipping in £25m to cover the cost of setting up the new transmission body, MuxCo, which will then almost certainly end up paying Arqiva for the carriage.
That cash has apparently attracted three interested parties, who'll be competing in their own beauty contest to see who'd be best at running MuxCo. MuxCo won't be allowed to make a profit, but will be expected to provide services to the first wave of 21 channels as well those who follow the leaders.
Both MuxCo and the local channels will get 12-year licences, as originally proposed, but channels beyond the initial 21 will get shorter ones. All will wind up at the same time - around 2025 - but the peppercorn fee won't last: around 2014 Ofcom plans to up that to something reflecting the commercial value of the spectrum, which could be considerable if other White Space applications take off.
Ofcom, and the Ministry of Fun which is behind the scheme, is depending on advantageous positioning in the Electronic Program Guide to attract viewers to Local TV. In England Local TV should drop into Freeview channel 8, while Sky has promised to link it to the Yellow shortcut button (assuming the local channels decide to pay to be carried on Sky's satellite system), while Virgin reckons its TiVO app is the right place for Local TV.
Whether that will be enough to sell Local TV in the UK is very debatable, but during the consultation Ofcom received 87 "distinct expressions of interest" so there are people who think it can be done and are prepared to stump up cash to find out. If nothing else it's going to be a very interesting experiment. ®