Original URL: https://www.theregister.co.uk/2012/05/14/buffalo_802_dot_11_ac/
Buffalo ships world's first 1.3Gbps Wi-Fi hardware
Edges out Netgear in 802.11ac race
Posted in Data Centre, 14th May 2012 18:37 GMT
If you've been jonesing for faster Wi-Fi performance – not that you have any client devices that can yet take advantage of next-generation wireless networking technology – your wait is over: Buffalo has begun shipping the industry's first 802.11ac router and bridge.
Not only do Buffalo's new Wi-Fi devices promise impressive gains in wireless performance, they also deliver some of the most impressive product names that we at The Reg have seen in some time: the AirStation AC1300 / N900 Gigabit Dual Band Wireless Router WZR-D1800H and the AirStation AC1300 / N450 4-Port Gigabit Dual Band Wireless Ethernet Bridge WLI-H4-D1300.
"Buffalo is again at the forefront of wireless networking, delivering the world's first Wi-Fi router leveraging 802.11ac technology in a cost-effective, high performance package," said Buffalo CEO Hajime Nakai in a statement announcing the release on Monday.
Buffalo unveiled its 802.11ac hardware, powered by Broadcom chips, back at CES in January, as did Trendnet and Netgear, but Buffalo wins bragging rights for being the first company to actually bring their 802.11ac products to market. However, Netgear is poised to release their R6300 802.11ac router any day now, and so if they do indeed get it out the door this month, the race will essentially be a photo finish.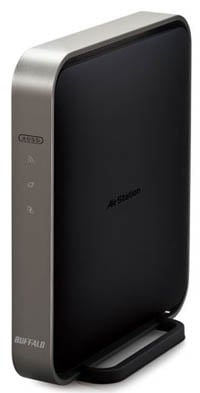 The WZR-D1800H – there's something
about networking-gear design that
truly fires the imagination, eh?
The 802.11ac Wi-Fi standard has not yet been ratified, but such pedestrian matters as formal approval haven't stopped Wi-Fi device manufacturers in the past. Remember, for example, that a raft of 802.11n devices were released in the run-up to that standard's publication in October 2009. Expect 802.11ac to be formally ratified next year, and expect firmware upgrades to take care of any discrepancies between today's hardware and tomorrow's finalized standard.
Until PCs, phones, and other devices incorporate 802.11ac, however, users of Buffalo's new router and bridge will employ the devices' fallback 802.11n capability. The new router and bridge – let's just call them the WZR-D1800H and WLI-H4-D1300 for short – operate in the 5GHz band for both 802.11ac and 802.11n, and the 2.4GHz band for 802.11n alone; the former's maximum theoretical throughput is 1.3Gbps, while the latter maxes out at 450Mbps.
The WZR-D1800H router allows for simultaneous 5GHz 802.11ac and 2.4GHz 802.11n operation, while the WLI-H4-D1300 "media bridge" is limited to either 802.11ac on the 5GHz band or 802.11n on 2.4GHz – but not both simultaneously – or 802.11n running on both bands at the same time.
Another difference between the two devices is that the WZR-D1800H includes five Gigabit Ethernet ports and the WLI-H4-D1300 has four. Despite their differences, Buffalo says that both the router and the bridge have estimated street prices of $179.99, and are now available at Fry's, Frys.com, and NewEgg.com. ®