Original URL: https://www.theregister.co.uk/2012/05/14/aslav_simulator/
How to simulate a light armoured vehicle
Thales Australia reveals tech behind trainers for eight-wheeled monster
Posted in Software, 14th May 2012 04:17 GMT
The Australian Light Armoured Vehicle (ASLAV) is an eight-wheeled, 13,450-kilogram monster, which bristles with a grenade launcher, a pair of machine guns and a 25 millimetre M242 "Bushmaster" chain gun.
The ASLAV can carry six troops in addition to its three crew. Two of the latter ride inside the vehicle's turret, where the Gunner must be able to aim the Bushmaster in accordance with the instructions of fellow turret-dweller, the Crew Commander.
Australia has a large fleet of ASLAVs – more than 250 are in service – with many currently deployed in places like Afghanistan.
The vehicles get a lot of use, so it makes sense to use simulators for training. Thales Australia built the first nine such machines and has recently been engaged to build another set. When we heard that news, we decided to ask them how they'll do it.
The answers, provided by Tony Landers, Thales Australia's Director of Business Development - Maritime & Aerospace, are revealing. But not too revealing – in order to write this story we had to agree to vetting by the Australian Department of Defence.
So what did we learn? Well … we expected the simulator would re-create the interior of the ASLAV, which indeed features a mock ammo belt for the Bushmaster and other similarly high-verisimilitude accoutrements.
What we didn't expect was Landers' insight that manufacturers of the various internal fittings of vehicles like the ASLAV now have half an eye on simulation market. Some items in the mocked-up interiors of the simulators are therefore identical to those found in actual vehicles, save for their simulator-ready USB interfaces.
The new simulators will also be joined, for the first time, by a desktop tool that runs on touch screens instead of a mock vehicle.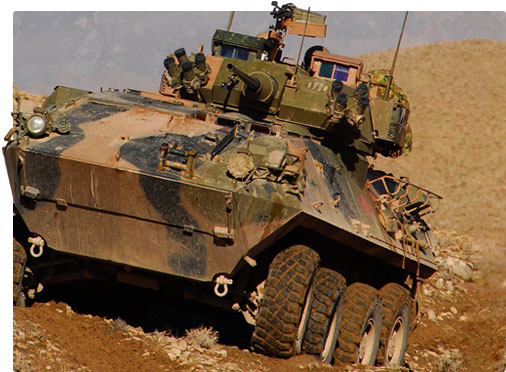 An Australian Light Armoured Vehicle
Which is not to say that assembling a simulator is as simple as daisy-chaining a stack of USB hubs: there's still plenty of bespoke electronics work to be done, which Landers explains in the context of the ASLAV's periscope. "We designed optical paths to LCD screens sitting at the end of tube that simulates a periscope," he explains. "We built all the I/O and control it from the application software on the servers." A team of nearly 30 spent three years building that kind of thing for the first nine simulators.
That team was helped by a Thales product called SETHI product that simulates a battlefield environment, animating enemies with artificial intelligence while creating a realistic 3D world.
The tricky part of building simulators, Landers says, is not necessarily the hardware or software. Instead, he says "the devil is in the detail, especially understanding the level of fidelity you need to teach the student the task. You could spend a large fortune simulating every element of a device to 100% accuracy, but that might not be required for training. You need to understand training design to understand what to build."
For the ASLAV simulator, that means a "motion platform" that simulates working in a moving vehicle is not necessary. Students do get haptic feedback from the Bushmaster, but it is not felt that making the simulator rock and roll has a training benefit.
The new generation of simulators will refine the work from the first nine units. An important refinement will only be visible in the server rack that powers the sim. SETHI runs across almost two dozen servers which live in the same shipping container that houses the simulators. Landers said the servers run a mix of Windows and Linux, pack the most powerful graphics cards available at the time of building and house a number of virtual machines. The next-generation design requires just over a dozen servers, a number that has come down thanks to virtualisation.
The fine art of 'knobology'
"We will take the physical mockup of a sighting system for a thermal sight and use a touch screen to emulate the physical controls rather than knobs and controls," Landers explains. "We're still teaching the technique," he says, explaining that the desktop version will allow more people to get more training more often, before they "progress to physical model for knobology training."
All versions of the simulator can be networked so soldiers can practice multi-ASLAV operations.
"It's like a very, very sophisticated computer game," Landers says, before disappointing your correspondent with the revelation that staff don't stay up late or come in on weekends for milspec-grade multiplayer fragfests – and not because play on expensive military equipment is forbidden.
"The team are just over it by the time it comes to the weekend," Landers says. ®