Original URL: https://www.theregister.co.uk/2012/05/12/hp_cloud_biri_singh/
Look out, Amazon Cloud! HP's on the warpath
HP tech bigwig on the zen of Windows open source
Posted in Cloud, 12th May 2012 11:02 GMT
You might think the hard work for Hewlett-Packard is done, after it came from behind to build its own Amazon-style cloud so quickly. But the difficult part – taking on Amazon and winning with open source – lies ahead.

The world's biggest PC maker lifted the lid yesterday on the biggest change to its business in recent history.
The HP Cloud Compute free beta ended on Thursday with a rash of 40 partners announcing that they are all now available on or in support of HP's cloud – Rightscale, ActiveState, CloudBees, Dome9, EnterpriseDB and others. The period of construction and half-priced sign-ups is finished. Now it's down to business.
Forget former chief executive Carly Fiorina's folly of buying Compaq in 2002 for $25bn: that just added more computers to the existing line-up. And Mark Hurd's $13.9bn EDS buy in 2008? Services based on servers and, yup, PCs.
HP Cloud Compute is a leap from terra firma into a blue-sky world. HP is hoping to sell something frighteningly intangible for a bunch of box jockeys who feel rather more comfortable with product in, product out, margin and mark-up. Now they are selling compute cycles, storage capacity and bandwidth: stuff you can't see, touch or mark up.
A tweet from April's OpenStack design conference in San Francisco, California, hinted at the scale of what HP is selling: 2,000 nodes, "multi-petabytes" of Swift storage capacity and "pricing to match AWS". HP won't comment on the these numbers.
Stacking up
HP is doing all this using a piece of software it can't claim to own and that, in itself, doesn't confer any kind of competitive advantage. HP Cloud Compute uses the open-source cloud architecture called OpenStack – in which it is a part player along with nearly 200 other companies also fighting for a place in a gold rush era in the history of computing. Dell is putting out OpenStack reference implementations, NTT is building furiously with OpenStack and AT&T has joined up.
Worse – yes, there is worse to come for Palo Alto's box monkeys – the PC maker, along with all those other OpenStackers, is going up against Amazon's EC2, the critical mass monster of cloud.
Amazon's cloud earned the bookseller an estimated $1.08bn in the first nine months of last year – up 70.4 per cent compared to 2010 – while the amount of data Amazon holds hit 762 billion objects, more than doubling last year.
It will get bigger as Amazon becomes an infrastructure for other clouds such as Heroku and makes it easier for enterprise customers to upload their data and embrace .NET to pull in Microsoft shops.
HP's road to cloud has been laid down pretty quickly, if a little late. It only joined the OpenStack project relatively late – in July last year. That was after 90 others, including Rackspace, a co-founder which had been there 12 months before. Amazon's EC2 floated in 2006 while Microsoft opened Azure in early 2010.
HP has also delivered in spite – yes, in spite – of a partnership with its long-time PC and server operating system buddy Microsoft. The computer maker is more than just one of Redmond's biggest partners on PCs, servers and services; it was supposed to be on the inside of the cloud tent too – as an early adopter of Microsoft's cloud, Windows Azure.
HP, Dell and Fujitsu were named by Microsoft in 2010 as planning appliances running the Windows Azure code that would slot in to their own data centres as well as those of their customers. The three firms – along with eBay – were also supposed to launch services running Windows Azure appliances in their data centres.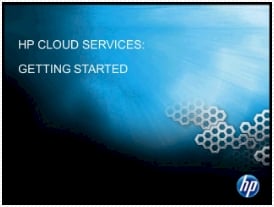 Yet two years later, HP has started a cloud service, and it doesn't run Windows Azure, it uses OpenStack instead. Bear in mind that HP only joined OpenStack one year after the supposed Microsoft Windows Azure deal.
HP is now delivering OpenStack compute, storage and networking running on HP servers, storage and network equipment. Also, the operating system running HP's cloud is Linux - versions of Ubuntu, Fedora and CentOS can be spun up as virtual instances.
What happened? Why did the cloud business side of HP go for open source when the PC side dumped the open-source client-side experiment of previous CEOs Hurd and Apotheker – which began with the purchase of Palm for $1.2bn – and went for Windows?
Slow Windows
Zorawar Biri Singh, the HP executive in charge HP's cloud services, who joined from IBM in early 2010 to float the service, told The Reg this week that open source and OpenStack, licensed under an Apache licence, allowed HP to get up and running faster.
He said: "In the year I've been here, my emphasis has been to get our core infrastructure up ... For HP it was about getting the infrastructure to run the stuff on and have a compelling platform."
Singh reckons HP remains committed to Windows Azure, but the language sounds clipped, as it seems Windows Azure will be a guest on OpenStack – a platform as a service (PaaS) – instead of providing the underling infrastructure as a service (IaaS). Also, its Windows Server will likely become just another guest alongside the Linuxes.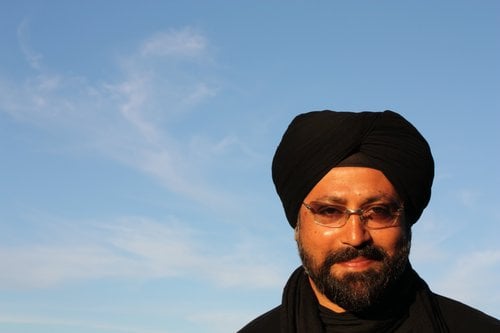 Singh: HP is building on global scale
Redmond not out
"We are still working very closely with Microsoft," Singh assures The Reg. "Windows Azure is very much on our roadmap. We will talk about it shortly – we had our hands full. Microsoft is a great partner and we will leverage that."
Singh reckons Windows Azure was PaaS from the get-go, but that's not how Microsoft spun it in 2010, when the idea was for Windows Azure to run on those appliances. "PaaS might have been premature."
Let's assume that as OpenStack is under an open-source licence, HP was automatically granted the freedom to customise and tune the OpenStack code – which it couldn't have done if it had worked with the proprietary and Microsoft-controlled Windows Azure. Fine, but the real problem is there's a dearth of skilled engineers out there who know how to actually program OpenStack code.
Those who do know much about it are busy setting up their own start-ups – companies like Piston Cloud. Piston Cloud's chief technology officer Josh McKenty was chief architect for NASA on the Nebula component that comprised one half of 2010's original OpenStack announcement with Rackspace.
HP has been hiring in an attempt to close the gap: in September 2011 Singh brought on board MySQL architecture director and Drizzle lead architect Brian Aker as an HP fellow, with special responsibility for platform-as-a-service and development-as-a-service engineering.
MySQL was sold by Oracle to enterprises and OEMs but runs at web scale inside Facebook and Twitter. Aker, in turn, has recruited engineers in MySQL, Drizzle, Scala, Postgres, Ruby on Rails, Python and Open Stack. HP went on to announce MySQL-as-a-service on its cloud.
A lot of the hard work has taken place in the basic OpenStack Nova compute and Swift storage code, Singh says, especially tuning Nova to manage compute frameworks and to transfer information. "Not too many people have the experience or will of conviction to dive in - there's a ton of hard work. It's really difficult, but folks are committed to it," he said.
Singh says HP is still learning how to work with OpenStack but is bringing to bear its experience in large data centres. "We understand how to serve large web 2.0 customers doing scale. We've taken that hardware IP software stack and converted it to things in open source like OpenStack," he said.
No billion-dollar data centres
Singh declined to comment on the numbers of customers, nodes or petabytes mentioned in the tweet but reckoned HP is building on a "global scale". "This has lots to do with how do you deal with scale and how to you scale to hundreds, thousands and hundreds of thousands of nodes across geographies and giving it the robustness and service quality that customers expect over time. We are in the early stages of figuring that out," he said.
HP won't build out its own data centres to achieve that, unlike Microsoft or Amazon, he said. Rather the company will use its existing facilities and exploit relationships with service providers who will install HP servers and reference architectures running OpenStack.
Singh is particularly excited by the HP EcoPOD, a take on the old Sun Microsystems trailer-computing idea that you drop off and remove by truck, according to demand.
"You won't see HP invest billions of dollars in data centres next to a dam because those are built for specific workloads, like search clusters. You will see us populate existing data centres [and] provide eco pods to rapidly stand up to meet local demand," Singh said.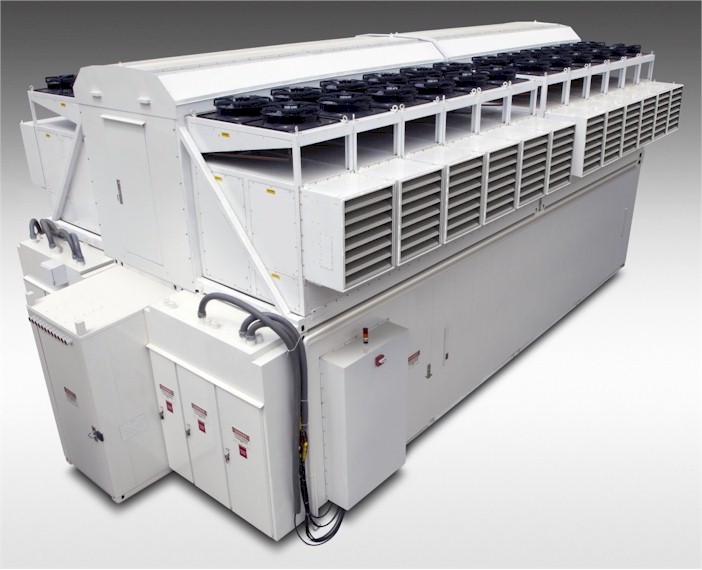 HP Ecopod: Data centre in a box
Beating the beasts
"Hewlett-Packard is committed to being a top service provider running a global cloud. We have partnered around world with existing service provides – telcos and others – and will leverage the local presence of service providers. The whole idea is think global but act local."
Coding for HP's cloud was a challenge, but the company has taken short-cuts on expansion by not rolling out its own, new data centres. Selling this thing against Amazon promises to be a tougher challenge. Amazon has proved especially good at competing on the fourth element mentioned in the tweet from last month: price.
The company provides compute using Windows and Linux. The latter has allowed Amazon to provide compute cycles at points of a penny less than using Windows, a fact that has dragged Microsoft into a price war.
Since launching Windows Azure, Microsoft has had to undercut its initially smallest compute offering of 1.75GB at $0.12 per hour and dive down to 768MB at $0.02 per hour. HP is starting out at $0.04 for 1GB of RAM and 30GB local storage.
Despite undercutting Amazon, Microsoft's cloud has failed to float and while it has named some flagship customers and made some vague claims of "high tens of thousands" of customers", we've been reliably told that some already very low revenue targets will be missed for this year. We can bet too, that at $0.02 Microsoft is heavily subsidising the price of Windows Azure.
Google is also adding pressure. The same day HP's cloud went live, Google Cloud SQL database service, unveiled in October, also went live and added a new twist to the pricing matrix: charging not per hour but by the day.
How does HP stand up to Amazon and apart from other cloud providers? Everybody is targeting the devs, be they at the enterprise or start up; these are the people who've helped establish Amazon – by floating early apps using its convenience and low barrier to entry – and who have since stayed with the bookseller. Throwing price against the leading commodity player won't help.
Instead, HP is gambling on services as value-adds that make devs' lives easier – something Amazon hasn't really excelled at. Beyond the obvious multi-language and framework support – PHP, Java and Node.JS – and database-as-a-service, we're promised analytics as a service, service level agreements, command-line programming, a "good" UI experience and management console, billing and customer support.
Not out!
"We want to reach developers and IT operations folks with a set of services and options to build workloads on clouds and manage and deploy and be secure," Singh said. "We will leverage a marketplace - an application catalogue for the marketplace – to monetise these services and offer partners a way to monetise their service."
Working out the kinds of services that add value, which people want and are willing to pay for on top of compute and storage, is the hard part and this will take time.
It's "early innings" for the boxmaker-vs-cloud-services competition but Singh believes HP has learned fast during his brief time there.
"The big focus is how to translate from building and shipping hardware to shipping services at a global scale," Singh said. "The maturity level has gone on an exponential scale – I'm confident it will continue on that path."
The PC maker of Palo Alto might be evolving its technical understanding of services and open source down a zen-like path, but it will be how HP responds to the brutal realities of doing business in a commoditised space, driven by market-leader Amazon, that will ultimately decide whether HP's journey is a success. ®