Original URL: https://www.theregister.co.uk/2012/05/10/lohan_playmonaut/
LOHAN Playmonaut jets off to Blighty
Joins Southampton Uni Vulture 2 team
Posted in Science, 10th May 2012 08:00 GMT
Our heroic Low Orbit Helium Assisted Navigator (LOHAN) Playmonaut has just jetted off to Blighty to join the Southampton University postgrads who are tackling the design of the Vulture 2 spaceplane.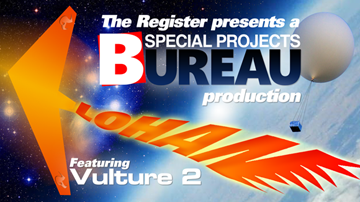 The veteran pilot, who soared to international fame with our Paper Aircraft Released Into Space (PARIS) mission, is needed down at the uni's Computational Engineering & Design Group headquarters as the team prepare to make their initial aircraft concept a fully-fledged CAD reality. As soon as they're done, the files will be dispatched to our chums at 3T RPD, where the Vulture 2 will emerge dramatically from powdered nylon.
It's fair to say that the Soton chaps have already put a considerable amount of work into coming up with a design suitable for high-altitude, rocket-powered operations.
Of course, we at the Special Projects Bureau have seen the conceptual Vulture 2, but you lot won't even get a peek until the aircraft rolls out of the hangar.
As a tease, here are design team members Joshua Jeeson Daniel, Christopher Dodd, Jeroen van Schaik, David Cooper and Amrith Surendra (pictured L-R), holding the Southampton University Laser Sintered Aircraft (Sulsa), which first inspired us to consider using the Selective Laser Sintering (SLS) process: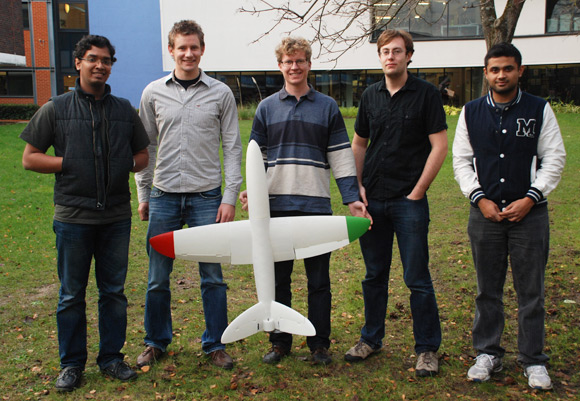 Suffice it to say, the Vulture 2 doesn't look anything like Sulsa, so you'll just have to imagine just what form our beautiful winged beast will take.
We've been keeping an eye on the expert LOHAN debate down at Reg forums, and can assure you that the Southampton lads are completely on the case regarding launch velocity, control surfaces and other related concerns.
We can reveal that we've ditched the planned AeroTech RC 32/60-100NS powerplant, seen here in an initial firing test last year:
In its place, we've selected a far mightier thruster - a [Censored] unit - which will propel the Vulture 2 to a peak velocity of [Censored] km/h and a height of [Censored] metres above the launch altitude.
The AeroTech isn't a complete write-off, though, since it'll shortly being appearing in the Rocketry Experimental High Altitude Barosimulator (REHAB) experiment, the latest on which you can find right here.
And if all that wasn't enough to keep us off the streets, we're poised to start work on the full-scale carbon-fibre fantastical flying truss, which will carry the Vulture 2 aloft.
So, we have no doubt you'll enjoy indulging in some informed speculation as to what kind of spaceplane will eventually dangle from the truss, and we'll leave you with our video on Sulsa and SLS, to get your juices flowing...
®
Further LOHAN resources: