Original URL: https://www.theregister.co.uk/2012/05/07/ios_five_dot_one_dot_one/
Apple updates iOS, mum on Wi-Fi, battery fixes
Don't upgrade your iDevice over iTunes
Posted in Software, 7th May 2012 20:17 GMT
Apple has released an update to its iOS mobile operating system, version 5.1.1, which it claims remove some bugs and improves reliability of some options, but which does not address the wireless connectivity problems – well, at least not overtly – that have had some fanbois fuming.
The update, released Monday, is for the iPhone 3GS and later, the third and fourth-generation iPod touch, and the iPad and iPad 2 – presumably by "iPad", Apple means both the original iPad and the third-generation iPad, aka "The new iPad".
According to Apple's release notes, the update includes the following: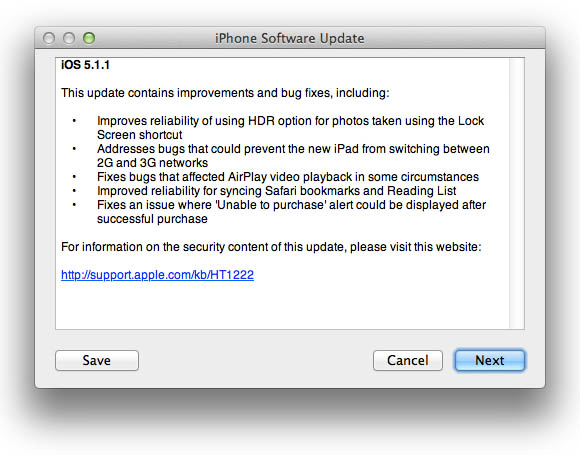 There may be other fixes in iOS 5.1.1, but these are the ones that Apple wants to tell you about
Not included among the listed fixes, you'll notice, are any references to battery-life or Wi-Fi connectivity upgrades – two items that have caused consternation among purchasers of the third-generation iPad.
One bit of advice: if you should choose to upgrade your iDevice to iOS 5.1.1, don't do it through iTunes, but instead download it from your device itself at Settings > General > Software Update. The 5.1.1 update's iTunes-download file size for our first-generation iPad was 726.1MB; downloading it using the iPad's Software Update function was a svelte 42.3MB.
Three cheers for incremental upgrades, new in iOS 5 – though clearly not yet available through iTunes. ®