Original URL: https://www.theregister.co.uk/2012/05/05/review_roundup_ten_monochrome_laser_all_in_one_printers/
Ten... mono laser all-in-one printers
Multi-function masters
Posted in Personal Tech, 5th May 2012 08:00 GMT
Product Roundup The mono laser all-in-one has taken the place of the friendly photocopier in many an offices, at home or at work. In some cases, it has incorporated the fax machine, too. Although in essence it's a laser printer with a scanner stuck on top, it's more than the sum of its parts.
Most folk use laser all-in-ones as much, if not more, for making copies than for printing, with scanning coming a useful third and fax bringing up the rear. Laser print continues to offer better black text quality than inkjet. Although page print costs are rarely lower than those of equivalently priced inkjets, the much higher capacities of toner cartridges make them seem cheaper to run.
Brother DCP-7070DW

Brother's print engines are notable for their print quality and reasonable speed. The 600 dots per inch (dpi) one in this machine is coupled to a 600 x 2400 pixels per inch (ppi) scanner, so gives well matched copies, though only one sheet at a time. The control panel is simple, but sufficient. Although there are no fax facilities, the machine offers duplex print and wireless networking. I saw speeds up to 22 pages per minute (ppm), and a duplex speed of over ten sides per minute (spm). The page cost, using the high-yield, 2600-page cartridge, comes out at 2.6p, which is a bit high. But the only real snag with the DCP-7070DW is the purchase price, which, for a machine with no automatic document feeder (ADF) or fax, looks expensive.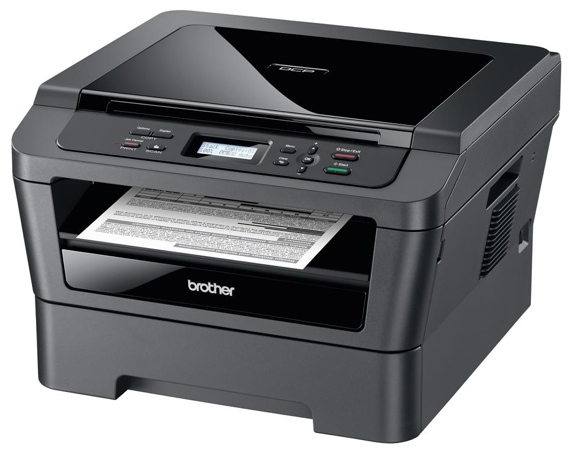 Reg Rating
75%
Price
£263
More Info
Brother
Brother MFC-7460DN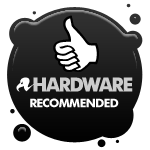 A brief comparison of the specs of this machine with those of the DCP-7070DW appears at odds. This one has both fax and an ADF, yet the asking price is lower. Here, though, there's no duplex print and no wireless connection. The control panel is much the same, though with added buttons for fax speed dials. The paper handling is identical and, again, I saw a speed of 22ppm. It uses the same consumables, too, so offers identical page costs and it really comes down to which features in the two devices' sets meet your needs better. I think many will opt for this one.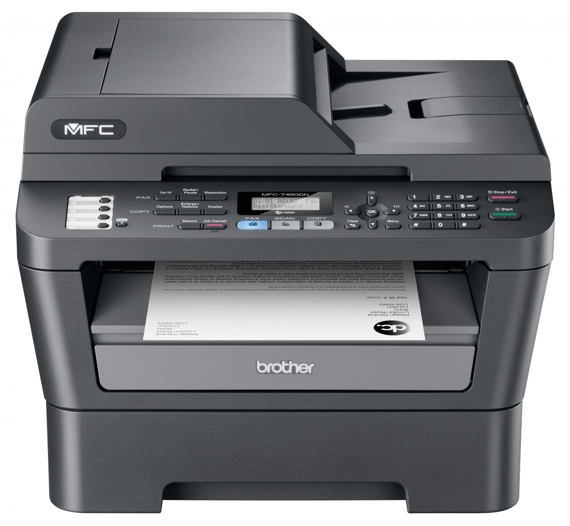 Reg Rating
85%
Price
£239
More Info
Brother
Dell 2355dn

This is a Tron-style tank of a machine, with plenty of capacity and a price to match. The 50-sheet ADF is duplex, so you can directly copy double-sided documents in one go. The control panel features a slightly insensitive, but usable, 109mm touchscreen, as well as a physical number pad for fax dialling. There's a 250-sheet paper tray and a 50-sheet multipurpose tray, and the machine has USB and Ethernet connectivity. I measured speeds of up to 25ppm and 14spm duplex, and saw a five-page copy in 20s. Text and greyscale graphics are fine for day-to-day use and running costs come out at a low 1.3p per page.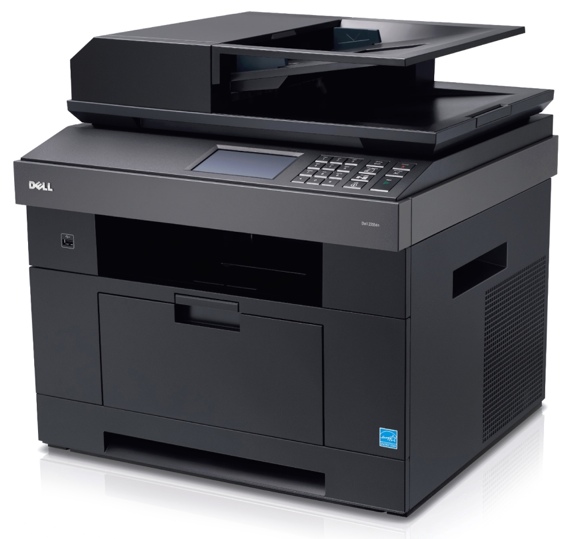 Reg Rating
80%
Price
£431
More Info
Dell
Epson Aculaser MX20DN

Another machine that can cope with being networked among several people and another one which has a duplex ADF for single-task copying. A conventionally laid out control panel includes a back-lit LCD panel and below this is a 250-sheet paper tray with a 50-sheet multipurpose pull-down, too. USB and Ethernet connections are provided, and the photoconductor drum is a lifetime-of-the-printer component, making maintenance simple. Speeds of up to 19ppm single-sided and 14spm duplex make this a little slower than some of its rivals here and a cost per page of 2.2p knock it back a little.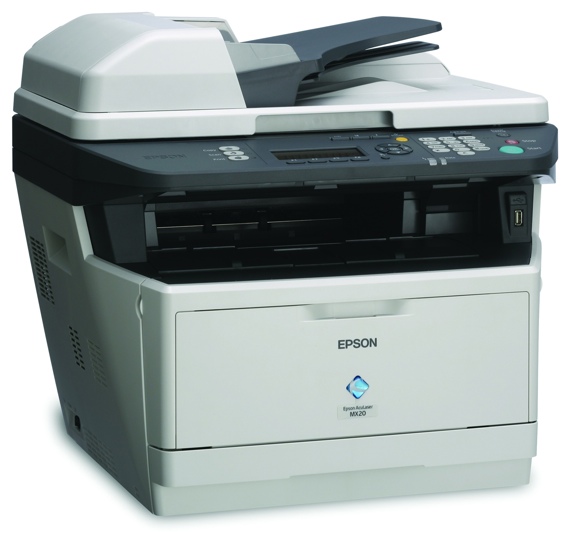 Reg Rating
70%
Price
£506
More Info
Epson
HP LaserJet Pro M1217nfw MFP

Styled more like one of its OfficeJet ink-jet machines, this HP laser all-in-one has rather ad hoc paper handling, with a fold-down 150-sheet tray and output to a fold-out "balcony" above. The 35-sheet ADF is comparatively bulky looking, but the neatly contained control panel is easy to use. The printer has wireless connection as standard, as well as USB and Ethernet. The print speed of up to 15.6ppm is reasonable for a machine at this price, though there's no duplex print. Print quality is good for text and greyscale graphics, though greyscale copies can be blotchy and hard to read. A page cost of 2.0p is fair for a sub-£200 all-in-one.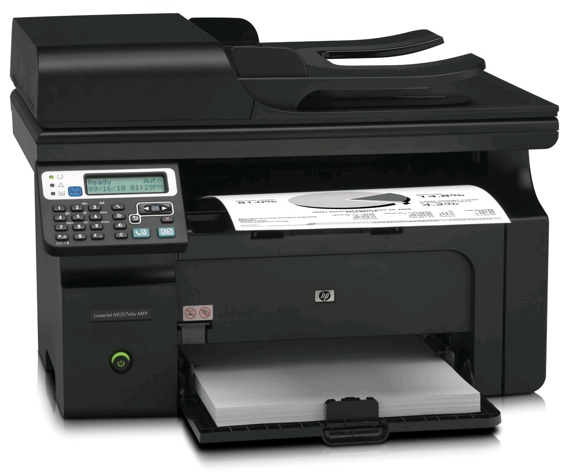 Reg Rating
75%
Price
£179
More Info
HP
HP LaserJet Pro M1536dnf

Superficially similar to the HP LaserJet Pro M1217nfw MFP, this machine has a couple of useful extras: duplex print and a cover for its paper tray. Oddly, though, there's no wireless connection, so it's hard to see where the higher price comes from. The control panel is full-width, leaving room for a well organised layout. Top speed, as measured, is 21ppm for single-sided pages and 13.5spm duplex. The print quality is good for text and reasonable for greyscales, though with some slight blotchiness. A page cost of 2.7p is also higher than its cheaper stablemate, so all in all its not that hot on value.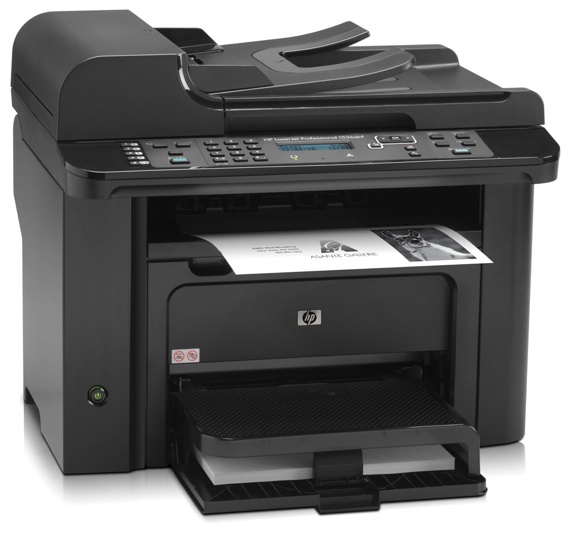 Reg Rating
65%
Price
£229
More Info
HP
Kyocera Mita FS-1035MFP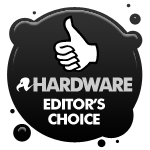 You could double-take on this machine as being the Epson Aculaser MX20DN. Though it's a touch more expensive, you get considerably higher speed - up to 27ppm and 16spm duplex – and it can copy duplex too. It's also expandable, with up to two optional paper trays. The control panel is well laid out and includes 22, quick-dial fax buttons. It has both USB and Ethernet connections, and a printer-lifetime drum - think five years or more, the typical duty life of a laser - so all you need add is toner. It has a measured top speed of 27ppm and can manage over 16spm printing duplex. Print quality is generally good, though greyscale graphics can be patchy in copies. Low running costs of 1.1p per page make it the most economical in the group.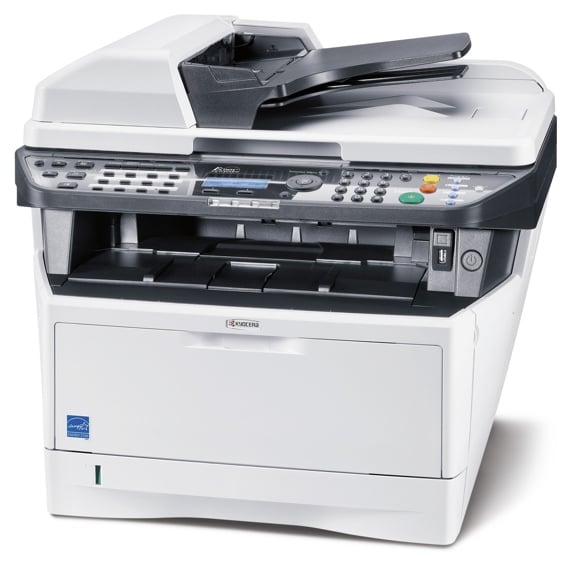 Lexmark X264DN

Although this Lexmark looks like a heavyweight all-in-one, its price, particularly on the internet, says something different. Its robust lines include a 50-sheet ADF and a full-width control panel which includes a fax keypad, though no quick-dial buttons. The main paper tray has a capacity of only 250 sheets, with a single-sheet multi-purpose feed, but you can add a second 550-sheet tray as an option. Measured top speed is a comparatively low 15ppm, though it managed 13spm duplex. Prints are good for text but only fair for greyscales, with some banding. Running costs, thanks to the higher-than-normal 9000-page high-yield cartridge, is low, at 1.8p.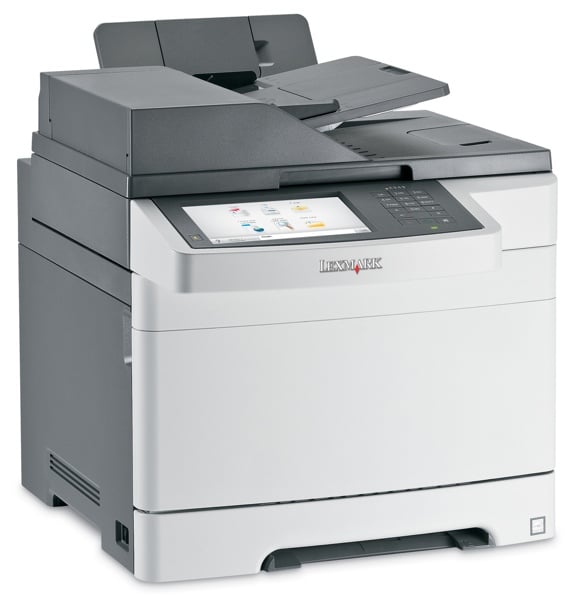 Reg Rating
75%
Price
£251
More Info
Lexmark
Samsung SCX-3205

Smoothly designed, with a small, neat footprint, this machine is designed to be opened when used, as the paper tray is the front cover and the output tray pulls out from just about. The sparsely-populated control panel still contains all the functions, as there's no fax facility on this machine and only a USB port. There's a button for a direct screen print from an attached PC, which can be handy. The highest speed I measured was 14ppm and there's no duplex print. Output from the machine is excellent for text and good for greyscales and photos, but the cost per page, from the 1500-page cartridge, is a high 3.3p. Samsung is phasing this product out, but it's still widely available.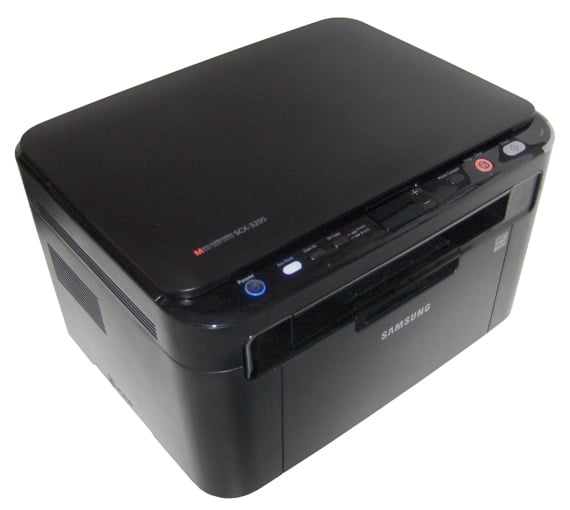 Reg Rating
75%
Price
£125
More Info
Samsung
Samsung SCX-3405W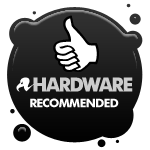 A small footprint machine, though one that gets a good bit bigger when you open the 150-sheet paper tray to print. The controls are arranged on a fold-out panel on the right-hand side. The machine offers wireless connectivity as well as USB. There's no duplex print, but the single-sided speed reaches nearly 17ppm, a worthwhile improvement on the SCX-3205. An A4 copy takes just 10s. Print quality is good from the enhanced 1,200dpi print engine and page costs are a bit better, at 2.9p, though still not up with the best in this group.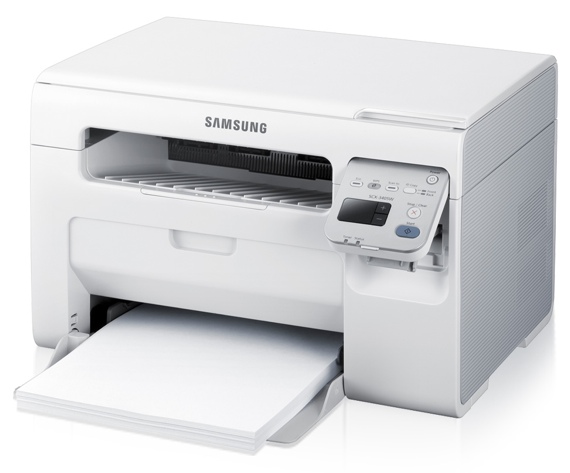 Reg Rating
85%
Price
£150
More Info
Samsung