Original URL: https://www.theregister.co.uk/2012/05/04/something_for_the_weekend_/
Jolly rogered
How The Pirate Bay ban was hijacked by the anti-smut brigade
Posted in Networks, 4th May 2012 09:00 GMT
Something for the Weekend, Sir? I note with dismay that the recent High Court ruling to force some ISPs to ban access to The Pirate Bay has been hijacked by lobbyists who are confused about what the interweb does. A classic example was heard on Radio 4's Today on Tuesday, which devoted eight minutes to John Humphrys inexpertly tying himself into a mesh of cross-purposes while his guests patiently try to untangle him.
When it comes to making confused arguments, I'm among the worst offenders. It's like bad baking: you take 500 grammes of evidence, five tonnes of confidence and a knob of butter (snigger), bring them to a nice bubbling assertion and then throw in a shoe.
For me, it's an acquired skill. For other people, it's obviously down to plain ignorance.
Humphrys demonstrated one way of confusing an argument: by ranting about a topic that's fixed in your head even though the discussion is actually about something else. Scott Adams gives a fine example of what I mean.
Humphrys was so fixated on getting across his belief that ISPs are refusing to block illegal websites that he failed to hear the response that ISPs are only refusing to block legal websites. The ISPs' argument is that police and judges are more appropriate bodies than bandwidth salesmen for determining whether a website breaks UK laws.
It's a bit like expecting tarmac-layers to prevent people from speeding on motorways.
Surely a better comeback from Humphreys would be to ask why these same ISPs, for all their claims of independence and integrity, allow their hosting businesses to enthusiastically switch off perfectly honest websites at the slightest whiff of a legal threat, no matter how tentative or bogus. At least, that would be my way of confusing the argument.
Instead, I can see a much worse kind of confusion arising from The Pirate Bay ruling: that it is somehow connected with pornography. This is the result of people with their own agendas using a pretty boring legal story about international copyright infringement as an excuse to go all holy on us.
Immediately, the story is getting mixed up with the government's introduction of the Online Safety Bill, which purports to force ISPs to stop the internet from showing naughty pictures to children. The confusion is compounded by the Bill's key supporter, Claire Perry MP, churning out quotes for every TV channel, radio programme, newswire, newspaper and magazine that mistakenly asks her for her opinion about communication technology.
She was even on that bloody Today item - about The Pirate Bay, remember - offering her views about nudey-dudies jiggling their tackle in front of children. Just to make the listeners even more confused, she started by commenting how The Pirate Bay logo looks similar to the Blue Peter ship.
And so, in three just seconds, by insinuating that The Pirate Bay is in fact a den of infant-groomers, Perry switched the story from copyright infringement to paedophilia.
Why does this keep happening? Some readers may remember an urban myth that arose at the turn of the Millennium. It was said that a thuggish mob attacked a paediatrician's surgery because the plaque outside the door said paedo-something.
Online monkey-spank expert no longer
The original report has since been revealed as a very minor incident of graffiti, but its development into a tale of mass riot was typical of the mood at the time. Joggers were stopped in the street and frisked in case they were carrying paedometers. Swimmers were hunted down for wearing Spaedos. Sub-editors were shot on sight for being paedantic.
Around this time, an ex-colleague - the late Guy Kewney - was being hounded by a tabloid reporter because Guy had once moderated a closed online forum about soft porn. For months, he had to put up with emails and public messages from the hack who kept calling him a "nonce".
Shortly beforehand, I had written an article about internet smut for a magazine and, for a brilliant three months following its appearance, I became the go-to man for regional radio stations wanting someone to speak to them over the phone live on air about web jigglies to titillate their listeners. But after Guy's experience, I decided to strike 'online monkey-spank expert' off my CV.
The problem is that you only have to utter the word "porn" now and people think of the internet straight away. We shouldn't be surprised. It was the same in the early 1990s when popular media had you believe that "Japanese animation" and "dangerous hard-core porn" were one and the same thing. Looking at Urotsukidoji today, the idea is laughable. Get your tentacles out for the lads, eh?
So when Psychologies magazine and the like talk about children seeing "porn" on the internet, do they mean full-on shagging or Page Three nudity? Are we talking about scary deviant stuff, or a Channel 4 educational site? A Rhianna video? Library clips of Linford Christie running the 100 metres?
Even more laughable is the shocking discovery that kids as young as 12 have seen porn on the internet. I don't know about you but I saw my first jazz-mag at school at 11, and by 12 I was regularly misusing the lingerie pages of my mum's Freemans catalogue. Why does everyone think this is weird or, worse, an occurrence exclusive to the modern internet-enabled world?
However, what really bugs me is not the call to ban this and that. After all, there is an important role for censorship in a society in which very stupid people live. Often it gets silly - anyone here remember how The Prodigy's single 'Breathe' was originally labelled as having "explicit lyrics"? - but it's often necessary to protect the innocent. What is frustrating, however, is that the calls to censor the internet are being made without the faintest idea of how it can be done.
Take the 'opt-in' method, for example. With this, you're denied access to ugly-bumping pictures and videos unless you specifically agree to accept them. So there you are, a fuckwit parent who already couldn't give a toss about what the kids are up to, having ignored all the parental controls on your computer and thrown your ISP's free one-year trial of Kaspersky in the bin, and you see the message: "Do you want access to hard-core porn?" Do you click YES or NO? Duh.
But the silliest of them all is the method demanded by the Online Safety Bill, and incidentally also by John Humphys: ISPs should ensure that images of 'porn' - which could mean just nudity, remember - should not be shown to children while they are online.
Now how the flying feck is that supposed to be done? Dick recognition software, perhaps? ®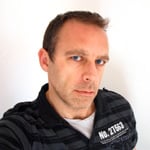 Alistair Dabbs is a freelance technology tart, juggling IT journalism, editorial training and digital publishing. He is not addicted to viewing porn sites in the early hours of the morning, although he is charmed by the idea of jazz-mags in the 1970s selling "hot" cine-reels by mail order. They recall a time which was more innocent, playful and glamorous. And hairier.