Original URL: https://www.theregister.co.uk/2012/05/04/sharper_image_snaps_megan_fox_for_adverts/
Megan Fox fingers fondleslab in sexy store promo
Trousers off, tablet out
Posted in Personal Tech, 4th May 2012 09:22 GMT
Sharper Image, the US gadget shop – a sort of Maplins but with a more regular bathing schedule – is promoting its wares with pictures of curvy starlet Megan Fox in her pants.
Noted fondleslab fan Fox can be seen after a hard day's acting, relaxing in her boudoir, trousers off, preparing to tuck herself in for the night.
Un-reconstructed attempt to pull in punters? Surely the dark-tressed Transformers siren besports herself thus every evening at bedtime?
Either way, we don't approve of the use of shapely, stocking-wrapped thighs and a glimpse of knicker to sell technology, be it tablets or the radio on the nightstand. So we never want to have to run this kind of thing again, Sharper Image, OK?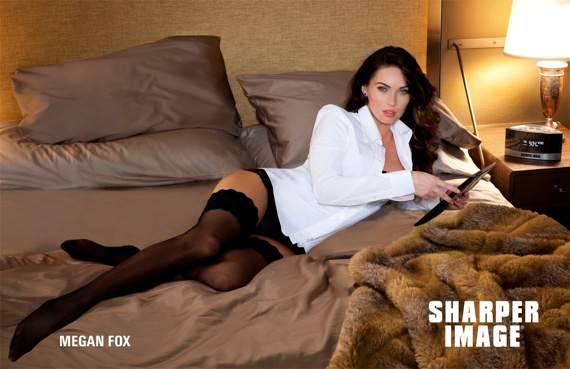 Still, nice to see her given a crafty two-fingered salute to the youngsters even now drooling over the piccy... ®