Original URL: https://www.theregister.co.uk/2012/05/02/ocz_q4_fy2012/
OCZ flexes its Flash guns, predicts further embulgement ahead
Bulked-up new kid barges onto the SSD biz block
Posted in The Channel, 2nd May 2012 14:56 GMT
It must be doing something right; flash storage supplier OCZ increased annual revenues 92 per cent in its latest financial year and expects 80 per cent growth next year. What about profits? Moving on ….
OCZ makes and sells an awful lot of consumer flash. It has begun to get vertically integrated, buying the Indilinx controller company, enabling it to start moving away from using bought-in LSI Sandforce controllers. It has acquired SANRAD and its caching technology, and is buying flash wafers directly from Micron, Toshiba, and SK Hynix rather than from brokers.
The company has also introduced a line of server PCIe-connected flash cards, such as the Z-Drive R4, so expanding its market and its channels by selling to PC and server OEMs - and also to data centre customers.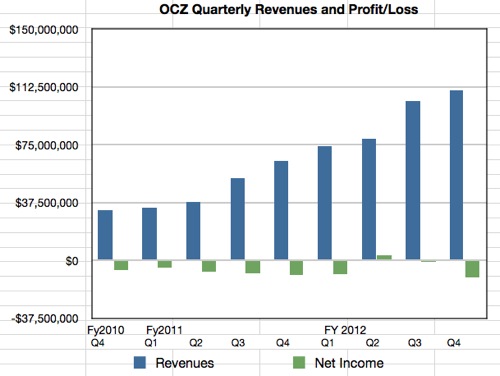 OCZ quarterly results to Q4 fy2012
For its fourth fiscal 2012 quarter OCZ reported revenues of $110.4 million compared to the year-ago quarter's $64.6 million. This exceeds Fusion-io's latest reported quarterly revenues of $94.2 million but is around a tenth of SanDisk's $1.2 billion. The company reckons it is now the largest independent supplier/manufacturer of SSDs and and it could surpass a billion dollars annual revenue in its fiscal 2014 at the rate things are going.
OCZ didn't make a profit in its latest quarter, recording a $10.9 million loss, the same level as the year ago quarter's $9.3 million loss. There has only been one profitable quarter in the past nine, with OCZ prioritising growth at this stage of its game.
As an example of its recent embulgement, CEO Ryan Petersen boasted that "our Q4 SSD revenues were approximately 80 per cent of the entire fiscal '11 revenues."
In its full fiscal 2012 year revenues were $365.8 million, up from FY11's $190.1 million and FY12's $144 million. Net loss for the full year was $17.7 million, better than the previous year's net loss of $30 million.
In fiscal 2013 OCZ expects to see revenues of between $630 million to $700 million, an 80 per cent growth at the mid-point of the range.
The huge leap in estimated revenues is attributed to Yahoo by Piper Jaffray analyst Anderew Nowinski, who says: "We believe the growth was driven by a ramp in spending at Yahoo, which significantly increased orders of a non-PCIe product."
Petersen adds: "we've recently achieved a tape-out of two unannounced SSD controller platforms."
He expects these products to be released mid-year and provide "considerable revenue upside." OCZ expects to see three new controller platforms in total this year.
Nowinski was surprised by the level of OCZ's PCIe flash card sales, saying: "The company reported PCIe revenue of $8.1M, which was roughly 4x what we were expecting, given that the SANRAD software was not integrated with the PCIe products until the end of January."
In the earnings call Petersen said:
"Sales for our SAN replacement products in the roughly six months post-launch have pushed $20 million … we feel we're well positioned to see this product category span [grow] at a rate well in excess of our core growth."
Petersen also mentioned forthcoming Agility 4, and the Intrepid 3 SSDs. Keeping up the breakneck OCZ product intro pace he added; "We plan to launch both 1x nanometre and TLC support during the year subject to NAND availability. In short, we expect recent declines in NAND flash pricing to make SSDs more attractive to mainstream applications such as SANs, network appliances, Ultrabooks and mainstream servers."
TLC is 3-bit flash that is less expensive per-GB than current 2-bit MLC flash. The "1x nanometre" term refers to flash chips made with a 19-10nm process geometry, enabling lower cost than current 29-20nm processes.
Petersen's strategy?
"We are targeting increased margins and simultaneous market share growth. These goals are supported by a proprietary technology that allows us to use low-cost flash in high performance applications … we intend to continue to support serving strategic partners with our controllers … We do expect considerable growth of revenue in these products."
This new kid on the block is bulking up fast and shows every prospect of becoming an aggressive and established flash product supplier that existing enterprise flash product suppliers, like EMC, Fusion-io, TMS, Violin Memory and others had better be aware of. OCZ isn't in the flash array game but, given its frenetic product introduction rate, multi-terabyte server flash card products are bound to come along.
When OCZ delivers 10TB to 20TB+ Z-Drives with VXL caching software customers are going to be interested.
Is OCZ an acquisition target?
With an $0.6 billion fiscal 2013 forecast revenue number, buyers should to be thinking of a price tag in the low billions. OCZ is no cheapie. ®