Original URL: http://www.theregister.co.uk/2012/05/02/igamer_total_war_battles_shogun_for_ipad_iphone_android/
Total War Battles: Shogun
Play it again, Samurai
Posted in Personal Tech, 2nd May 2012 11:00 GMT
iGamer For fans of the PC series, the first hour of Total War Battles: Shogun - on iOS but coming soon to Android - will be defined purely by what's missing.
The RTS gameplay was never going to squeeze onto fondleslabs without hefty distillation, of course. But in early forays The Creative Assembly's first handheld stab at its popular Samurai-sim feels distinctly lacking the shinzui, or quintessence, of the series.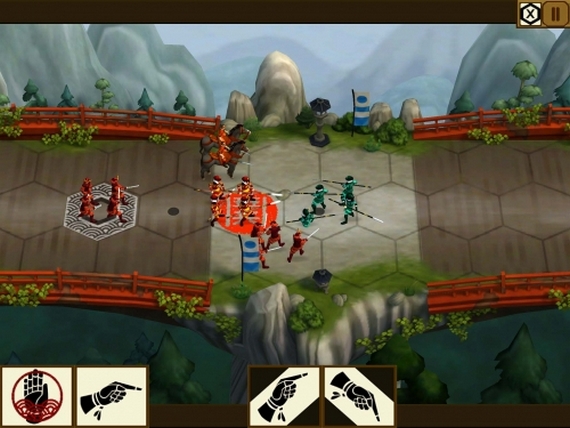 Once more unto the bridge, dear friends...
Battlefields are claustrophobic, for starters. Thin, long strips of hexagonal tiles confine the scope of war, severely limiting flanking and pincer manoeuvres, and turning resource management into more of an intricate puzzle game than an RTS, with buildings requiring distinct footprints and specific connections to other buildings and raw materials.
Combat is restricted to offensive tactics only, with troops limited to advancing or moving sideways, prohibiting tactical retreats and rearguard actions.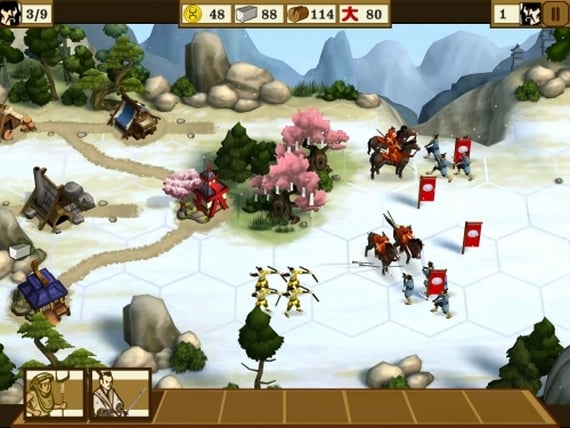 No business like snow business
Persevere for a couple of hours, however, and concerns over Total War Battles: Shogun's limitations quickly evaporate. Rather than shoehorning a full RTS into a touchscreen game, The Creative Assembly wisely opts for a more tightly focused, but equally engaging and challenging, tactical experience.
Early campaign levels function as an elegant introduction to the combat and resource management, drip-feeding new buildings, troop classes and munitions, with enemy AI and objectives scaled accordingly.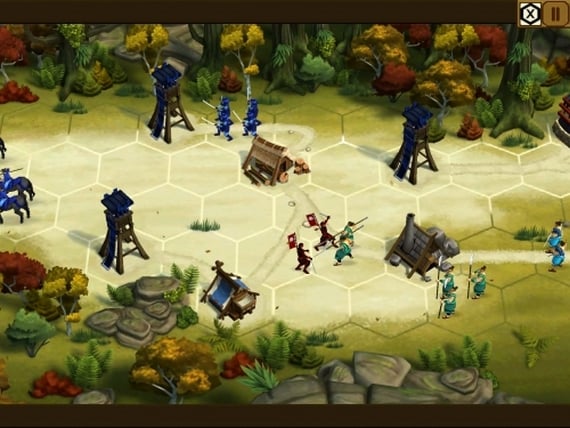 I think I'm turning Japanese
In addition, dotted throughout the campaign's 23 levels are an additional 18 side-missions which hone specific skills and reward experience points to spend on attribute perks such as faster gold harvesting.
Kate Bushido
While the extreme difficulty of these side-missions initially seems geared to tempt you towards the in-game purchasing, it's inadvisable to cheat your way through the game. The strategies they teach prove indispensable to progression during the latter stages of the game and, however exacting they might be, they consistently strike the right balance between punishing failure and rewarding perseverance.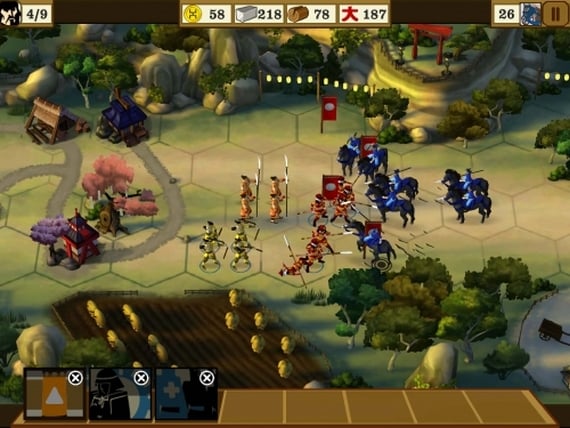 James Clavell, eat your heart out
The Creative Assembly also deserves praise for the game's high production values. Although naturally constrained by the tech, the depiction of feudal Japan at the end of the Sengoku period is no less spectacular.
It's not the picturesque cherry blossoms and verdant plains that most impress, however, but the sumptuously detailed soldier animations. They're so spectacular, in fact, that the sight of an enemy Shogun slicing through my rank and file often proved distracting enough to lose an entire battle.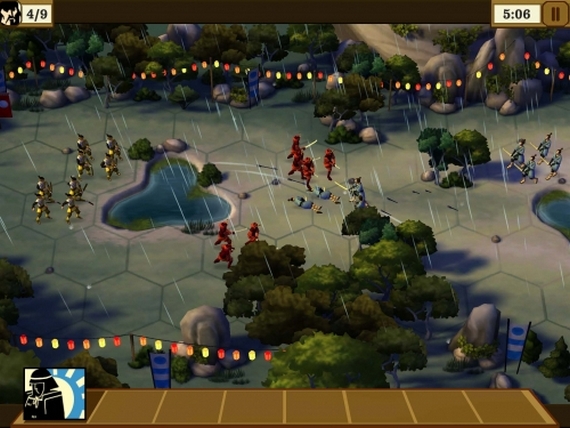 Floodlit fighting
The command system proves to be equally polished, except for one apparent design flaw in the interface. Strangely, you can't move or place troops by dragging from square to square. Instead you have to tap on the respective command at the bottom of the screen. It's a minor quibble, but in genre which requires such high-speed multitasking, the necessary finger travelling proves inconvenient, unnecessarily increasingly the challenge of an already difficult game.
Verdict
Like it's full-blown siblings, Total War Battles: Shogun's complexity and challenge will ultimately limit its appeal. Despite the heavy streamlining of its core gameplay, it remains out of reach for most casual gamers. But for veterans of the PC games and fans of tactical RPGs, Total War Battles: Shogun is by far the best touchscreen RTS to date. ®
iGamer covers the latest in mobile gaming on Android and iOS. If you think there's a great game we really should cover, please let us know.
More iGamer

Hunters 2
Angry Birds in Space
Waking Mars
Beat Sneak Bandit
Ten top
Android games